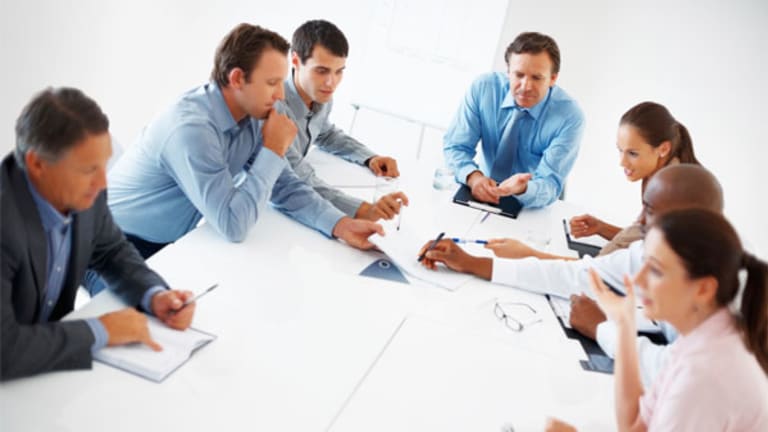 Sell Apple, Buy Amazon
Use the P/E ratio on these super stocks and you'll come to a seemingly counterintuitive conclusion.
NEW YORK (TheStreet) -- In practice, valuation -- particularly the P/E ratio -- no longer means much. If it did, Apple (AAPL) - Get Apple Inc. Report would not wallow at a forward P/E of 10.27, while Amazon.com (AMZN) - Get Amazon.com, Inc. Report sports a robust 88.34 on the same metric. Using Tuesday's closing prices, Apple's current P/E stands at a puny 13.48 relative to Amazon's inflated 185.29.
Unlike Apple bulls and Amazon bears, I pull only one point of significance out of those otherwise meaningless numbers:
This is not your Grandfather's stock market
. And it has not been for quite some time.
You can deny this reality all you want. You can whine about it. You can claim the world has gone crazy. That it's not like it was when you were a spry young investor. You can write to the SEC. You can quote Warren Buffett. You can reread the
Intelligent Investor
for the 83rd time. You can throw darts at market maker voodoo dolls and stalk sleazy and soulless short sellers.
Tell it to your shrink, your buddies at the Elk's Lodge and your friends at Friday night bingo. I've got news for you: It's not going to change anytime soon. Any good psychotherapist is going to tell you what I am about to tell you:
Stop wishing for a world that simply does not and probably cannot exist and learn how to function in this cold, hard and unfair real world
.
The P/E Ratio's Not-So-New Meaning
It's all about investor confidence. It's not about valuation.
I know this will be difficult, if not impossible, for Apple bulls and Amazon bears to accept, but there's a simple and straightforward explanation for the disconnect between the companies' valuations. And it has everything to do with Steve Jobs, Tim Cook and Jeff Bezos.
When Jobs was alive, investors were afraid he was going to die. Now that he's gone, he's no longer here. And that's even worse. What else could explain the rapid surges and equally as swift pullbacks Apple has experienced over the last year or so? Sure, you can blame market manipulation conspiracies, hedge funds, mutual funds, profit taking, the broader market, the economy, the rumor mill or sheer stupidity, but these excuses do not cut it. It's all about investor confidence.
Of course, the world is not completely whacked. Despite the stops and starts, Apple has been one of the best buy-and-hold investments the market has to offer. Until now. Down more than 13% from its all-time high, as of Tuesday's close, Apple bulls have to deal, and fight, with more scary uncertainty and internal conflict. What if the party is over for real this time?
Deny it all you want, but Wall Street discounts Apple because it has much less confidence in leaders not named Steve Jobs. If I had a say in the company's succession plan (enter the following half-serious, half-hyperbolic statement), it would have been to spend as much of the company's cash as necessary to hire Jeff Bezos away from Amazon.com. Investors have confidence in Jeff Bezos.
Up until the past three months or so, Apple has largely outperformed Amazon. But that's in the past. While it can be comforting to live there, the approach often does not end well for investors.
While bulls lament Wall Street's refusal to tag Apple with a frothy valuation, Amazon more than maintains its ambitious P/E. And the stock tends to do a better job of establishing highs and sustaining them. Don't get me wrong, it's volatile and it has its share of ups and downs, but you will hear few complaints from Amazon longs that the market is holding the stock down.
Throw out everything you thought you knew about the P/E ratio. It's old school, outdated and useless to measure a company's "valuation" with it. Valuations no longer mean much, if anything at all. The P/E ratio is a gauge of investor confidence. Does this company have the pieces in place to not only sustain and maintain, but achieve continued hyper growth over the long-term?
Despite all of the faux uncertainty bears try to cook up at Amazon, the situation there, with Jeff Bezos steady at the helm for more than a decade, provides plenty more answers than it does questions. Can you honestly say the same about Apple?
At the time of publication, the author did not hold a position in any of the stocks mentioned
.