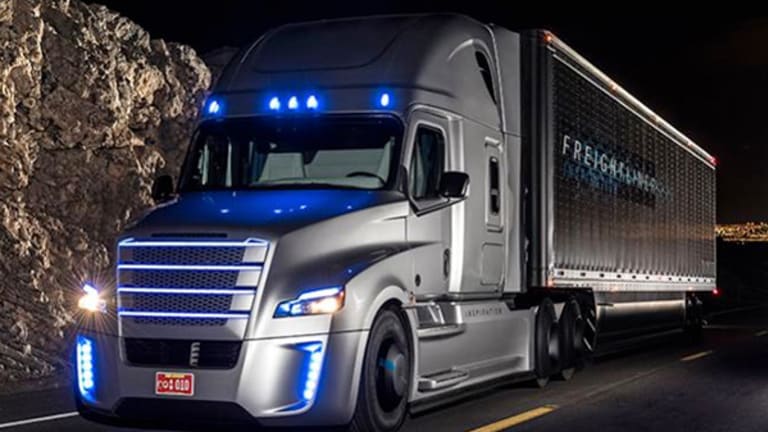 Self-Driving Trucks to Revolutionize Industry, Juice U.S. Economy
A robot truck corridor crossing Canada, USA and Mexico has been proposed. Trucking will impact society dramatically as the first industry where the public gets visibility to robotics.
New York (TheStreet) -- You could soon share the road with trucks driven by robot drivers -- sooner than you think -- and that is going to mean big changes for the U.S. economy. 
The Central North American Trade Corridor Association has proposed a robot truck corridor crossing Canada, the U.S. and Mexico and has launched an initiative to implement this on Route 83. The group is planning to travel to communities along the corridor to gain support.
Robotics has been part of the economy for more than five decades now. But largely it has been in the domain of factories and more recently in warehouses. Trucking could be the first major industry to move robotics into the public sphere. Soon, all Americans will be faced with robots driving next to them on highways.
The potential of robot-driven trucks is starting to create a movement among businesses and states to be the first to what will turn into a gold rush.
"Whoever has the regulatory framework in place" will be the first to get autonomous vehicles, Wolfgang Bernhard, head of Daimler's (DDAIY)  global truck and bus unit, said recently. Fittingly Nevada, one of the states on the proposed route, has already licensed robot trucks to drive on its highways. In May 2015, Daimler unveiled the first robot truck licensed to drive in Nevada. At a grand event at the Hoover dam, Daimler introduced its Freightliner "Inspiration" self-driving trucks.
"We believe that this will help save lives and prevent costly accidents," Martin Daum, president of Portland, Oreg.-based Daimler Trucks North America, parent of Freightliner, said recently.
Trucking is proving to be particularly suited for robotic transportation. Trucking is currently very inefficient due to human limitations. Even though a truck has the capacity to be operational nearly 24 hours a day, due to sleep requirements and work laws, they tend to be used for about one-third the time. With automated trucking, throughput could be doubled or even tripled and return on these expensive fixed assets can be dramatically increased.
Trucking is almost entirely commercial in nature and hence under the control of businesses. Decisions can be made without as much public awareness as when Google (GOOG) and others start selling self-driving cars to consumers in the future.
Trucking is fairly predictable due to the point-to-point delivery nature of shipping with large and convenient docking facilities in train yards, ship yards, and distribution centers. Even retail facilities in shopping malls tend to have good loading and unloading capabilities. They are easier to automate than for example, taxi fleets, which currently Uber is trying to do. Due to GPS, comprehensive traffic and weather reports, they can be easily re-routed to be even more efficient than a human organized system can be.
There are more than 5.7 million people licensed as professional drivers today, from those who drive delivery vans to those who drive tractor-trailer trucks. Driver costs, including pay, bonuses, healthcare, retirement, insurance, etc., can be almost completely eliminated. Additional driver-related risks, such as driver availability, sleep-related or alcohol- and drug-related accidents, scheduling issues, strikes, can also be largely eliminated.
Robot trucks can also be more versatile: Today transportation of hazardous material is difficult and costly, in part due to use of human drivers. Drivers may need to be paid additional to handle these additional risks. These would be some of the first to be replaced. Overall costs would be dramatically lower, efficiency would be significantly higher and return of investments will be dramatically higher.
The economic value of the robot trucks is going to be dramatic. Increasing of drive time, all-weather execution, truck convoys, centralized monitoring and routing, reduction of driver employment and related costs, could easily expand the impact of trucking's impact on the nation's economy.
Every consumer has to deal with shipping times and shipping costs, either for goods they order directly or for goods they buy from stores, which are shipped, too. Trucking today functions as a brake on the nation's economy. Robot trucks will make more efficient deliveries and resultant lower costs available to all businesses. Cheaper shipping will allow more consumption and boost the economy.
Trucking industry will prove to be the low-hanging fruit in making robot driving pay. The technology has now passed the prototype stage. Google's self-driving technology has successfully proven itself in road trials. Australian mining giant Rio Tinto (RIO) has been using robot trucks for two years now. The robot trucks of Rio Tinto have driven more than 1 million kilometers and carried more than 100 million tons of material since 2008.
"If you are around as long as Rio Tinto has been, then you have to figure out what is coming down the track," John McGagh, Rio Tinto's head of innovation, said recently. "It has broken traditional mining methods," he added.
American Trucking Association's director of engineering and safety policy recently said that robot trucks are "close to inevitable". Expect the first robot truck delivery to take place on U.S. highways within five years. There is nothing stopping Daimler from doing it tomorrow in Nevada. Within 20 years, the majority of all truck shipping could be automated.
This will not be an easy process. The public visibility of trucks and attendant safety concerns will mobilize a significant conversation about this shift in society. A natural anxiety about robotics will be increased particularly after one or two accidents happen. Truckers and trucker associations will become active against the automation of this industry. Laws will be passed restricting times, highways, populations levels where automation will be allowed, though these are likely to be relaxed once safety concerns are reduced. Truckers' job loss concerns will also slow down the acceptance of this change. Witness automated toll booths: on toll booths for California's Golden Gate Bridge it took years from the introduction of automated toll booth in the state to fully automate the toll stop, greatly increasing traffic flow and efficiency. Even now, most toll booths still have a few human toll takers.
There will be some winners and losers out of this change. With automation, trucking and nation's highways may prove to be a much stronger channel for the movement of goods compared to shipping and particularly to railways. Even pipelines may find that they are limited to their main paths due to robot trucks filling the gaps.
"One of the challenges we have here in North Dakota is that we have a lot of energy production going on right now, but not enough pipelines to carry the oil from North Dakota to its destination point," Marlo Anderson of the Central North American Trade Corridor Association, a group that exists to promote trade throughout the mid-west and central Canada, said recently. Trucks always provided enormous flexibility compared to the other channels, but once that is combined with cost efficiencies, they may prove to be a major game changer in these other channels.
Many other firms will jump on these changes. Amazon (AMZN) , which has already innovated in the area of shipping (at least from a consumer standpoint), creating Amazon Prime and investigating same-day drone delivery, may be tempted to create its own trucking business when it can be so efficient to complement its same-day shipping goals, local distribution centers and drones. UPS (UPS) , FedEx (FDX) and other logistics companies should become more efficient, reduce their costs to customers and also see an increase in shipping business throughout the country. Truck manufacturers such as Daimler and Volvo, that are already establishing a presence in the space may get huge pay-offs. Existing trucking companies that do not innovate to produce robot trucks will lose heavily. Railways could be particularly hard-hit by this shift. Short-haul domestic waterway shipping may also be hurt.
But the benefit to the entire economy and society is so great that, there really isn't any stopping this revolution. To make this process easier, to treat those who are hurt by this change compassionately and to facilitate a smoother change, the trucking industry can take many pro-active steps.
Given current trajectory, it can be expected that most drivers currently above 50 may be expected to retire as truck drivers. Once the trajectory of the industry becomes clear, new entrants to the industry will taper off knowing that this is not a long-term career. Most of the drivers who will be hurt will be drivers under 50 currently and those who enter the field within the next ten years or so. The focus should be on these individuals.
The trucking industry should start encouraging drivers to move away from long-haul and hazardous material driving and more towards, short haul, urban and flexible schedule driving. Drivers should be encouraged to get cross-trained in other disciplines, particularly in logistics, due to the potential demand for this ability from other countries as they also automate. Education in any other career should be encouraged and subsidized so that drivers have options in the future and have less problems to take out on the trucking industry. Truck-driving schools should be encouraged to diversify and step down their commitment to training drivers over the next couple of decades to avoid creating too much labor supply.
This article is commentary by an independent contributor. At the time of publication, the author held no positions in the stocks mentioned.