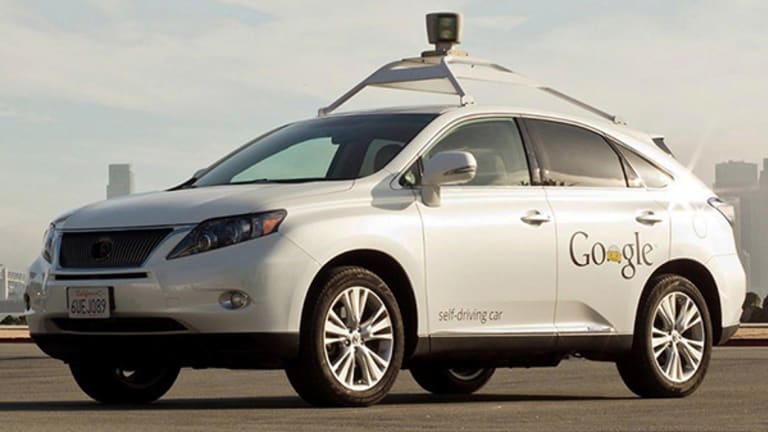 Self-Driving Cars Have Great Potential, but Manufacturers Must First Overcome Challenges
Advocates say that the cars will enhance safety and help consumers save time and money on transportation.
Editors' pick: Originally published May 29.
Some of the world's largest companies, including Alphabet (GOOGL) , Tesla (TSLA) and Apple (AAPL) , are working on self-driving cars.
Each company believes that these so-called autonomous vehicles will be blockbusters, enhancing safety and saving consumers time and money on transportation. Some advocates of the car say that they will have an environmental benefit by reducing traffic. Their theory is that many people will be able to address their driving needs by calling an autonomous car from a pool that is readily accessible to the public.
Alphabet and Apple are holdings in Jim Cramer's Action Alerts PLUS Charitable Trust Portfolio. See how Cramer rates the stock here. Want to be alerted before Cramer buys or sells AAPL? Learn more now.
While Tesla's rarely understated founder and CEO Elon Musk said earlier this year that his company would launch an autonomous car in two years, the technology remains in development, and it's unclear when they will be widely available to the public. Tesla and its competitors face several challenges. Among them are concerns about affordability and cybersecurity. In a recent test, one noted hacker already broke into a Tesla system. 
Alphabet is a holding in Jim Cramer's Action Alerts PLUS Charitable Trust Portfolio. See how Cramer rates the stock here. Want to be alerted before Cramer buys or sells GOOGL? Learn more now.
Still, there's no debating the cars' promise. Researchers project that autonomous vehicles will save about 30,000 American lives every year. The vehicles will also supposedly reduce over $400 billion in expenses from car accidents. Last year, based on a decade of study by the U.S. Department of Transportation (USDOT), President Obama signed a $305 billion transportation bill that includes grants for self-driving cars. 
The USDOT National Highway Traffic Safety Administration (NHTSA) gives five different levels for vehicle automation. At zero, the driver controls everything, but by level 4 the vehicle monitors all road conditions for the entire trip and commands all critical safety functions.
The companies with autonomous cars in production have adopted different approaches to their vehicles. Google hopes to produce a fully autonomous version by 2020. But Tesla is working up one level at a time. Tesla's first version of its autopilot system provides computer-assisted parallel parking and highway steering and lane changing. 
Transportation industries may find themselves at the forefront of this change. Alphabet sees autonomous cars as a way to facilitate sharing and decrease the number of cars in use. The company is developing a system where users might order a shared car that arrives within minutes, taking the passenger wherever he or she wants to go. This might eliminate the need to own a car. 
"This [has the potential to] dramatically reduce the number of cars on the street, 80% of which have people driving alone in them, and also a household's cost of transportation, which is 18% of their income, for an asset that they use only 5% of the time," said Robin Chase, founder and CEO of the ride sharing service Buzzcar, agrees: 
Jacob Katsof, a mobile expert and the CEO of Upchannel, added that driverless cars could also provide a new platform for advertisers. "Smart cars will not only change the way we get to places, but will also make it easier for advertisers to get us there," he said. "Imagine if the smart car knew its driver and could suggest data-driven destinations in real time based on the driver's previous Google searches, Groupon purchases and commonly visited destinations."
However, Oren Abadi, a leading auto authority and CEO of the New Jersey based luxury car dealer Teterboro, N.J.-based Abadi Motors, is less optimistic. "The cost of these self-driving cars would only appeal to the upper echelon of spenders. The common folk that cannot afford to buy one of these particular vehicles will not change the fact that they will be driving regular cars."
Additionally, he warns of the negative effect this will have, as the price of current, man-operated cars depreciates. He says that that might increase the ability of the average consumer to purchase vehicles, particularly luxury cars, and cause the number of cars on the road to spike. 
Some industries may be less than enthusiastic about autonomous cars. Airlines and trains may lose clientele, as travelers find long-distance car travel less onerous. In autonomous vehicles, they will be able to relax, even sleep. Parking companies may see business decline, as drivers send cars a few miles away to park, and recall them whenever necessary. Autonomous cars could impact the healthcare and legal industries, and if Google's sharing model takes flight, government could lose billions in revenue from licensing fees, taxes and tolls, as households.
All of the above assumes that Alphabet and Tesla will be able to perfect their technologies and create vehicles that people want to drive in. Yet both companies will have to make progress in a number of areas, including ensuring that the technology is secure. Jason Hughes, a notorious hacker (a.k.a wk057), was able to break into the self-driving control modules of Tesla and found major flaws in the technology used for all the company's cars, including the Model 3 and Model X.
Any manufacturing self-driving vehicles will have to ensure that technology works seamlessly and is un-hackable before the NHTSA will allow their products on the road. Tesla faces this very obstacle with its MobileEye EyeQ3 chip, the core controller of its self-driving systems. Tesla is working hard to ensure that different modules in its cars work together. That may take years, and it's interesting to note that other manufacturers are using this Israeli-made chip. 
The Obama Administration has pledged to expedite regulatory guidelines for autonomous vehicles, investing up to $4 billion in research to help bring them to market. However, Abadi says the government would be better off spending the money outfitting existing vehicles with "simple communication" devices "whether it's a plugin that would work with the vehicle's OBD terminal or some sort of outfitted GPS/camera outfitted on the front and back of the cars."
He added: "There would have to be a cheap, cost effective way for the government to pay for these costs if they want the autonomous system to work in a safe manner with non-autonomous vehicles. Otherwise you'll come into a problem with human error and self-automated systems. If I was driving next to one of these vehicles and made an abrupt maneuver, how likely is it that the computer systems in these vehicles would avoid a collision?"
Despite their great potential, driverless cars are still far removed from a final version that could be mass produced to success. Tesla, for one, is still trying to ramp up production of non-driverless cars to meet founder Elon Musk's goal of producing one million cars by 2020. Tesla may have to outsource its driverless technology development, something that doesn't seem likely.
---
M. Joseph Rubin & Makena Owens contributed to this article
This article is commentary by an independent contributor. At the time of publication, the author held no positions in the stocks mentioned.