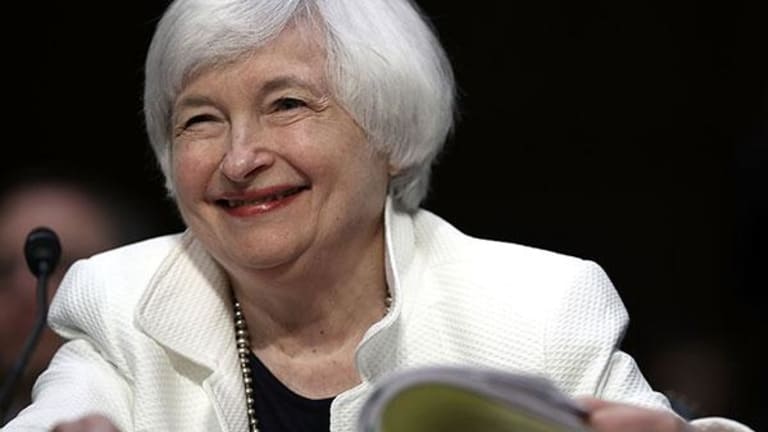 Dammit, Janet Yellen, Give Us Some Realistic Things to Ponder: Market Recon
With no increase in inflation and steadily declining economic growth, how are they going to regularly raise interest rates, as current projections suggest?
"Perpetual optimism is a force multiplier."  
--Colin Powell
Spooky
Taking a look at global equity markets as we proceed on our merry little way this Wednesday morning, there seems to be a whole lot of quiet going on. An eerie, almost awkward kind of quiet has permeated the public scene, as planet earth awaits this FOMC policy statement at 2 p.m. ET. The FTSE 100 is a touch lower, as are U.K. debt securities, in general. That's in response to far stronger-than-expected August Retail Sales in that country, as they negotiate themselves out of the EU. This could put some hawkish pressure on the Bank of England's Mark Carney.
As for the rest of our beautiful, green planet, equities are mostly flat to up small. Why would there be such a silence across markets?
What we widely believe to be in our immediate front has long been telegraphed by the Fed's key speakers. No impact players are looking for a change in the Fed Funds Rate today. They are indeed looking for a third hike of the year in December, but that sentiment will change six times over by the time it matters. What the world expects to see this afternoon is unprecedented. Almost all of us now expect to see the Fed try to extricate themselves from crisis-level monetary policy.
Plenty of central bankers have followed each other like lemmings off of a cliff into the realm of asset purchases, and artificially manipulated market prices for credit. In the long run, this has likely had a negative impact on the ability of the many to judge their own ability to navigate risk. We will not understand how that has changed our psyche as a people for many years. The hot-button question to our immediate front will be "Can they pull this off?" What that means to you and I is first, will quantitative tightening disrupt financial markets? And second, does this derail the trajectory of economic growth? That last one only effects 340 million people. No biggie.
What Do We Look for in the Statement (and Forecasts)?
Not a tough question. As for the official statement, the performance of consumer level inflation, and the expected change in monetary policy are today's focus. For those in need of some guidance here, inflation performance is addressed in paragraph one, inflation expectations are addressed in paragraph two, and policy regarding the reinvesting of the proceeds of maturing securities is covered in the second-to-last paragraph.
to the July 26 Statement (the most recent) to help you get your game on. There is no reason for anyone else, myself included, to be more prepared than are you, especially if people you love rely upon you.
What I need to see from the FOMC today are more-realistic forecasts. As of those June projections, the Fed's median expectation for 2017 GDP was 2.2%. They were probably pretty close. Then they have GDP tailing off over several years to 1.8%. The Fed also sees a median forecast of 2.0% consumer level inflation both at the headline and the core, basically indefinitely.
Thanks for showing up and filling out the forms, guys. Then -- and here's the kicker -- the median forecast for the Fed Funds Rate for this year stands at 1.4%. A December rate hike would make this a reality. After that, though, the median forecast for this most influential interest rate moves to 2.1% in 2018, and 2.9% in 2019. What?
In other words, these clowns think that with no increase in inflation and steadily declining economic growth, they are going to regularly raise interest rates. No problem. We'll just keep on doing what we're doing. Obviously this crew did not take these projections very seriously. They are all smart people. I look for a more honest attempt made at forecasting data that might actually look realistic going forward, hopefully starting today. If not, other people can do your job.
This forecaster thinks the Fed will crash the market.
The Impact of Quantitative Tightening on Financial Markets
The short-term is what folks are most focused upon. Quite frankly, that's all modern man has the attention span left to deal with, these days. Fortunately for our central bank, they are getting this show on the road while they can, in my opinion. Yes third-quarter GDP expectations have been coming in a bit. Yes, Wage Growth, Retail Sales, and Industrial Production remain persistent areas of disappointment, despite some spotty success here and there, but we still have a weak dollar and we still have earnings expansion. That's key, my friends.
The S&P 500 is still trading at 24x the last twelve months' earnings. That's a bit high, but lower than it was a year ago, when earnings were softer. The index trades at 19x the next twelve months projected earnings. Again, that's high, but not stupid high.
Understand that I have been telling you forever that price points are like final scores. They count in the standings. Valuations are just one more significant piece of a grand mosaic. They measure how well your team practiced all week, not whether they won or lost. My point is that the Dow Jones Industrials and the top half of the S&P 500 have been strong for a reason. That will not change just because the Fed siphons $10 billion a month off of the top of their artificial manipulation of our marketplace.
There could eventually be market disruption. It will not come this quarter, just because of this minute reduction in reinvestment. That is not to say that other forces could not have a negative impact, or that Fed speak going into the December meeting won't be interesting. It's just that this is one small step, and I believe that most have already factored it into their models.
Let's Play Two
The Dow Jones Industrials are running along with a year-to-date gain of more than 13%. The S&P 500, very similarly, has gained 12% on the year. Screaming tech stocks have elevated the Nasdaq Composite to the tune of a league-leading 20% for 2017. There has been under-performance in the marketplace, though. That has come from the Russell 2000 (+6%), and the Dow Transports (+5.3%).
This is where tax reform comes in. This is where future performance across the equity space will come from. The small-caps benefit far less from the weakening dollar than do their larger counterparts. The small-caps in general pay very close to the headline 35% corporate tax rate. Lowering that tax rate not only allows those stocks to catch up some, but fosters domestic economic growth. That's where you'll see improved performance for the transports. I will not even get into the repatriation of cash at this point. In theory, that would push the tech space even higher, though some of that cash may already be here in the form of collateralized low interest rate corporate borrowing.
The point is, gang, that our equity market has been strong. It has been strong for real reasons, not just the punch-bowl. Yes, the artificial manipulation of price discovery has gotten us here. That much is true, but this toddler has started to crawl on it's own. Interviewers often ask me if I think we are in the eighth or ninth inning of this bull market. What if I told you that I think that we might just be playing a double header?
Tesla (TSLA) could lose 25% of its value, in other news.
Macro
10:00 - Existing Home Sales (August): Expecting 5.47 million, July 5.44 million SAAR. Existing Home Sales are easily the largest item within the housing space. So this series is a big deal. The July print for this series hit the tape at the lowest seasonally adjusted, and annualized, level that we've seen since August 2016. That's eleven months. I would not say that the trend has cracked, but several conditions -- such as supply, and potentially tightened monetary policy -- could impact this slice of the economy. A beat in this space would be most welcome this morning.
10:00 - Oil Inventories (Weekly): API +1.4 million, Last Week +5.9 million barrels.
10:00 - Gasoline Stocks (Weekly): API -5.1 million, Last Week -8.4 million barrels. Data released by the American Petroleum Institute showed that the headline item, supplies of WTI Crude, had increased far less than expected in the week ended last Friday. The numbers also showed another sizable draw for gasoline stocks. Aftermarket prices for crude had again failed to hold above the $50 levels, these numbers put a bid under Crude futures last night. Separately, on Tuesday Iraqi Oil Minister Jabar Ali al-Luaibi indicated that several members of the OPEC cartel were willing to push the already enacted-upon production cuts all the way out to the end of 2018. Should the Wednesday EIA data support the API numbers, another battle at this level appears set.
14:00 - FOMC Policy Announcement.
14:00 - FOMC Economic Forecasts. we'll be looking for more than changes in verbiage in this policy statement. Today, we actually expect to see a change in policy regarding the Fed's management of its balance sheet. We have gone over this extensively, as have our financial media competitors. I do not think that the FOMC takes a pass on making any changes to the Fed Funds Rate. However, the forecasts will be focused on where expectations regarding both inflation and interest rates are headed.
14:30 - FOMC Press Conference. There will be a knee-jerk in the marketplace at 2 p.m. ET. Then the markets will likely tread lightly until the Chair, Janet Yellen, takes center stage. At that point, the market will sway upon both policy and presentation. Be ready. 
Sarge's Trading Levels
These are my levels to watch today for where I think that the S&P 500, and the Russell 2000 might either pause or turn.
SPX: 2535, 2524, 2513, 2506, 2499, 2492
RUT: 1458, 1451, 1444, 1437, 1428, 1422
Today's Earnings Highlights (Consensus EPS Expectations)
Before the Open: GIS (0.77)
After the Close: MLHR (0.57)
Get Morning Recon delivered directly to your inbox each market day. Click here to sign up for e-mail delivery of Stephen "Sarge" Guilfoyle's Morning Recon, Jim Cramer's Daily Booyah! or other great free newsletters from TheStreet.
Don't miss these top stories on TheStreet:
At the time of publication, Guilfoyle had no positions in the stocks mentioned.