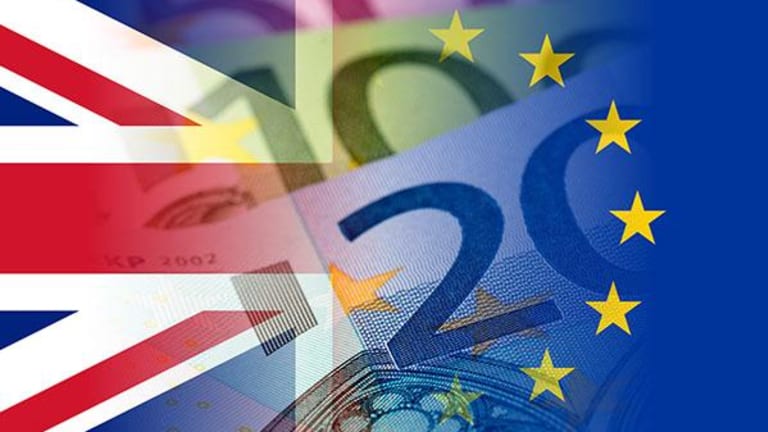 Invest in U.S. Defense Stocks During Brexit' Selloff
The defense sector's overreliance on U.S. spending appears a feature, not a flaw, when seeking refuge from the 'Brexit' selloff. Just beware of commercial and business jet demand.
The United Kingdom's vote to leave the European Union sent traders on both sides of the Atlantic scrambling for the exits, adopting a "sell first, ask questions later" mindset that caused significant declines nearly across the board. There are bargains to be found in such indiscriminate selling, and U.S. aerospace firms are a good place to look.
The U.S. spends more on defense than the next half dozen biggest spending countries combined, a stat to keep in mind when pondering how events in Europe could impact U.S. contractors like Lockheed Martin (LMT) - Get Lockheed Martin Corporation Report  and Northrup Grumman (NOC) - Get Northrop Grumman Corporation Report . Most all big-ticket defense items sold overseas are priced in U.S. dollars, further minimizing defense exposure to "Brexit" ramifications, and any economic decline in the region could arguably necessitate higher U.S. government European defense spending, offsetting any order weakness.

Lockheed Martin is a holding in Action Alerts PLUS Charitable Trust Portfolio. Want to be alerted before Cramer buys or sells LMT? Learn more now.
Cramer and Jack Mohr, research director, noted Friday that the company "sits in an industry benefiting from serious secular growth," stating "stability and income generation will win out in this uncertain market and Lockheed fits the bill."
Cramer, however, had little in the way of recommendations for safe haven stocks Monday during this tumultuous market setting.
"I wish I had more opportunities," he said. "This is not a great day to buy. There's a couple of domestic companies I like. I wish earnings were better.
Defense IT firms in particular would appear to be safe harbors during the Brexit storm, as they are primarily U.S. focused and have little commercial exposure. They also tend to be more levered than defense equipment makers and would enjoy more of a windfall from continued lower rates due to the economic uncertainty Brexit seems likely to cause.
Leidos Holdings (LDOS) - Get Leidos Holdings, Inc. Report , which is in the process of combining with Lockheed Martin's IT and government services business, stands out as a potential beneficiary, as does CSRA (CSRA) .
Commercial aerospace is more of a mixed bag, as European heavyweight Airbus and large numbers of European airlines do business with U.S.-based suppliers. Cowen & Co. analyst Cai von Rumohr, in a note, said that the weakness in sterling and troubles in Europe are an issue for United Technologies (UTX) - Get United Technologies Corporation Report , which gets 4% of sales from the U.K. and 15% from other European nations.
Boeing (BA) - Get Boeing Company Report  is already the subject of investor concern over the sustainability of its massive order book, and weakness in Europe could further pressure the company's future orders. The company, in a statement Friday, said "we constantly manage changes in political circumstances and we will continue to do so now with the evolving situation in the U.K. and Europe." Boeing also has a substantial defense business with a book of orders that longs expect to deliver in the quarters to come, potentially offsetting any eventual declines in commercial jet orders.
Von Rumohr said that flight control systems maker Moog (MOG.A) - Get Moog Inc. Class A Report  could be a beneficiary. The company generates about 5% of sales from Airbus, recording those sales in U.S. dollars but benefiting from some of the costs associated with those sales in now lower-valued British pounds.
Jefferies & Co. analyst Howard Rubel noted that aircraft assembly maker Spirit AeroSystems (SPR) - Get Spirit AeroSystems Holdings, Inc. Class A Report generates 7% of revenue on pounds but also prices about 12% of its costs in the currency, "so any currency translation issues should be offset by lower costs."
A wild card in thinking of defense stocks post-Brexit is business jets, with General Dynamics (GD) - Get General Dynamics Corporation Report  and Textron (TXT) - Get Textron Inc. Report with the most exposure there. Demand for business jets tend to be more closely linked to economic swings than demand for larger commercial jets or armaments, meaning a recession in the United Kingdom or in Europe as a whole could hit biz jets particularly hard.
The sector is already facing turbulence due to a slowdown in China and commodity price declines that have dried up demand in many emerging markets. A falloff in Europe would add significant pressure to already falling jet prices.