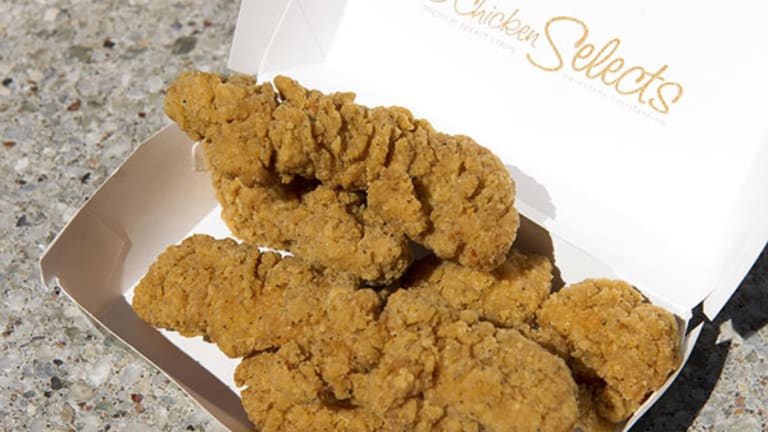 See Why McDonald's Is Really Bringing Back Chicken Selects
McDonald's is resurrecting a menu item it had discontinued in 2013, but it's not doing it just to indulge customers' nostalgia.
NEW YORK ( TheStreet) -- Struggling McDonald's (MCD) - Get Report isn't bringing back Chicken Selects just because its customers are nostalgic for it. There are likely three key reasons for this change of heart that are at the core of the Chicken Selects' return.
On Thursday, Bloombergreported that the menu item will be returning for a limited time starting in March, stirring a largely positive frenzy of activity on social media. Chicken Selects is a former 15-year menu staple that McDonald's discontinued in Feb. 2013, along with a salad boasting fruit and nuts, in a bid to streamline its bulging menu.
Chicken Selects are fried strips of tenderloin bird, almost similar in appearance to the chicken fingers sold by McDonald's rival Burger King (BKW) . The chicken fingers from each fast-food giant are roughly double the size of their nugget offerings.
A three-piece order of Chicken Selects will go for $2.99, compared to the $3.99 for the chicken fingers dished out at Burger King.
Heralding the return of premium fried chicken strips seems strange. Chicken Selects were, after all, likely cut from the menu due to the product not selling well. But the McDonald's of Feb. 2013 is different from the one that today is battling horrendous sales trends in the U.S. Today's operating environment is also now loaded with fast-casual chains selling "healthier" fast-food.
For one, Chicken Selects takes McDonald's back to the roots of founder Ray Kroc, who favored simple-to-prepare food that can be served quickly. In light of the initial response to the news, McDonald's may have just opened the door for a U.S. sales pop in March, when its chicken strips will become available.
Another reason is that the product allows McDonald's to tout a healthier-sounding alternative to its burgers. During a period when consumers are hankering for protein-packed meals with a reasonable number of calories and fat, such as those delivered by Chipotle (CMG) - Get Report and Shake Shack (SHAK) - Get Report , McDonald's has put itself in a good position to finally ride the wave.
A final explanation to the return of Chicken Selects is pure economics -- chicken prices are more affordable than beef or pork. Robust U.S. corn and soybean crops have reduced the price of feed for chickens. Chicken feed is among the most significant cost for poultry producers, such as Tyson (TSN) - Get Report  and Pilgrim's Pride (PPC) - Get Report . On the other hand, constrained supplies for beef and pork have kept prices high for those proteins, making it somewhat prohibitive for fast-food chains to experiment with new items.
This article is commentary by an independent contributor. At the time of publication, the author held no positions in the stocks mentioned.