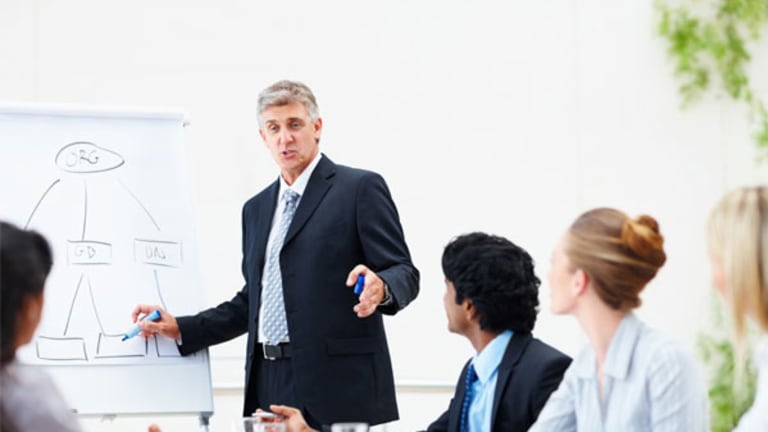 Sectors to Play: 2012 Election Winners and Losers
There are key facts that can provide investors with some basic guideposts on what industries could win or lose post-election.
The following commentary comes from an independent investor or market observer as part of TheStreet's guest contributor program, which is separate from the company's news coverage.
By Timothy R. Lee, managing director
WASHINGTON, D.C. (
Monument Wealth Management) -- It's no secret that political outcomes have economic repercussions, and never more so than when power structures at the very top are up for grabs. With the 2012 presidential elections now imminent, investors throughout the nation are rightly wondering what industry sectors will benefit and lose with a Democratic or Republican White House.
While there are mountains of "voodoo statistics" out there that attempt to quantitatively characterize how the markets will perform under various electoral scenarios, the fact is, any attempts to project hard numbers on how each industry could perform is tantamount to reading tea leaves.
That said, there are certain key facts about the two leading political parties and about the state of the nation that can provide investors with some basic guideposts on what industries could win or lose following the 2012 elections. These facts include:
Generally speaking, when you have a "strong personality" president in office (such as Ronald Reagan, Bill Clinton, or George W. Bush), it is safe to assume that the president's party platform will be successfully pushed through Congress, regardless of whether the same party has a majority in the legislature. Because a newly elected or re-elected president can make an argument about a mandate and will likely have some wind at his back in the beginning of the next Congress, this makes analysis of potential industry winners and losers easier, as they will be much more directly correlated to the future president's party agenda. While neither of the two leading political parties are monolithic entities in terms of ideology, it is safe to say that the Democrats favor more stringent environmental regulations, continued implementation of President Obama's national health care plan and raising taxes on the wealthiest segments of the population to pay down the national debt and reduce deficits. By contrast, the Republicans generally favor more business-friendly regulations, oppose ObamaCare and support tax cuts to spur growth through greater revenue generation that can, presumably, be used to pay down the debt and reduce deficits. Not surprisingly, the one consistent issue that deeply concerns both political parties is the national debt, which is a cloud that hangs over all other policy discussions, and which everybody agrees is a central problem for our country. In the absence of any concerted agreement on how to tackle this issue, it is likely that additional cuts will occur in the public sector, which will be expected to do more with less.
Looking at these basic facts, who will be the industry winners and losers under a Democratic or Republican victory?
Should the Republicans take the White House, we can likely expect a big boost for energy and utilities companies, in tandem with greater government tolerance of offshore drilling, exploration of new sources of domestic energy (including shale oil drilling) and a more business-friendly approach on clean air mandates.
At the same time, the GOP very obviously wants to repeal ObamaCare. Ironically, this would negatively impact the health care industry, particularly health care insurers, who have benefited from the very legislation that they originally opposed. (In fairness to the health care insurance companies, the legislation that was ultimately adopted, which provides for no public option competition to the insurers, was a big victory for the industry.)
Health care insurers have turned in a couple of strong performance years as an industry group, particularly relative to the broader markets, with a group of the best-known insurers up by more than 80%, vs. the
S&P 500
, up by only 10% or so, over the same time frame.
Should President Obama be re-elected, generally speaking, we can expect the mirror opposite results for the energy and utilities industries (their performance will be constrained due to more limiting environmental regulations and more stringent clean-air mandates, which could add costs to their bottom line) as well as the health care industry (which should continue to perform well as implementation of the national health care plan proceeds).
Equally important -- and this is a point missed by many of the pundits attempting to opine on electoral impact on the markets -- the state of the nation translates into clear industry winners and losers, regardless of who serves as our next president.
The biggest loser among industries will almost certainly be the defense and homeland-security focused businesses. Our withdrawal from one war (Iraq), and the beginnings of our withdrawal from another (Afghanistan), combined with our national debt and deficits challenge, will all likely result in continued defense-related budget cuts. This, in turn, will create fewer new projects and orders for defense contractors, and indeed, the possible cancellation of many of the larger-scale contracts that were begun just a few years ago.
On the flip side of this equation, because the public sector will be expected to do more with less headcount and money, it is reasonable to assume that it will need to upgrade existing technology platforms to enable greater levels of operational efficiency. This means a potential large upside opportunity for IT services companies that specialize in implementing such systems, and it's possible for this space to grow significantly post-2012.
As with any election, it doesn't pay to structure your investments around every possible variable and scenario that could come to pass. But with some basic common sense for the 2012 elections, it's easy to find guideposts that can help direct your investing strategy for any realistic political outcome.
>To submit a news tip, email:
.
RELATED STORIES:
>>10 Stocks Rallying as Oil Prices Surge
>>4 Ways Washington Mutual's Bankruptcy Still Matters
Follow
TheStreet
on
and become a fan on
Timothy R. Lee is a Managing Director with
Monument Wealth Management, an independent investment management and private wealth planning firm in the greater Washington, D.C. area which provides advice on over $250 million in client brokerage and advisory assets. The firm specializes in creating and executing on highly customized financial plans and investment strategies for high net worth individuals and families. Securities and advisory services offered through LPL Financial, a Registered Investment Advisor. Member FINRA/SIPC.
The opinions voiced in this material are for general information only and are not intended to provide specific advice. To determine which investment(s) may be appropriate for you, consult your financial advisor prior to investing. All performance referenced is historical and is no guarantee of future results. All indices are unmanaged and may not be invested into directly.