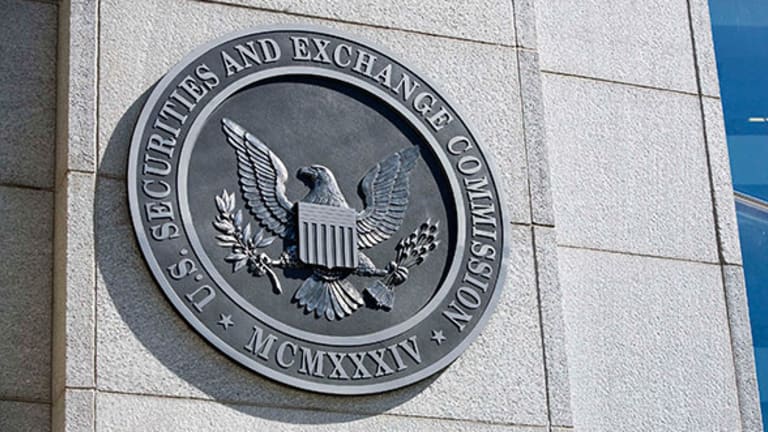 SEC Boasts Record Wins but Powerful Execs Remain at Large
Officials at the SEC have been on a brag-fest about the agency's record 755 enforcement cases in fiscal 2014. A closer look shows top executives have not been snared.
NEW YORK (TheStreet) -- Talk about killing the buzz.
Top regulators at the Securities and Exchange Commission were just catching their breath from a victory lap over their 2014 enforcement record when a federal appeals court in Manhattan delivered bad news. 
A headline-grabbing criminal insider-trading conviction of two former hedge fund managers was overturned on Dec. 10, opening the possibility that the SEC's civil settlement in a parallel case might be withdrawn. At a New York Times/DealBook conference Dec. 11, SEC chair Mary Jo White conceded that the ruling was "a concern."
It was only in November that White and her top enforcement guy were crowing about the agency's record 755 cases in the fiscal year that ended Sept. 30.
The SEC is "firing on all cylinders," White said on stage at New York's Marriott Marquis at the Securities Industry and Financial Markets Association meeting, the annual confab of Wall Street's main lobbying group, last month. The agency's fiscal year was an enforcement division record "in the number and quality of cases," she said. Moreover, real live humans were getting charged -- not just faceless corporations -- including 52 insider-trading cases.
White's enforcement chief was pretty pleased, too. "I am proud of our excellent record of success and look forward to another year filled with high-impact enforcement actions," said Andrew J. Ceresney in a press release Oct. 16 announcing the record results -- including $4.16 billion in penalties and disgorgement. The SEC is holding wrongdoers accountable, he said. 
But which wrongdoers are we talking about? 

Cases Bypass Corner Offices

It's one thing to get a financial institution to hand over even hundreds of millions of dollars in a settlement that doesn't name names. But it's quite another to go after the C-suite executives. 
Ceresney and I got talking on the telephone about the SEC's most recent enforcement actions, and he told me something surprising: "Seventy percent of our cases this past year involved individuals," he said. 
Now that's pretty big news considering all the grief the SEC has taken for wimping out on charging employees.
So I asked SEC spokesman John Nester if I could see a breakdown of the fiscal-year 2014 cases that Ceresney was referring to. Nester wasn't able to provide a list of the actual cases, but did provide a table that broke down the numbers of actions where individuals were charged. So I pored over the agency's Web site to figure out what cases Ceresney might have been talking about. 
As it turns out, the enforcement chief wasn't referring to 70% of the 755 cases that White boasted about in New York. He was focusing on a subset of 416 of those cases where the agency had the opportunity to charge both a firm and an individual. 
So the list excluded 107 actions brought against companies that hadn't filed disclosure reports -- cases that by definition don't include individuals. Also left out were 232 so-called "follow ons," which are proceedings that follow an earlier case and only involve individuals. 

Here's the Bottom Line
After perusing all the agency's litigation releases and administrative proceedings for fiscal 2014 -- and ignoring such things as requests for time extensions in an existing case -- I found only 15 against national or international institutions. Among those, only four cases named individuals: A senior trader at Jefferies; a research analyst and a trader at Wells Fargo (WFC) - Get Wells Fargo & Company Report; a former trader at Barclays (BCS) - Get Barclays Plc Report; and a former broker at Morgan Stanley (MS) - Get Morgan Stanley Report. 
No CEOs. None of the preening guys who get interviewed at Davos, the annual conference for the globe's bigwigs that takes place at a ski resort in Switzerland each winter. 
But the SEC has more to brag about, so let's hear them out. At that SIFMA meeting last month, White said the agency had brought 170 cases (the number is now 175) for malfeasance related to the financial crisis, including charges against 70 "senior corporate officers." 
That list, which appears on the SEC Web site, includes 17 CEOs, such as Angelo Mozillo of Countrywide and the former CEO at IndyMac Bankcorp. It also included the CEO of a boiler room operation who had been fined, suspended, or both by regulators on five occasions beginning in 2003. In other words, someone whose serious violations predated the 2008 crisis.
The highest-level big-bank target at a solvent institution was Gary Crittenden, the former Citigroup (C) - Get Citigroup Inc. Report chief financial officer who paid a $100,000 penalty in a settlement that charged him with misleading investors about the bank's exposure to subprime loans. I know it's the holiday season, but Crittenden made $12 million in 2008 according to Citi's proxy that year, so no need to pass the hat. 

CEOs Still Dodging Bullets

The bottom line is that the SEC's cases as a rule don't include the top people "at the biggest, most powerful, politically connected banks that set the tone and the culture for the industry," said Dennis Kelleher, chief executive of Better Markets, a nonprofit that promotes investor interests in financial regulation. 
Since 2010, the SEC has published numbers to show what portion of its enforcement efforts were aimed at high-impact, national cases. 
The agency's 2015 Annual Performance Plan said that 10% of cases in fiscal 2011 were high-impact. That was followed by 20% in 2012 and 15% in 2013, according to the report. The SEC had previously reported that only 5.11% of cases in 2011 met the criteria, but revised the number after it changed its definition of "high impact" in 2012. It also dropped altogether a high-impact reading of 3.26% in 2010. The calculation for 2014 will be published in the agency's forthcoming annual performance report, said Nester.
When Barack Obama nominated White to be SEC chair in January 2013, he noted that she had prosecuted terrorists and even the head of the Gambino crime family. The implied conclusion was that Obama's nominee had what it takes to get Wall Street in line. 
"You don't want to mess with Mary Jo," the president said. 
White may indeed have scared the pants off terrorists and mobsters. But what Obama may not have considered when he made that nomination is that financial guys just don't scare as easily.
This article is commentary by an independent contributor. At the time of publication, the author held no positions in the stocks mentioned.