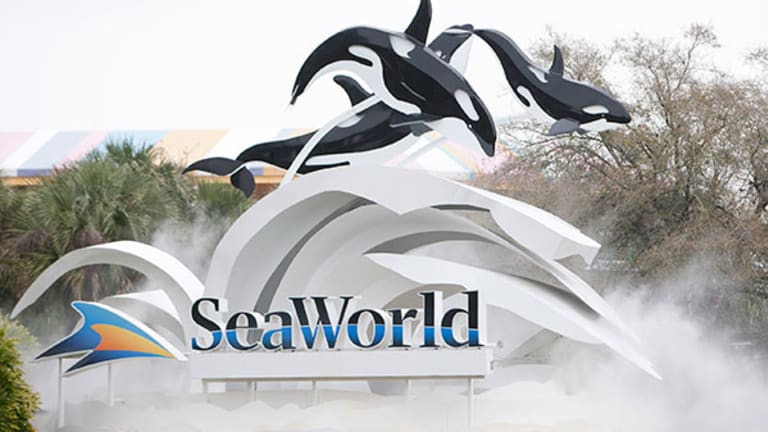 Publish date:
SeaWorld Wades Into 2014 Amid 'Blackfish' Backlash
SeaWorld has long delighted fans with its killer-whale shows. Will a new documentary drive away park visitors?
SeaWorld has long delighted fans with its killer-whale shows. Will a new documentary drive away park visitors?
Least Favored in 2013: Featuring the year's shockers from Wall Street to Washington. Read Fed Policy shenanigans; Tech spies; SeaWorld tragedy; Caterpillar-China scandal; Bud Beer scandal; Bill Ackman's Herbalife; LIBOR rigging; Forex Scandal; and check out this video CEO Walk of Shame.

NEW YORK (TheStreet) -- Theme-park operator SeaWorld (SEAS) - Get Report has long showcased its acrobatic orcas performing tricks and playing with trainers. Consumers flock to the company's 11-destination resorts around America to see wild and entertaining shows. SeaWorld went public this year. But an orca killed trainer Dawn Brancheau, in 2010. A newly released documentary film about Brancheau's death has tarnished the company and hurt ticket sales. Can SeaWorld continue its impressive streak of record revenue and earnings with the media tearing it apart?
The CNN documentary Blackfish premiered at the Sundance Film Festival in 2013. The film shows the life of captive orcas, or killer whales, and how over time they become more aggressive. It focuses on Tilikum, a wild-caught orca involved in the deaths of three people, including Brancheau. The film's interviews with experts and former SeaWorld employees certainly don't help the company's image.
SeaWorld went public in April at $27 per share. After shares rose to almost $40, they now trade around $30 and are up only slightly from the original offering. A December secondary offering saw Blackstone (BX) - Get Report and other owners sell 18 million shares at $30 each. Shares continue to trade below that mark as investors question how many more stock sales will happen and whether the continued publicity nightmare will hurt attendance and overall revenue.
Several classic rock and country artists are not helping SeaWorld's start to 2014. SeaWorld showcases musical performers annually in its Bands, BBQ and Brews concert series. However, the company is currently looking for new performers amidst the backlash to Blackfish. The majority of the booked musicians have pulled out, and petitions are circulating among music fans angered by SeaWorld's treatment of animals.
Canadian band Barenaked Ladies were the first to pull out of the concert over a petition on popular activist Web site Change.org. Other acts have canceled, including Trisha Yearwood, Willie Nelson, Cheap Trick, Heart and REO Speedwagon. Every time a band cancels, it puts SeaWorld and Blackfish back in the spotlight. Then more people want to watch Blackfish, which is also available for viewing on Netflix (NFLX) - Get Report.
The P.R. mess hit just as SeaWorld was at a revenue high. In November, the company posted record revenue of $538.4 million, a 3% increase from the previous year. Adjusted net income and earnings before interest, taxes, depreciation, and amortization (EBITDA) also hit new records for the company. The strong results put SeaWorld on track for the third straight year of record revenue and earnings.

But the flaw in the strong earnings was weakened attendance. In the third quarter, attendance was down 3.6%, continuing the yearly trend of fewer visitors. Through the first nine months, total attendance declined 4.7%. SeaWorld did see higher spending per person inside the parks in the third quarter ($22.36 vs. $21.61), which helped offset a lower headcount. Some of the weakened attendance figures could be the direct result of Blackfish.
Despite Blackfish, SeaWorld will not see its parks close or the entertainment from orcas end anytime soon. Consumers will continue to pay handsomely to watch marine animals up close and personal as they perform tricks and swim. After all, the death in 2010 didn't cause the parks to close then, and one film isn't likely to have a huge impact.
In the short term, SeaWorld will take the P.R. hit and might see fewer people visiting its parks. This will put pressure on in-park spending on food and merchandise, a strength for the company in recent quarters.
SeaWorld continues to have a tough road ahead. Try posting on Facebook (FB) - Get Report that you are taking your family to SeaWorld. I bet some random relative or friend will ask you if you've seen the movie and criticize your decision.
Boycotting SeaWorld has become the right thing to do, for many. With a recent secondary stock offering and cancellations from musicians at the festival, shares may be stuck around $30 for a little while.
SeaWorld does pay a dividend yield north of 2%, which should get some value investors to stick around. Long-term investors can likely wait out the impact of Blackfish and the weakened attendance figures. However, I don't see there being a very happy ending for SeaWorld shares in 2014. A potential Academy Award nomination or win could even see shares trade below the IPO price.
At the time of publication the author had no position in any of the stocks mentioned.
This article was written by an independent contributor, separate from TheStreet's regular news coverage.
Chris Katje has been fascinated with the stock market since a young age. That passion turned into a freelance writing career that began in 2008. Mr. Katje has seen his work appear on Seeking Alpha, the Motley Fool, The Street, and Variety. Chris's annual top ten stock picks list continues to beat the market and grow in popularity. You can follow Chris on Twitter (@chriskatje).