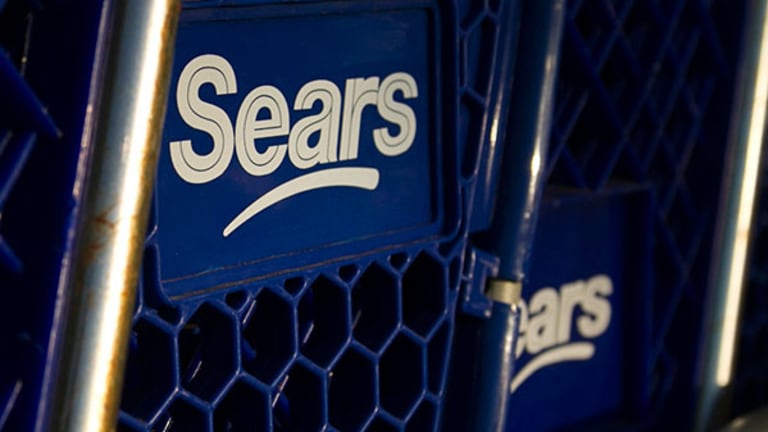 Sears' Lands' End Move Shows Weakness in Old-School Analysis
Playing 'gotcha' with what's on retailers' shelves gets headlines but may not make money for investors.
NEW YORK (TheStreet) -- Sears Holdings' (SHLD) move to spin out Lands' End in what The Deal calls a "liquidation sale" shows the weakness of an old-school retail analysis method being used by one of the Street's hottest new-school analysts.
Brian Sozzi of
has recently been getting headlines by posting pictures of retailers he says are doing things wrong. These
are disturbing. These photos
are just sad.
This informs calls against Sears and Wal-Mart, along with
J.C. Penney
(JCP)
. Companies he seems to like include
Macy's
(M)
,
Target
(TGT)
and
Best Buy
(BBY)
.
I have been to Sears and Wal-Mart outlets like those Sozzi photographed and seen the kinds of scenes he shows with my own eyes. His results appear valid.
The question is whether they're valuable.
Results this year are mixed. Best Buy has indeed been a winner, up almost 49% just in the last three months and zooming 262% so far this year. Sozzi's negative call on J.C. Penney has also been accurate -- the retailer is down 55% in just the last three months, 62% this year.
But Macy's and Target are both down in value over the last three months and Sears has zoomed up 55% in that time.
So what's going on? How valuable is store-walking as an investment tool? How relevant is the appearance of operations to how a company is doing for investors?
Sozzi is a peripatetic contributor to all the media he can find. You will find him on
our RealMoney site
, as well as
He's on all social media, including
and
. He
He is listed as running a newsletter called
. He wears a suit well and can be at your TV studio in a flash. Our own social media maven, Rocco Pendola, has him in his "never sleeps" club.
The question for investors is whether this kind of analysis works. I think it does demonstrate long-term trends of which investors and management should be aware but it tends to be a lagging indicator rather than a leading one. Done as a "gotcha" and promoted as a reason for short-term moves, it's limited.
Take Sears, which we at
TheStreet
consider
The stock began moving upward in early September after Baker Street Capital Management published
which said its real estate alone is worth $100/share.
Controlling shareholder Eddie Lampert has long managed the company on a strategic retreat longer than Napoleon's from Moscow, aiming at extracting maximum value from its brands and other assets. The latest move to spin off Lands' End as well as the Sears Auto Centers reads like its spin-off of
Orchard Supply Hardware
(OSHWQ)
last year.
Such deals help reduce Sears' debt load and improve its balance sheet. The spinoff has gone poorly for Orchard shareholders. Those shares now trade at 30 cents each, having been as high as $27.50 each in February 2012.
As for Wal-Mart, that company has been buying back shares aggressively and has also been expanding in international markets, offsetting retail mistakes and leading to a gain for shareholders of 12.44% for the year, plus a dividend yielding 2.44% at current prices.
The point is that while looking at shelves is valuable and can offer great long-term insights for management and far-sighted investors, it's not the whole story. Big retailers are active in the boardroom as well as on the sales floor, and investors need to be alert to both.
At the time of publication, the author owned no shares in companies mentioned here
This article is commentary by an independent contributor, separate from TheStreet's regular news coverage.
Dana Blankenhorn has been a business journalist since 1978, and a tech reporter since 1982. His specialty has been getting to the future ahead of the crowd, then leaving before success arrived. That meant covering the Internet in 1985, e-commerce in 1994, the Internet of Things in 2005, open source in 2005 and, since 2010, renewable energy. He has written for every medium from newspapers and magazines to Web sites, from books to blogs. He still seeks tomorrow from his Craftsman home in Atlanta.