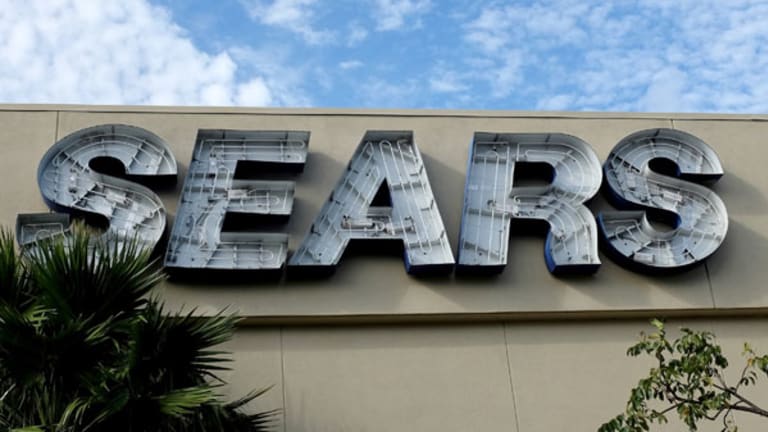 Sears Is Failing Right Before the Eyes of Investors and Customers
Sears shares are plunging and analyst and media reports are taking note. But the retailer's demise is equally obvious to observant Sears and Kmart customers. Brian Sozzi reports.
NEW YORK (TheStreet) -- The tragic demise of Sears (SHLD) is unfolding right now in the stock market. It's also happening right in front of the eyes of unknowing consumers that still visit Sears and Kmart stores.
Shares of Sears Holding Corporation have plunged 21% in the past month on reports it's having to pay more to finance its inventory and a key vendor has reduced shipments to the retailer. According to an Oct. 8 Bloomberg report, Euler Hermes Group, a leading provider of credit insurance to vendors, has been sending out cancellation notices, with a few others following Euler's actions. Per the report, one unnamed supplier has begun to withhold products from Sears after a recommendation from its credit department.
The fear among credit insurance companies and vendors is Sears' dismal three-year stretch of same-store sales at both divisions and operating cash flow burn in 2014 of $747 million may leave it unable to pay its bills in 2015. Sears refutes the claims that it's in a trying spot. "We continue to meet all of our obligations," said Chris Brathwaite, a company spokesman, to Bloomberg.But, the assertions by Sears' executives that everything is fine and dandy, especially CFO Robert A. Schriesheim on the corporate blog, does not jibe with what could be seen inside the company's stores.
The apparel section at Sears sports excess apparel clearance markers, along with new signs for "up to 90% off" hanging over the fine jewelry department. There is a sparse feeling to the general merchandise sections at Kmart. All of the visuals confirm the company is under serious financial stress, and is barreling right towards some form of major reorganization or capital raise in early 2015, both at the detriment of shareholders.
Here are the findings from visits to Sears and Kmart stores.
Use of the word "clearance" in retail is meant to tell a consumer that the retailer goofed by ordering too much of an item, and a great deal could be scooped up.
In the current case of Sears, its excessive levels of clearance merchandise, as indicated by yellow signs, at its namesake and Kmart stores underscores the weakness of its customer traffic during peak shopping periods, such as back to school. Further, it also demonstrates store mangers trying to secure a sale at any cost from what little traffic does trickle into the store.
The Bargain Big Subtext
Hastily constructed racks with "reduced for quick sale" signs, as seen here at Kmart, is a merchandising tactic used to quickly raise cash from aging inventory. It's meant to create a sense of urgency on the part of consumers.
Zombie Departments
When Bloomberg reports on credit insurance companies and vendors fearful of rising costs of inventory, this is how it appears in the store: spacious-feeling departments. What's causing that feeling? A lack of product on the shelves, as could be seen here at Kmart and Sears.
Scattered Merchandise
It's often said in the retail business that retail is detail. That means retailers will present merchandise by classification in a single department in the store. Think jeans folded next to T-shirts in the Arizona section at J.C. Penney (JCP) - Get Report . Or, Nike (NKE) - Get Report sneakers being assigned to a specific wall at Foot Locker (FL) - Get Report .
At Sears, it has not held true to that approach, scattering unsold apparel merchandise throughout the store. The goal: keep it in front of the eyes of consumers as they wander the store in the hopes they bite.