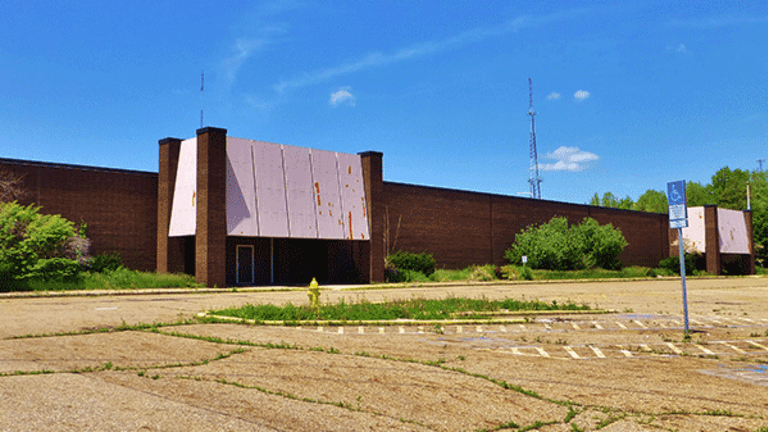 Sears Is Closing a Ton More Stores Because, Let's Face It, It's Sears
Sears is still dying.
The burning pile of garbage that is Sears Holdings Corp. (SHLD) continues to be smoldering.
While execs played up progress on a turnaround that has been unfolding for 10 years on Thursday, Sears put up another brutal quarter of results. Investors probably don't know what to make of the numbers, with shares falling slightly on the session. On the one hand, the entire market knew Sears would deliver another disaster, especially in light of weak results from mall rivals Macy's (M) - Get Report and J.C. Penney (JCP) - Get Report . On the other hand, Sears' loss figures weren't as ugly as one year ago. 
But, what was put forth ultimately should scare any trader that has went long the stock over the past month (+14%) on optimism CEO Eddie Lampert will save the company via more loans and clever deals like the one with Amazon (AMZN) - Get Report to sell Kenmore stuff. Here are several bearish figures to keep in mind from the quarter.
More Store Closures
Sears said it will soon close 28 more Kmart stores. So far this year, the company has shuttered 180 locations and plans to close 150 in the third quarter. In effect, Sears continues to fade from suburban America, ceding share to competitors.
About Those Store Closures
Despite the eye-popping number of store closures this year (which has become the norm for Sears), Sears is still not making money. The company lost $251 million in the second quarter compared to a loss of $395 million a year ago. Adjusted EBITDA came in at a loss of $67 million versus a $191 million loss last year. 
Want a sign Sears' business model is still not working despite all its cost-cutting efforts? This is it. 
More Cash, Please
Sears did its best to put lipstick on a pig with regards to its cash position. But, a deeper dive yields worries. 
The company ended the quarter with $442 million in cash, of which $230 million was restricted. Sears said after the second quarter ended, it executed $160 million in asset sales.
Only $191 million remains in availability under Sears' credit revolver. 
The concern as Sears approaches the holiday season and looks toward 2018: its operations have chewed up $1.1 billion in cash so far this year. If Sears doesn't raise more money soon, things could get hairy quickly.
Sears stock traded down 0.35% to $8.49 Monday morning.
More of What's Trending on TheStreet:
Here Comes the End to the Roaring Bull Market in Stocks
Houston's Airports Will Stay Closed At Least Until Wednesday Thanks to Harvey
Can Houston Airports Open Monday? 'Don't Bet On It,' Top Expert Says
Editors' pick: Originally published Aug. 24.