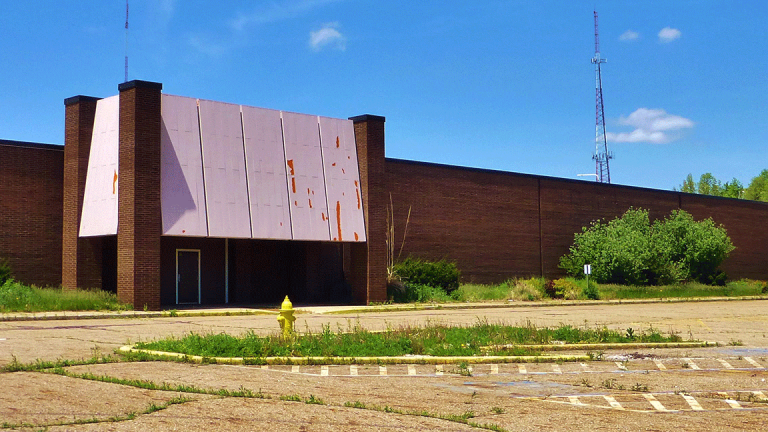 Sears CEO Doing the Dumbest Thing on Wall Street
Sears is clearly on the ropes.
How many times does Wall Street have to spell it out? Sears Holdings Corp. (SHLD) is a dying retailer, and its long-time CEO and major shareholder Eddie Lampert isn't helping matters.
Sears continues to notch mind-blowing losses, hemorrhage precious cash and is expected to report its third-straight double-digit decline in same-store sales in the holiday quarter. A disturbing holiday season would come even as the U.S. economy is humming again, which has sent people off to buy appliances at Sears rival Home Depot (HD) - Get Home Depot, Inc. Report . 
The mood on Wall Street around Sears after the holidays has been glum. And rightfully so.
Sears announced Jan. 4 it's closing more than 100 additional stores in spring 2018. There's no word on how many employees will be affected, but losing 64 Kmart stores and 39 Sears stores is bad news. And the closings come on top of more than 350 that happened in 2017. If that's not a big enough red flag, consider this. 
In a filing in November, Sears disclosed that it had borrowed another $60 million from affiliates of Lampert. The company had already blown through a loan of $100 million that Lampert said he and his cohorts would offer Sears in October.
That otherworldly hunger for cash is a signal that Sears is likely to run out of gas in 2018. The operations look to be in such severe shape, that Lampert's promised $1 billion in cost cuts appear to not be working (or are not being executed upon). What's odd is that cash hasn't been preserved to any tangible degree while Sears pretty much vanishes from America's suburban scene.
Perhaps this millennial will finally visit one for the first time to scoop up a great store closing deal. Although watching TheStreet's Brian Sozzi navigate a Sears on Black Friday (see enclosed Periscope) doesn't get us too excited about the visit.
Meanwhile, Lampert keeps on refusing to communicate with Wall Street on quarterly earnings calls. Sears simply offers up a pre-recorded call led by its CFO. Lampert does offer a blanket statement on earnings press releases that are nothing more than thinly veiled public relations fluff. Thanks for making the time, Ed.
Instead of talking with Wall Street analysts this year, Lampert has opted to go straight to the media haters. He said in May that the "irresponsible" media are dragging Sears down and never give him a shot, "singling out" Sears. So it's the media's fault that Sears has reported a per-share loss every quarter for the last 14? And that the merger of Sears and Kmart that the hedgie Lampert put together in 2004 has been an absolute failure? Umm, no.
Now we'll be the first to admit that being a predominantly mall-based retailer is no cakewalk right now. The industry has come under intense pressure from eCommerce retailers such as Amazon (AMZN) - Get Amazon.com, Inc. Report . Specifically for Kmart, the discounter has been under siege from a price war between Walmart (WMT) - Get Walmart Inc. Report , Target (TGT) - Get Target Corporation Report and Dollar Tree (DLTR) - Get Dollar Tree, Inc. Report (thanks, Amazon).
But many of Sears' retail rivals have enjoyed a mild-mannered comeback lately while Lampert continues to steer the burning Sears ship onto a rocky shore. And why shouldn't they rebound? The stock market is reaching new highs, consumer confidence is way up, discretionary spending is strong and new retail leaders are driving reinventions.
Walmart shares touched fresh highs recently on the back of CEO Doug McMillion's rebirth. 
"Walmart is changing, and we are trying to accelerate the pace of that change," McMillon told TheStreet's Sozzi when asked what investors -- who have sent shares up 41% this year to a record -- might be seeing in the company. "People might be recognizing that the change is actually happening on top of some assets that are really valuable." Can Lampert lay claim to that? No way. And because of it, former Kmart shoppers are now buying food at a Walmart supercenter. 
Or take a look at electronics retailer Best Buy Co. Inc. (BBY) - Get Best Buy Co., Inc. Report . Best Buy shares reached a record price in 2017, too, as CEO Hubert Joly has improved online operations and the look of the company's hulking stores. Best Buy has gotten its fair share of business once reserved to Sears' appliance and electronics departments. 
Even mall-based teen apparel retailer Abercrombie & Fitch (ANF) - Get Abercrombie & Fitch Co. Class A Report -- long left for dead by Wall Street -- is being reborn under new CEO Fran Horowitz. She sounded upbeat in this pre-holiday interview with Sozzi. 
It's time for Wall Street to pick out the casket for Sears that will go in the grave that it has already dug. Sears stock price over the last five years: down a startling 90%. There is nothing merry about that.
Checkout the best of "Dumbest Thing On Wall Street"