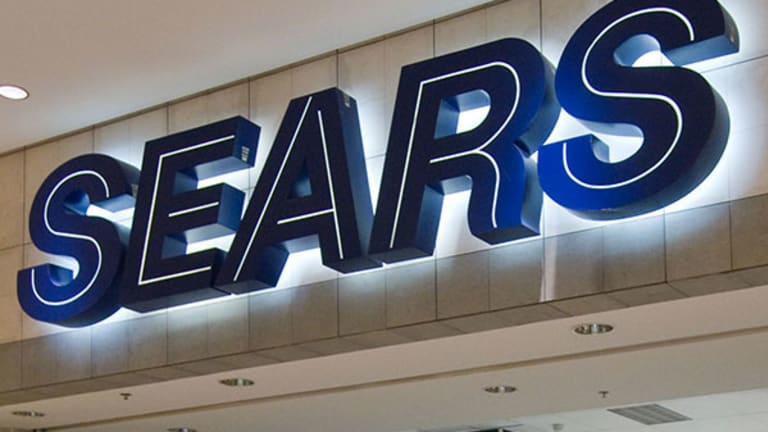 Sears: A National Tragedy
If you have anger and some fight, direct it at the executives who preside over the demise of brick and mortar retail.
If you have anger and some fight, direct it at the executives who preside over the demise of brick and mortar retail.
NEW YORK (TheStreet) --
That's part of a Twitter (TWTR) - Get Report exchange I had over the weekend with Sears Holdings (SHLD) VP of Corporate Communications Chris Brathwaite. It came as part of a much larger viral explosion triggered by an article that blew up Saturday on TheStreet:
More Pathetic Pictures From a Dying Sears.
In that article, I featured photographs TheStreet's Brian Sozzi took at a Sears store in New York. The images show the unkempt conditions many of us associate with Sears and similar dying physical retailers.
To say that article blew up is an understatement. And because this article will clear a few things up and clarify critical points, it's too bad far fewer people -- most likely -- will read it. But, at least it will be on the record.
First, as I mentioned to the Sears VP on Twitter, none of this is personal (even though he admitted to being a Boston Bruins fan). Several people responded to Saturday's article with angry feedback. Some of it was downright vile. Granted, many of these readers had probably never heard of me (or Sozzi) prior to seeing the article pop up on Yahoo!'s (YHOO) homepage, but they would be better off seeking context before taking shots and forming (uninformed) opinions.
Speaking for myself only (though Sozzi has an even richer track record covering retail than I do), the Sears piece represents a sliver of what I have written about with respect to retail over the last two-plus years. It comes as support for a larger thesis, articulated in articles such as ...
The Death and Life of Great American Retailers, 2013.
Will Intel Revolutionize Physical Retail?
And ...
J. C. Penney Needs to Fire Delusional Ron Johnson Now (from February 2013).
This isn't about being bullish or bearish or short or long any particular stock. It's about a narrative I have fleshed out over several years on what I perceive to be the state of brick and mortar retail and where it needs to go. I mean, I'm as bearish on Best Buy (BBY) - Get Report, one of 2013's best performing equities, as I am SHLD or J. C. Penney (JCP) - Get Report. That's because it's not about stock movement over a day, a month, a quarter or even a year; it's about the long-term prospects of companies in a largely broken space.
So, while I said that about Sears, it applies to any number of physical retailers, who had their heads handed to them by Amazon.com (AMZN) - Get Report and have yet to cobble together anything resembling a sound response. That's where the Sears' VP's Tweet matters in this conversation.
Like I told him on Twitter, to even mention "shorts" in relation to Sears's problems waxes delusional. The same type of delusion Ron Johnson showed at JCP. But now Ron Johnson's gone and, sadly, nobody learned from his bravado-fueled mistakes. There doesn't appear to be the will or intellectual capacity within the executive ranks of retail to imagine and fight for the level of wholesale change that needs to take place.

Enough regurgitating the same old tricks from retail's dead and tired, textbook tool bag. Fight to leave a legacy that saved (and transformed) something worth saving (and transforming) rather than random footprints of tweaking, but ultimately maintaining a toxic way of being.
That's what this is about ... it's about the fight to save what were once national treasures. The department store. The catalog retailers. The store you visited every other week to pay down your layaway. The place where your parents did all of their Christmas or back-to-school shopping.
It's that type of Tweet that resonates with me.
And, while I appreciate the real, raw passion of the Tweeter, she misdirects it. She should be angry at her employer, not me. While stores such as Sears and JCP smartly jettisoned things like the catalog and layaway, they didn't replace them with anything that appeals to the modern day consumer the way Jeff Bezos's creations at Amazon do. As Bezos reinvented commerce, the brick and mortar cats sat idle. And, after more than a decade of getting absolutely crushed, they still got nothing!
And it's because of the MBA mindset, mired in retail's culture of obviousness. A culture that prompts VPs of Corporate Communications -- like Brathwaite from Sears -- to take hollow pot shots at guys like Sozzi and claim "shorts" deserve even a minor role in the before-our-eyes demise of a once great retailer. It's a culture that leads physical retail executives to think they actually have to something, in its present form, to fight for.
To the contrary ... while there's a time for an us versus them mentality, that time absolutely is not now in brick and mortar retail. Job one at the board level at most physical retailers should be to replace existing executive regimes with tech visionaries who are completely out of touch with the way most physical retail gets done today. The ideal candidate is the complete opposite of the people in place at Sears and JCP. He or she should consider the retail process a two-step of (1) I see something I like and (2) I tap the screen on my iPhone a few times to order it via Amazon Prime.
How do you take that experience -- and other experiences like it -- and replicate them at the physical retail level? And I'm not speaking in practical, concrete terms here. I mean how do you take the notion of what Amazon has accomplished and come up with something equally as game-changing, but completely different?
This piece onBarnes & Noble (BKS) - Get Reportfleshes out this line of thought.
But that's the challenge. And it's clear, based on the response we get from companies such as Sears when criticized, that they're simply not up to the challenge. It's not part of their DNA to consider the challenge the way I frame it. As one of rendering the future of retail unrecognizable to its present and past. They do not have the people in place who comprehend the need ... the need to tear it apart and put it together again.
That's not a process void of pain. It will, indeed, be just as painful a transition as the ones Sears, JCP and others are going through now. But it will not be a transition that leads to more pain or, worse, death. It will not be like the transition Best Buy currently executes -- one full of head fakes that will produce the same dismal result. It will be a transition that leads to rebirth, resurgence and redemption.
--Written by Rocco Pendola in Santa Monica, Calif.
Rocco Pendola is a columnist for
TheStreet
. Pendola makes frequent appearances on national television networks such as
CNN
and
CNBC
as well as
TheStreet TV
. Whenever possible, Pendola uses hockey, Springsteen or Southern California references in his work. He lives in Santa Monica.