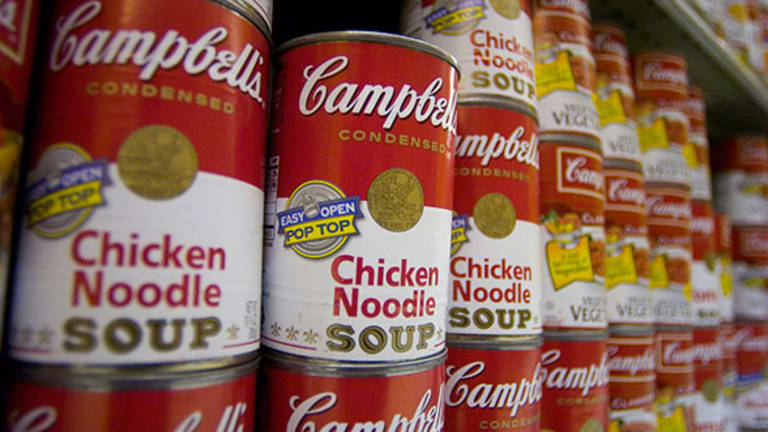 Publish date:
Searching for a Hot Yield? Buy Campbell Soup Before It Pays Its Dividend
Combined with its higher dividend yield and potential stock gains, Campbell Soup's stock looks tasty here.
Combined with its higher dividend yield and potential stock gains, Campbell Soup's stock looks tasty here.
Known for its canned soups and various products, shares of Campbell Soup (CPB) - Get Campbell Soup Company Report will trade ex-dividend Thursday, Jan. 7. To qualify for a dividend check, investors must own the company's  hares on or before the ex-dividend date -- the last day Campbell will acknowledge its roster of investors to whom it will make dividend payments.
Headquartered in Camden, N.J., Campbell pays a quarterly dividend of 31.25 cents a share, yielding 2.36% annually, based on its current trading price of around $51 a share. Its dividend yield is some 36 basis points higher than the average dividend payer in the S&P 500 (SPX) index. The dividend is solid, but Campbell's consistent execution and business outlook is the real reason to warm up to these shares.
Despite the struggles of the packaged food industry, which has been hurt by weak sales, lower profits and the negative impacts of the strong U.S. dollar that devalues sales in overseas markets, Campbell -- in business more than 100 years -- continues to make productivity gains. The company has grown its adjusted gross margins 180 basis points to 36.1%. That is about five percentage points higher than its peer group, according to data compiled by Yahoo! Finance.
What's more, owing to higher selling prices of leading products like Pepperidge Farm snacks and Spaghettios, not only has the company beaten Wall Street's earnings-per-share estimates in three straight quarters, it has driven CPB stock up more than 20% in 2015 -- crushing the 0.73% decline in the S&P 500 index.
Campbell Soup's top executives -- thanks to offsetting high inflation costs with lower input costs -- have delivered on their stated objective of returning value to shareholders. And with consensus fiscal 2016 estimates (ending in July) climbing 7 cents in the past 30 days from $2.74 a share to $2.81, Campbell Soup's stock is poised to accelerate in its fiscal year.
Not only would that 14% earnings increase translate to almost three times the projected earnings growth of the S&P 500 index, the stock is priced at just 18 times those estimates, or one point higher than the S&P 500 index. Combined with its higher dividend yield, Campbell Soup's stock looks tasty here.
This article is commentary by an independent contributor. At the time of publication, the author held no positions in the stocks mentioned.