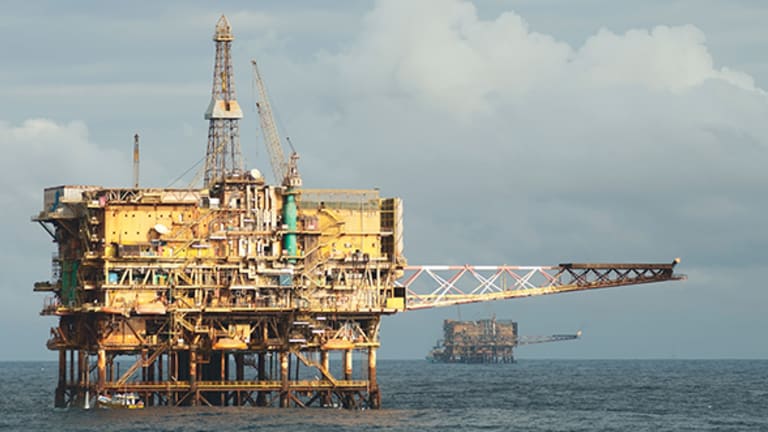 Seadrill Stock Will Drown Despite Temporary Rallies in the Price of Oil
This oil and gas driller is barely keeping its head above the global oil surplus. Earnings this week are expected to provide more bad news.
Don't let temporary rallies in oil prices sucker you into buying deeply distressed energy companies and betting they're "value plays." Certain energy companies are so beleaguered, they stand a good chance of not even surviving the sector's prolonged downturn.
One energy stock now facing an existential crisis is Seadrill (SDRL) - Get Seadrill Ltd. Report . The troubled oil-services company is scheduled to announce earnings on Thursday, Feb. 25, and the news is expected to be bleak.
As we'll explain, this stock isn't just a dog. It's a dog with fleas.
With a market cap of $847 million (down from $7 billion in December 2014), Seadrill is an international offshore drilling contractor with a vast global footprint. The company's drilling units are under long-term contracts with major exploration and production companies, including Chevron, BP and ExxonMobil.
But hard times in the energy sector have clobbered Seadrill's clients -- and in turn, shares of Seadrill. You're better off considering hot stocks in still thriving sectors such as biotechnology.
SDRL data by YCharts
Seadrill's stock is down 47% year to date and 85% over the past year. Those declines are considerably worse than those of iShares US Oil Equipment & ServicesETF (IEZ) - Get iShares U.S. Oil Equipment & Services ETF Report , an exchange-traded fund that tracks the industry. It is down 9.4% year to date and 35% over the past year. Even drilling competitor Schlumberger (SLB) - Get Schlumberger NV Report has fared better: The stock is actually up 6.2% year date and is down 14% over the past year.
As with most of the energy sector today. Seadrill's major problem is debt that looks increasingly unsustainable as the company's contracts get canceled or deferred. During the good times before the oil price crash, Seadrill overexpanded overseas in once-promising territories such as Russia and Asia. Today, the company's finances are ugly, and it can't seem to retrench fast enough.
Trailing-12-month diluted earnings per share growth stands at -1.76%. In the most recent quarter, total cash on hand was only $1.43 billion, and the total debt-to-equity ratio was 1.23.
According to Seadrill's quarterly filing with the Securities and Exchange Commission in November, the company is shouldered with $1.65 billion in debt maturing in the next 12 months and another $1.74 billion in "other" current liabilities, primarily fees owed to shipyards for new-build rigs slated for delivery. These obligations amount to $3.4 billion in capital due in 12 months.
Once coveted by income investors for its double-digit dividend yield, Seadrill eliminated dividends last November. 
There's no denying it -- conditions in the drilling sector are grim. Flagging economic growth in China, political turmoil in Russia and the Middle East, uncertainty in the eurozone, record-high U.S. crude inventories and a deepening oil glut have all conspired to push oil prices to about $30 a barrel, compared with their highs of more than $110 in the summer of 2014. That's a dizzying decline of more than 70%.
Strategists at Goldman Sachsnow warn that oil prices are in danger of falling as low as the $20s, which would be the death knell for a host of overleveraged drilling companies in the sector, chief among them Seadrill.
Sure, oil remains the lifeblood of the modern industrial world and energy prices will inevitably bounce back. But when?
If you're a debt-ridden oil drilling company like Seadrill waiting for a rebound, consider this sobering fact: After 1980, reduced demand and increased production produced an oil glut on the world market. The result was a steady decline in the price of oil that lasted six long years.
Seadrill's operating results on Wednesday will come amid a flurry of related energy news that will only make the company's situation look worse. Petroleum and natural gas reports due this week from the U.S. Energy Information Administration are expected to show a growing glut and slackening demand.
The Baker-Hughes Rig Count, set for release on Friday, also will garner keen interest. Baker-Hughes statistics from Feb. 19 revealed that the U.S. rig count plunged for the ninth consecutive week, down to 514 from 541 the previous week.
When Seadrill releases earnings on Feb. 25, the Wall Street consensus is for fourth-quarter adjusted earnings per share of 45 cents, down 43% year over year. For all of 2015, adjusted EPS is expected to come in at $2.34, down 13% year over year. Analysts expect a 44% year-over-year decline in EPS for 2016. Stay away from Seadrill and look for better opportunities elsewhere.
We've found a small-cap biotech "rocket stock" that's about to take off. UCLA researchers are stunned by a Nobel Prize-winning cancer breakthrough that's proven in clinical trials to eliminate lethal forms of cancer with a single dose. One small company owns the patent to this life-saving treatment. Now trading at about $5 a share, the stock of this innovative company is projected to surge 2,700% on an imminent FDA announcement. To download the full report, click here.
John Persinos is editorial manager and investment analyst at Investing Daily. At the time of publication, the author held no positions in the stocks mentioned.