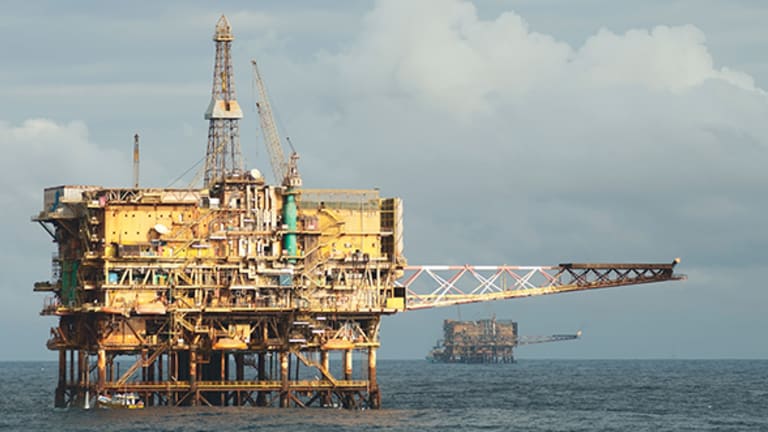 SeaDrill Shares Go From Ugly Duckling to Swan as Oil Stabilizes
Even if SeaDrill stock were to only reach the half-way point of its 52-week high around, say, $20 per share, this still implies 50% gains.
NEW YORK (The Street) -- Shares of energy companies have been punished because of plummeting prices of WTI crude oil. Currently trading at about $57.90 a barrel, the commodity has had a wild ride this year after plunging from $100 a barrel about a year ago. And offshore drilling contractor SeaDrill (SDRL) - Get Free Report , which provides production services to the oil and gas industry, has been among the hardest-hit stocks. But not anymore.
The recovery in SeaDrill stock, which has skyrocketed roughly 50% since April, has been swift. SeaDrill stock has recovered all of its 2015 losses and then some, up roughly 12% year to date, and besting gains of 1.3% for the broader Energy Select Sector SPDR Fund (XLE) - Get Free Report -- which includes some prominent names like Kinder Morgan (KMI) - Get Free Report (up 1%) and EOG Resources (EOG) - Get Free Report (down 2%).
Why has SeaDrill stock done so well? SeaDrill's exposure to oil, which has begun to rebound, has made investors feel more confident that the worst is over.
Despite recent gains in SeaDrill stock, however, investors that have held these shares over the past year are still down more than 60% on their position.
It's encouraging to new investors that sentiment about SeaDrill  -- once an ugly duckling -- has begun to change. Ahead of the company's first-quarter earnings results Thursday, investors are betting the stock can become a swan in the second half of 2015, as evidenced by the amount of money that has poured into the stock since April, making it look like a worthwhile bet.
U.S. crude oil supplies fell by 2.7 million for the week that ended May 15, according to a report last Wednesday by the Energy Information Administration. And this marked the third straight week of declining inventory levels. That oil inventories have begun to decline bodes well for a prolonged increase, if not a stabilized oil price environment.
Sure, there's the risk that inventories may rise, restoring pressure on oil prices. But with last Thursday's report suggesting that WTI and Brent crude oil for July deliveries were up 3.1% and 2.7%, respectively (both above $60 per barrel), the reasons to bet on energy companies like SeaDrill are just as compelling. And more reasons to bet on SDRL may be delivered Thursday.
For the quarter that ended March, SeaDrill is expected to earn 63 cents a share on revenue of $1.26 billion, a year-over-year decline of 60%, while revenue is expected to be up 3% year over year. For the full year, ending December, expectations for earnings of $2.26 a share imply a 15% year-over-year decrease on revenue of $5 billion, up 1.2%.
These are low expectations, so the risk versus reward on SeaDrill stock favors the positive side. Why? Despite its strong surge since April, the stock -- at around $13 -- is still down almost 70% from its 52-week high of $40.44.
Consider, even if SeaDrill stock were to only reach the half-way point of its 52-week high around, say, $20 per share, this still implies 50% gains. That's excellent value for a company that has the benefit of low Street expectations that now operates amid a stabilizing oil environment. 
This article is commentary by an independent contributor. At the time of publication, the author held no shares in any of the stocks mentioned.