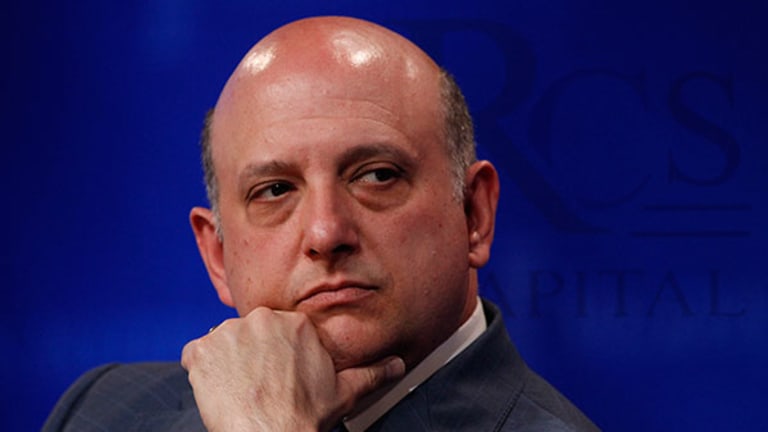 Schorsch's RCS Capital Had Accounting Deficiencies, SEC Filings Say
Nicholas Schorsch's RCS Capital got a clean bill of health from an outside law firm, the company told investors Thursday. But what about those accounting deficiencies last year?
Updated at 8:20 a.m. for news on American Realty Capital Properties filing delay.
NEW YORK (TheStreet) -- The accounting scandal at real-estate mogul Nicholas Schorsch's American Realty Capital Properties (ARCP) last month had a ripple effect on a second public company the billionaire controls --  RCS Capital Corp. (RCAP) . With its shares plunging, RCS Capital hired an outside law firm and forensic accounting firm to review its financials for the first nine months of 2013, the company said Thursday. 
That was the period during which Brian S. Block, the CFO who resigned from American Realty Capital Properties amid the scandal, had been signing off on RCS Capital's financials. He resigned as CFO of RCS Capital in December and became full-time CFO of American Realty Capital Properties. 
Just two weeks after the accounting mishap, law firm Cleary Gottlieb Steen & Hamilton and accounting firm McGladrey have completed their review and, "we consider the question of RCS Capital's accounting integrity as closed," said CEO Michael Weil during an analyst conference call Thursday. .
The clean bill of health issued Thursday at RCS Capital for the nine-month period is a plus. But the company has yet to elucidate some important history: In filings with the Securities and Exchange Commission, RCS Capital flagged "significant deficiencies" in its internal controls over financial reporting for the third quarter of 2013, the full year 2013, and the first quarter of this year. 
Weil said during the conference call that the lawyers and accountants did not review the fourth quarter of 2013 because those financial statements "are certified by our present CFO, Brian Jones." 
Investors dumped shares of RCS Capital and American Reality Capital Properties last month after the latter company announced that Block and another senior financial executive resigned over the cover up of an accounting mistake. Schorsch is chairman of American Realty Capital Properties and executive chairman of RCS Capital.
On Friday American Realty Capital Properties announced its lenders had consented to a delay until January 5 for filing its third quarter financial reports. The delay will allow the firm to comply with borrowing obligations while external auditors complete their review of American Realty Capital Properties' 2013 and 2014 financial statements, the company said.

RCS Capital is the holding company for a collection of brokerage firms and other financial companies - some of dubious integrity - swooped up by Schorsch in an acquisition spree this year. In a press release on November 5, the company sought to distance itself from American Realty Capital Properties, noting that each has different independent auditors, different audit committees with no director overlap, and "separate and unique accounting systems." 
Finally -- and this is, after all, what investors really wanted to hear -- the Nov. 5 release said, "The RCAP Board, Audit Committee and its management team have full confidence in RCAP's reported financials, accounting and internal controls." 
But in a regulatory filing with the Securities and Exchange Commission on May 29, RCS Capital reported "significant deficiencies" in its internal controls over financial reporting for the quarter ended September 30, 2013, the year ended December 31, 2013 and the first quarter of 2014. And it's only been a public company since June of 2013. 
In an August filing for the quarter that ended June 30, RCS Capital said it was "in the process of remediating" several significant deficiencies. I sent a detailed list of questions about the disclosures to the company's New York public relations firm, Joele Frank, Wilkinson Brimmer Katcher. Stephanie McCall, an account executive at Joele Frank, said that RCS Capital declined to comment. 
"Significant deficiencies," in accounting-speak, are internal control problems that aren't bad enough to merit the scarlet letter known as a "material weakness," but call for further attention from management. RCS Capital said in its quarterly report for the period ending March 31, 2014 that the deficiencies it found "do not individually or in the aggregate constitute a material weakness." 
I shared the company's May 29, 2014 disclosures that detailed the deficiencies with several accounting experts. Joseph Carcello, the head of the Accounting and Information Department at the University of Tennessee in Knoxville, said the failures were "troubling" in part because there were so many of them. "There appears to be a plethora of accounting-related problems" from flaky paperwork to failure to record restricted stock transactions, he said. 
Among them: 
During the quarter that ended September 30, 2013, there was a significant weakness in RCS Capital's internal controls that arose when the auditors were provided multiple versions of the company's books and records. That led to changes in the numbers reported in the financial statements. "When multiple sets of books turn up, it raises a grave concern for investors as to which set is the 'real books' and why management can't - or won't -- keep a single, accurate set of records," said Lynn Turner, former chief accountant at the SEC, in a telephone interview. 
An unnamed "related party" gave restricted stock to employees in 2013 and the company didn't record them until their first quarter of 2014. 
In the year ended December 31, 2013, there were further weaknesses with respect to how the company recorded revenues and accounted for a long-term incentive plan. Management said in the May 29 filing that 3,975,000 long-term incentive plan units had not been "previously accounted for" by the company. The units had been issued in June 2013 to RCS Capital Management, a Delaware company that provides consulting services to RCS Capital. Schorsch and William M. Kahane, a director at RCS Capital, control RCS Capital Management, according to a June 5, 2014 prospectus. 
Block, the executive who resigned from ARCP last month, played a senior role in many of Schorsch's operations. 
A bio that appeared on RCS Capital's website last year said that Block had been CFO of American Realty Capital, an investment advisory firm that sponsors non-traded real estate investment trusts, and "a number of the publicly registered, non-traded direct investments ARC sponsors." Block was instrumental in developing American Realty Capital's financial infrastructure, the bio said. 
Weil said in the conference call that American Realty Capital's financial controls had been reviewed and there were "no issues" with its products. 
The first mention I could find by RCS Capital of the deficiencies was in its March 31, 2014 quarterly report; a later filing on May 6 mentioned the deficiencies again. The most detailed description of the accounting issues appeared in the May 29 filing. 
Carcello said that while the disclosures are troubling, RCS Capital's change in accountants in June could be a mitigating factor. It engaged PricewaterhouseCoopers LLP as its auditor on June 13, replacing WeiserMazars LLP, a mid-sized firm. "PWC does a lot of due diligence" before taking on a new client, he said. So the fact that they took on RCS Capital signals that the firm "somehow got comfortable about this." 
Turner said he has reservations despite the forensic probe of RCS Capital. "The scope of the work was limited as no emails were reviewed," he said. "Without knowing more and seeing any report that was issued, I would still be concerned. With other opportunities to allocate capital to, I would question an asset manager as to why invest in this company." 
Susan Antilla is an award-winning journalist and the Founding Fellow of TheStreet Foundation, a nonprofit organization with the goal of supporting and expanding financial literacy for consumers through investigative journalism and custom research on high-impact financial topics.
She has been a financial journalist for 30 years, writing for
The New York Times
,
USA Today
and
Bloomberg View
, among others. Antilla is author of
Tales From the Boom-Boom Room
, the 2002 book that exposed a culture of sexual harassment at financial companies. She received a bachelor of arts degree from Manhattanville College and a master of arts in journalism degree from New York University. Antilla is an adjunct professor of journalism at Fairfield University.