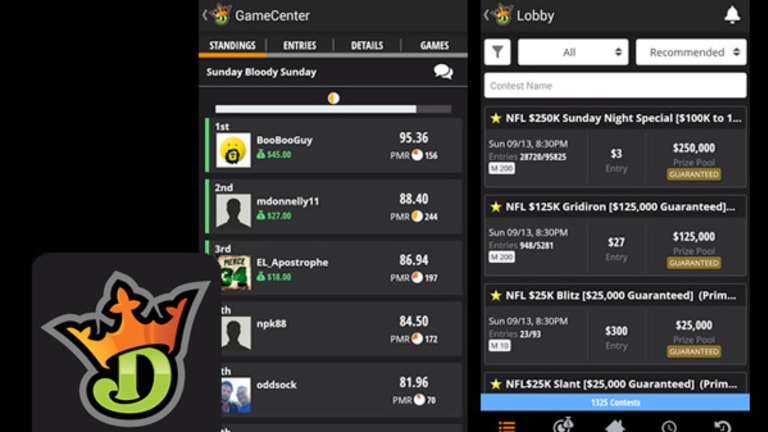 Scandal at Draft Kings and Fan Duel Will Do Nothing to Stop the Rise of Daily Fantasy Sports
Will scandal in the daily fantasy sports world stop you from playing? Probably not.
This article has been updated with comments from a FanDuel spokesperson.
NEW YORK (TheStreet) -- If you knew the game was rigged, would you still play?
That's a question that hundreds of thousands of fantasy sports fans are likely asking themselves today in the wake of revelations that an employee at DraftKings, one of two hugely popular daily fantasy sports betting sites, released data that could give players an edge well before he was supposed to. Of course, that same player, following all the rules set out by his employer, won $350,000 at FanDuel, another massively popular daily fantasy site, that same week.
If all you know about daily fantasy sports is that it's advertised incessantly wherever there might be men, here's how it works: you choose which football players are going to have the best performances, assembling a team with a quarterback, wide receivers, running backs, and other players; if your team gets more yards and touchdowns than other players' teams, you win. For sports with games every day, like baseball and basketball, the games are daily instead of weekly. 
Some daily fantasy sports observers question whether the DraftKings employee used the inside information he had to make incredibly smart and improbable moves, but if you don't think he did, then I have a bridge to sell you. Here's what one said:
Should we rest easy knowing that he cannot play on DraftKings site? Hardly, especially if you played at FanDuel last weekend. Because Ethan does play DFS [daily fantasy sports] at FanDuel and actually had a pretty good week. In fact he took 2nd place in the biggest GPP [guaranteed prize pool game] on FanDuel for $350,000. That is a life changing score. I am not questioning Ethans skill at DFS, but if we argue that DFS is a game of skill then that skill really is about gathering the most relevant and useful data and information and using that to construct our lineups. If Ethan is the only one with access to this data at DraftKings how valuable is it for him to be able to use it on a site like FanDuel? It is extremely valuable in fact it could be the most valuable data available which is why it is kept so under wraps and why this is such a big deal. The edge that can be created by having access to this data is 2nd to none.
What DraftKings employee Ethan Haskell did was entirely within the rules of his company and within those of this almost completely unregulated industry. And if you're a market observer or participant, it probably sounds familiar.
"It is absolutely akin to insider trading," said Daniel Wallach, a Fla.-based sports and gambling lawyer, quoted in The New York Times.
Yet, the question still stands: Would you play?
If you're someone who has invested in the stock market or bellied up to a gaming table at any casino, then probably "yes."
The markets are widely considered to be rigged, especially against those with an information or technology gap. The latest and most visceral example was chronicled in Michael Lewis's 2014 book Flash Boys. The book describes how high-frequency traders have worked entirely within the letter of the law to make consistent trading profits.
High-frequency trading firm Virtu (VRTU) - Get Free Report has had only one losing day of trading in six years. The company's explanation for how it does this should infuriate every investor: "if you do anything and you win more than you lose...you're going to be profitable."
The reason the SEC hasn't gone in slide rules a-blazin' is that what Virtu and other similar firms are doing is currently legal (just like Ethan Haskill at DraftKings!).
Despite high-frequency traders, the markets continue to run. Despite the recent Libor scandal, the forex scandal, Bernie Madoff and so many others, the markets trade on. (Read: When there is lots of money at stake, people will cheat.)
The reasons why are the same as why people go to casinos. We don't need Michael Lewis to point out that casino games are rigged. If you sit down at a slot machine and keep feeding it quarters, you're eventually going to run out of quarters; it might take a while, but you will go bust. The odds are better at table games like craps, blackjack and roulette -- but you still lose in the long run.
People have long known that the house always wins, and, last time I checked, casinos were still a thing.
While it's cynical to think that the financial markets, one of the main drivers of our advanced economy and a path to long-term wealth for many Americans, is the same as daily fantasy sports or casino gambling, they all have this one thing in common: Everyone knows the system is rigged and they play anyway.
One pertinent thing they don't all have in common -- yet -- is regulation. Right now, the industry enjoys legality and little oversight due to a 2006 federal law that banned things like online poker but allowed fantasy sports gambling to continue on the grounds that fantasy sports is a game of skill. Don't be surprised when that changes, with lawmakers making rumblings about taking a closer look at this business, per The New York Times article.
But, with or without the perception of fairness that regulation could bring, the game is rigged, everybody knows it and will continue to play anyway.
Just see this Sept. 10 article in Bloomberg, which explains how the odds are stacked against the rank-and-file players who are enticed by round-the-clock advertising during sports broadcasts and on sports Web sites online.
The article explains how top fantasy player Saahil Sud uses "custom-built predictive models" to analyze huge troves of data he "scrapes" from "public resources" to choose his fantasy teams. I don't know about you, but building predictive models over a plate of wings and a pitcher of beer just about sums up my football Sunday. To Sud, it's not play, it's work, and he claims to get about 8% a day on $140,000 invested for his troubles; so far this year, he's made $2 million and is ranked the top fantasy player.
Of course, knowing that the odds are not in your favor isn't good for the businesses of DraftKings and FanDuel, which have raised $426 million and $363 million, respectively, to grow (much of this money is being spent on ads).
"DraftKings and FanDuel are testing new ways to make less successful players feel comfortable and enhance the impression that games are fair and winnable," per Bloomberg.
To be sure, one "new way" in the wake of this week's scandal is by doing at least the most basic thing to curb the most obvious cheating. In a joint statement released this week, the companies said, "while the industry works to develop and release a more detailed policy, DraftKings and FanDuel have decided to prohibit employees from participating in online fantasy sports contests for money."
I asked the FanDuel spokesperson who sent me the joint statement why employees were allowed to play the games, considering the potential for abuse was obvious and enormous. Her response: "There is no evidence to indicate that any FanDuel employee broke any of our policies."
Here's a wager: the industry will slowly move in the direction that regulators would take it anyway and, someday soon, playing daily fantasy will be as controlled as casino gambling. Which is to say, it will still be rigged, but you'll play anyway.
Daily fantasy sites DraftKings and FanDuel are embroiled in scandal this week as it has come to light that its hig... in TheStreet's Hangs on LockerDome