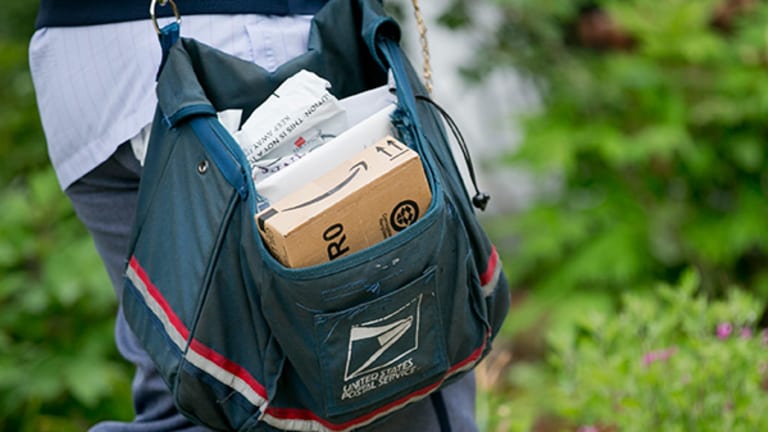 Saving USPS Still Not a Priority Item
The US Postal Services announced a $1.9 billion loss in the second quarter. How much longer will it be able to deliver?
NEW YORK (TheStreet) -- For Washington lawmakers already at loggerheads over the country's fiscal mess, the United States Postal Service has not delivered god news.
The USPS has become the latest in line asking for a bailout. Again.
Last week, the USPS announced a $1.9 billion loss in the second quarter. Worse, USPS has $64 billion in accumulated liabilities but only $42 billion in assets to cover it. On top of that, it needs to set apart large funds for capital upgrades as well as provision its retiree health benefits -- for which it has no money.
Who's going to bail out USPS?
Read: Apple's Lust for Beats Audio Is All About Being Cool
If you go by CEO Patrick Donahoe's past pronouncements, he is not looking for a taxpayer bailout. The help he needs from Capitol Hill is for legislative changes allowing him to mitigate two important cost items on his balance sheet -- ending Saturday delivery permanently and removing mandatory pre-funding of retiree health plans.
These proposals are nothing new. For the past couple of years the pro-reform lobby has been bandying about the figure of an anticipated $50 billion bailout that will be inevitable if nothing is done to force the changes Donahoe seeks.
As expected, there is gridlock on this issue in Washington. Many do not want to cut back to five days of deliveries. For some reason there is a strange political imperative that Saturday delivery seems to hold for U.S. politicians even as industry trends are moving towards new models.
Read: IBM Investor Briefing: What Wall Street's Saying
Meanwhile, Donahoe has been doing what most corporate CEOs would do in such an environment -- close mail centers, eliminate excess headcount and look to squeeze out additional revenue where he can.
Testing the waters with e-commerce powerhouse Amazon (AMZN) -- which also has a problem with profitability thanks to massive growth -- is one such revenue enhancement measure. In key markets like Los Angeles and the New York metropolitan area, an Amazon truck delivers consignments to USPS on a Saturday evening or early Sunday, so a USPS truck can make a special Sunday delivery for select Amazon customers.
While the nuts and bolts of the contract between the two parties is confidential, the fact that they have signed on for five years indicates both think there is mutual benefit from partnering in the long term.
Read: Why Warren Buffett Would Buy Intel's Stock Now
Deeper problems with some of USPS's products remain. First-class mail, which should be a money spinner, has declined by 4.1% in volume terms in the first quarter. USPS has benefited in revenue terms from an increase in the rates recently but it seems to have had an impact on pure numbers shipped through the premium service.
Powerful unions within USPS are ironically the ones sounding bullish on revenue going forward. However, they are using isolated data such as an operating profit of $260 million for the quarter to fight much-feared cutbacks, while glossing over the fact that USPS has not made a net profit since 2006.
The message hasn't quite been delivered home yet.
At the time of publication the author had no position in any of the stocks mentioned.
This article represents the opinion of a contributor and not necessarily that of TheStreet or its editorial staff.
>>Read more: Fannie and Freddie Accounting Disaster Here to Stay