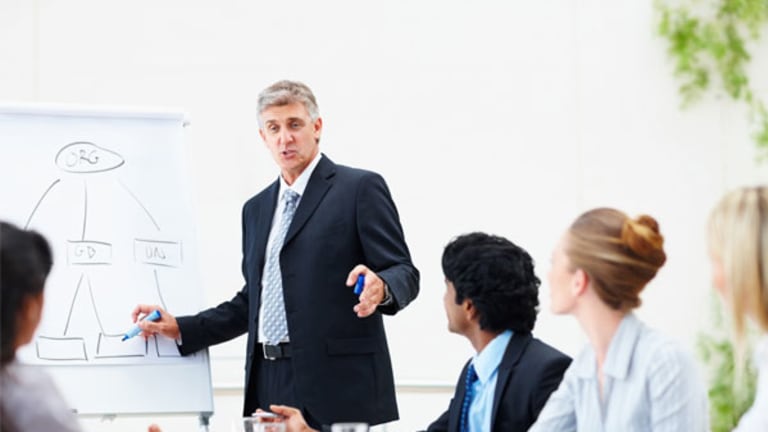 Satisfaction Does Not Boost Performance: The Innovators
Your best employees don't want to be indulged, they want to be successful.
Your best employees don't want to be indulged, they want to be successful.
NEW YORK (
) -- We've got a fundamental premise wrong. We believe that making employees satisfied will make them successful. That's not true. In fact, the relationship is reversed -- make people successful and they will be happy. Employees, at least those you want to keep, don't want to be indulged, they want to be successful.
Imagine that you are sitting in a room with 10 sales reps, none of whom are making quota. Feel the mood of the room. How can you change it?
You can try to make them happy ... maybe a company bowling night. Or, you can help them make quota. Which will have the biggest impact on job satisfaction? Causality flows from success to satisfaction. We've got it backward.
This is not a new discovery. Organization researchers have known this for decades.
In 1976, "The Handbook of Industrial/Organizational Psychology," the professional's bible, summarized 3,300 job satisfaction studies dating back to 1955 and found, "... negligible relationships between satisfaction and level of performance or productivity."
In 2009, Ed Lawler of the University of Southern California the world's most respected HR researcher and author of "Talent," said definitively: "Satisfaction does not lead to performance; it is caused by it."
In a 2009 CFO Magazine article, Richard Beatty of Rutgers University, one of the today's most influential organizational psychologists was quoted, "HR people try to perpetuate the idea that job satisfaction is critical, but there is no evidence that engaging employees impacts financial returns."
Job Satisfaction, Employee Engagement
You might hear from your HR team, "Job satisfaction is an old concept, we use employee engagement." Don't be confused with "state-of-the-art" programs or new buzzwords. The fact is, employee engagement and job satisfaction surveys measure the same thing.
The current world leader in employee engagement is the Gallup Organization. In a 2002 article in "Journal of Applied Psychology," arguably the most prestigious management journal, researchers used data from 7,900 business units to compare a 1951 job satisfaction survey to Gallup's current employee engagement tool.
Their findings? "High convergent validity." It doesn't matter which you use, the result is the same.
This may sound like academic drivel. But getting causality right is critical. We all know that winning basketball games and celebrations are correlated. But get causality wrong and fans will invest in celebrations to win more games. That's a waste of time and money. Employee satisfaction initiatives are no different.
We all know that indulging children does not make them happy -- at least in the mid- to long-term. However, it's fast becoming an annual tradition to celebrate companies that indulge their employees. The pioneer has been
Fortune
magazine's annual "Best Companies to Work For" list.
In the 2009 edition, each recognized company was given a few sentences to describe why the company won. No. 5 ranked Wegman's reason was free yoga classes.
Google
(GOOG) - Get Report
dropped to No. 4. The stated reason, "Google recently cut frills like afternoon tea and an annual ski trip."
Do these benefits create a foundation for greatness? Let's look more closely at the data. Only two companies (i.e., Google and
Goldman Sachs
(GS) - Get Report
) on the "Best Companies to Work For" list made the top 25 of
Fortune's
"Most Admired Companies." It's hard to imagine that
GE
(GE) - Get Report
,
Berkshire Hathaway
,
Johnson & Johnson
(JNJ) - Get Report
and
Toyota
(TM) - Get Report
are not great places to work. But it's not hard to image that they don't indulge their employees.
Several years ago I asked a friend who joined
Merck
(MRK) - Get Report
as a research scientist if he chose Merck because of its laser eye surgery benefit. He said, "Do we have that?" I asked him about other Merck benefits reported in
Fortune
to which he seemed equally unfamiliar.
Then I asked, "So, why
did
you join?" His eyes sparkled as he talked about Merck's research culture and how he could become a renowned scientist. My friend wanted to be successful. Make him successful and he will be happy.
What Do We Do Now?
Here is how to use your new insight to improve workforce performance.
1.
Shift people-related investments
. Inventory all people programs. Begin to eliminate those designed to improve employee happiness. Let employees know that you are shifting investment strategies to their development. Don't make this look like another excuse for a takeaway.
2.
Be careful what you ask for
. GMs often complain about HR not being business-focused, but then ask HR to decorate the company Christmas tree. Be consistent.
3.
No more Cruise Directors
. Start taking out HR professionals who are not capable of becoming performance improvement experts. You know who they are. They are the ones sending out email birthday greetings. The problem is that they're so darned nice. I've seen the harshest executives resist terminating the most inept HR leaders because, "He's such a good guy." Get a backbone; make the change.
4.
Use satisfaction/engagement as evidence of effective management
. Satisfaction/engagement data are informative. They tell you how your management systems are working. When people are not successful, they are not happy, and when they are not happy, they will reduce effort or leave. Use satisfaction data to diagnose poor management systems.
Managing happiness is a losing game. Success creates happiness. Find the right people, put them in roles that use their talents and give them support to be successful. Happiness will take care of itself.
-- Written by Brad Hall in New York
Hall is managing director of Human Capital Systems (www.humancapitalsystems.com), a firm that designs systems for improving workforce performance. He is also an instructor in Duke Corporate Education's teaching network and author of The New Human Capital Strategy. Hall was formerly a senior vice president at ABN AMRO Bank in Amsterdam and IBM Asia-Pacific's executive in charge of executive leadership and organization effectiveness. During his tenure, IBM was twice ranked No. 1 in the world in Hewitt/Chief Executive magazine's "Top Company for Leaders." Hall completed his Ph.D in industrial-organizational psychology at Tulane University, with a dissertation on people management practices of Japanese corporations.