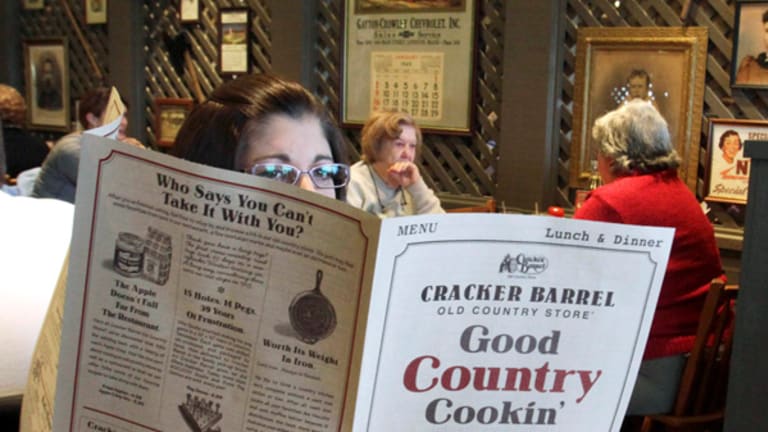 Sardar Biglari Is Not the Next Warren Buffett
He's smart, aggressive and rubs some people the wrong way.
NEW YORK (TheStreet) -- The Holy Grail for investors is to identify the next Berkshire Hathaway ( BRK-A), which was originally a failing textile company in the 1960's, that Warren Buffett and company have turned into gold.
The truth is, there will probably never be another Berkshire Hathaway, or Warren Buffett for that matter, although that does not stop many of us from trying to identify
We all want to find the next great capital allocator early in his or her career, and join the party. Comparisons to Buffett are difficult, and at best, unfair to the person at the other end of that equation. But that still does not stop us.
I've been following the career of Sardar Biglari for several years. At 34, he is the chairman and CEO of
Biglari Holdings
(BH) - Get Biglari Holdings Inc. Class B Report
, formerly Steak 'n Shake. He and his team took over a struggling Steak 'n Shake several years ago, and turned it around.
The fact that the company then changed its name to Biglari Holdings in 2010 drew some ire; here was a young executive with great promise that some were already comparing to Buffett. Yet in naming the company after himself, he pulled off an un-Buffett like move, driven by ego.
While Buffett has acquired many companies over the years, his acquisitions are done in a "friendly" manner. Buffett is not an activist, Biglari, on the other hand is, and has no qualms about waging proxy fights. He'll take a stake in a company then start a campaign to right the wrongs that he sees.
His style is very direct, and in your face, not mid-western folksy like Buffett. Look no further than the current proxy fight he is waging with
Cracker Barrel
(CBRL) - Get Cracker Barrel Old Country Store, Inc. Report
; in which he is seeking two seats on the company's board of directors, following last year's failed attempt to be named to the board. Biglari Holdings has amassed a 17.3% stake in Cracker Barrel, and the fight is getting uglier.
data by
In the latest flap, Biglari Holdings accused Cracker Barrel of misrepresenting the professional experience of incoming chairman James Bradford. Cracker Barrel later admitted that the claim that Bradford had been the CEO of a
NYSE
-listed company was a misunderstanding. In any event, this will come to a head at Cracker Barrel's annual meeting on Nov. 15.
Another move that Biglari Holdings is in the process of making will also draw some Berkshire Hathaway comparisons. On Nov. 2, the company is holding a special meeting, in order to vote on the issuance of a new share class; Berkshire of course, has two share classes.
With the current Biglari Holdings shares trading in the $371 range, and lacking liquidity, the company wants to issue Class B shares, which will have one fifth the economic value of Class A shares, but just 1/100th of the voting rights.
To create a pool of B shares, Class A shareholders would receive 10 Class B shares for each Class A share. The stated purpose of the move is for use in acquisitions. But it should also increase the company's trading liquidity, and make the stock more appealing to smaller investors; unwilling to shell out $370 or more for Class A shares. Of course, in owning Class B shares, it must be remembered that voting rights are all but sacrificed.
In truth, it has not been a good year to own Biglari Holdings. Shares are flat for the year, while Cracker Barrel is up 36%, a fact that Cracker Barrel has not been shy to share with stockholders as it attempts to fend off Biglari's pursuit. There is another way to look at it though.
With its $455 million market cap, Biglari Holdings owns about $275 million worth of Cracker Barrel, not to mention Steak 'n Shake, Western Sizzlin restaurants, $46 million in cash, and some other investments. This is becoming a "sum of the parts story," and one that I'll continue to be part of.
data by
Sardar Biglari is not Warren Buffett. Biglari Holdings is not an early incarnation of Berkshire Hathaway. In fairness, any comparisons in that regard have come from others. I've never heard Biglari compare himself to Buffett or Biglari Holdings to Berkshire Hathaway.
Biglari has made some good moves in his still young career, but has a long way to go. He's smart, he's aggressive and he rubs some people the wrong way. It's too early to tell whether he'll end up being one of the great capital allocators, but who knows?
In closing, I am a fan of Cracker Barrel; I've owned shares in the past, but now own them indirectly through Biglari Holdings, the cheapest way, I believe, to get exposure. It's been one of the most original restaurant brands, and in my view, the company has performed quite well.
It has a unique culture, and that may be one of the issues that Biglari can't wrap his head around. Can improvements be made? Always. Nonetheless, Cracker Barrel remains my favorite chain restaurant, much to my family's chagrin.
At the time of publication the author was long BH.
This article is commentary by an independent contributor, separate from TheStreet's regular news coverage.
Jonathan Heller, CFA, is president of KEJ Financial Advisors, his fee-only financial planning company. Jon spent 17 years at Bloomberg Financial Markets in various roles, from 1989 until 2005. He ran Bloomberg's Equity Fundamental Research Department from 1994 until 1998, when he assumed responsibility for Bloomberg's Equity Data Research Department. In 2001, he joined Bloomberg's Publishing group as senior markets editor and writer for Bloomberg Personal Finance Magazine, and an associate editor and contributor for Bloomberg Markets Magazine. In 2005, he joined SEI Investments as director of investment communications within SEI's Investment Management Unit.
Jon is also the founder of the
, a site dedicated to deep-value investing. He has an undergraduate degree from Grove City College and an MBA from Rider University, where he has also served on the adjunct faculty; he is also a CFA charter holder.