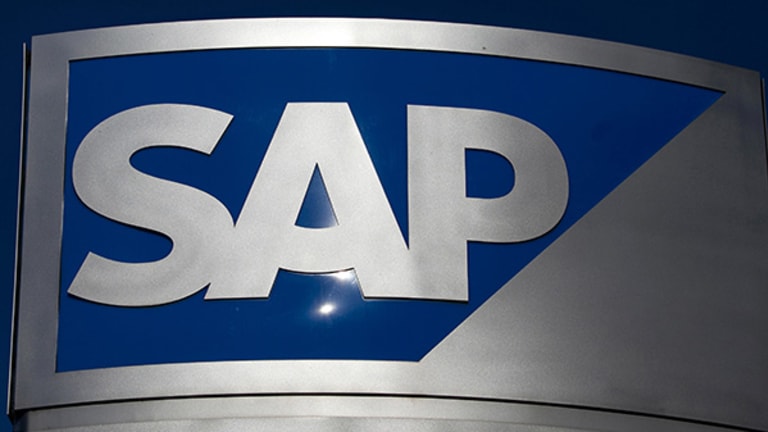 SAP's Bid for Concur Is Better Than What CEO McDermott Said It Is
SAP CEO Bill McDermott failed to sell the Concur deal, but that doesn't mean it isn't good for the German software maker.
NEW YORK (TheStreet) -- Expect corks popping this weekend for shareholders of travel and tourism software provider Concur Technologies (CNQR) after the German heavyweight SAP (SAP) - Get SAP SE Reportoffered $129 a share for the Bellevue, Wash.-based company.
The offer represents a 20% premium over previous Concur's closing Thursday share price, a bid worth $8.3 billion, including debt. Concur stock soared 18% after the offer went public, closing Friday at $126.82. The market's reaction to SAP is more sobering -- and more curious. Shares of SAP fell 4.4% to $73.97. SAP's investors don't seem to understand the benefit that this deal will have to both companies. 
Of course, shareholders aren't totally to blame for the confusion. SAP CEO Bill McDermott hasn't clarified the rationale for the deal.
McDermott's performance on CNBC, ostensibly to sell the deal to investors, was unimpressive. While he argued that Concur will add to SAP's net profit even if the deal does dilute stock but he didn't adequately address the upside to valuation. A better strategy would have been to focus on Concur's growth and the synergies created when the company is combined with SAP.
In short, this deal might not make sense for other companies -- but it's perfect for SAP.
The Valuation Elephant in the Room
Concur's one-of-a-kind status isn't relevant if it doesn't boost SAP's key metrics. And the chart above clearly shows that a valuation multiple over 100 is, in fact, judicious and not spendthrift. The revenue trajectory isn't the only metric justifying the price: income and other metrics illustrate it as well. In comparison, Amazon's (AMZN) - Get Amazon.com, Inc. Report forward multiple is 172 and Salesforce's (CRM) - Get salesforce.com, inc. Report is 86.
The numbers only tell one part of the story. What happens next? After SAP absorbs Concur, it's reasonable to expect efficacy gains operationally and from revenue streams. Even if you totally discount operational productivity gains, it's hard to ignore the obvious increase in revenue expectations.
Think of it like Apple's (AAPL) - Get Apple Inc. Report iPhone and iTunes. Each on its own can perform well, but when combined into single sales platform, they complement each other in ways that can't be found in isolation. The same is true for business travel expense software and SAP's current SAS offerings.
When the dust settles, expect Concur's acquisition to add more value to shareholders than the historical numbers suggest.
For starters, SAP is paying about 11 times trailing revenue. But based on Concur's explosive growth, that is only nine times current forward revenue estimates. After adding back in reasonable synergies and new sales opportunities, SAP is only paying seven times Concur's revenue, based on my estimates.
Seven times earnings is a much more palatable and reasonable price for a rapidly growing cloud-based SAS software company with 50% market share. That's the genius with this acquisition.
So how can you play this takeover?
When SAP clients want a full solution including travel needs, SAP will now have a greater capacity to lock in clients and maintain overall margins. That's why I can agree that the short-term impact of the acquisition is probably dilutive for SAP shareholders, but isn't a material concern overall.
To play this takeover, look to buy or add to SAP on Monday or Tuesday afternoon. When stocks gap lower in this context, it normally takes two or three days for the market to digest fully and discount the event.
That means watch for a price near $70 as your entry and support area. You may also want to consider selling put options instead of buying the stock outright to capture the time premium and hedge your position.
For example, I especially like the December $70 strike put option as a vehicle to gain exposure. By selling a put option for $1.75 or more, an investor can lower the total risk to $68.25, while realizing the full option premium as profit as long as the shares stay at or above the strike price. Not a bad return for less than 90 days until options expiration.
For investors already looking to buy, having the shares put to them at a cost basis under $70 is quite a discount and raises the effective dividend yield above 1.5%. As mentioned, it's also a safer way to buy. The downside is if the shares take off from here; the potential gain is limited to the premium received, but you don't lose money booking profits.
At the time of publication, Weinstein had no positions in securities mentioned.
This article represents the opinion of a contributor and not necessarily that of TheStreet or its editorial staff.