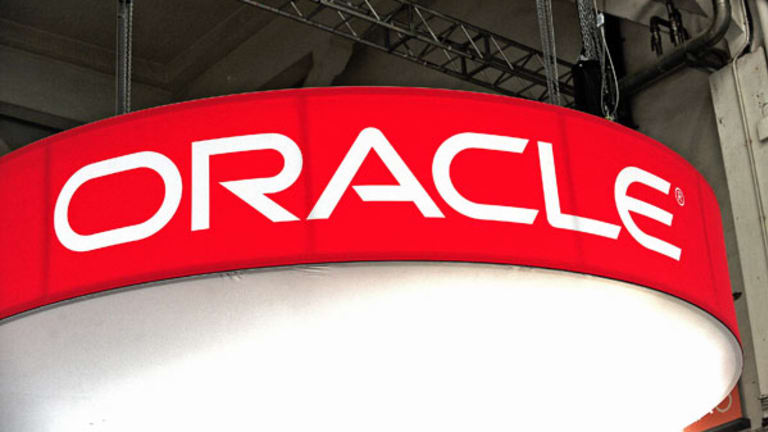 SAP Knows Something Oracle Does Not (Correct)
SAP seems to have made a transition to cloud architectures with its HANA system.
(Corrects article published at 10:23 a.m. ET to fix the first name of the CEO of SAP and to remove other references to Brian McDermott.)
NEW YORK (
) --
SAP
, long the main rival to
Oracle
(ORCL) - Get Oracle Corporation Report
in the database applications space, is rising today after reporting
double-digit growth in the third quarter
.
More important than the growth was the cause, an enterprise cloud unit
run by Bjorn Goerke
, who was appointed the company's chief information officer this week.
The transition from "enterprise" architectures, with server farms on customer premises, to cloud-based systems is as tricky as the movies' transition from silents to talkies in the 1920s. Many stars didn't make that leap, and many companies won't make this one.
While SAP is technically a German company, it also trades on the New York Stock Exchange and the co-CEO is an American, Bill McDermott, who works out of the company's offices in Newtown Square, Penn., outside Philadelphia.
Unlike Oracle CEO Larry Ellison, McDermott keeps a
low profile
. McDermott has been co-CEO, with Jim Hagemann Snabe, who works out of Walldorf, Germany, since 2010, which was also the year SAP decided to focus on cloud.
Under McDermott and Snabe, SAP has evolved its HANA in-memory database architecture into
a cloud platform
. By storing key data in-memory rather then on disks, HANA is able to work in real time. Complete systems can be up and running for as little as $300,000, according to a Wikibon primer on it, but many installations cost $2 million and more.
It's a different way of evolving from old-fashioned enterprise systems to new cloud architectures, rewriting the way databases are handled rather than trying to build hardware, as Oracle does. SAP says HANA
combines database and application platform capabilities
. In practical terms it means SAP gains full control over its customers.
SAP offers hardware through a collection of business partners, rather than making it itself. These include
IBM
(IBM) - Get International Business Machines Corporation Report
, but also
Hewlett-Packard
,
Cisco
(CSCO) - Get Cisco Systems Inc. Report
, and Dell, along with
Hitachi and Fujitsu of Japan.
Just how dependent SAP has become on HANA was demonstrated last month by its decision to shift its small business ByDesign business onto the mainstream HANA platform.
While revenue from on-premise software, the old enterprise space, fell 5% from the prior year, the company said its cloud subscription and support revenues rose 146%, year over year, to $269 million. The company said in its earnings call that 30% of its revenue in the Americas now comes from cloud.
Total operating profits were up just 5% year-over-year, to $1.8 billion, but that masked both the successful transition and the strong Euro. It was also in sharp contrast to the latest quarterly number from Oracle and IBM, both of which disappointed the street.
McDermott had been talking up HANA and the possibility of new earnings momentum since the summer, but it still seems to have caught traders by surprise. Over the last three months the stock had twice fallen into the $71/share range, and only began its decisive move up to today's $78/share price last week. Over the last month SAP shares are up almost 6% in price, while Oracle is down 3% and IBM is down almost 8%.
If the whip hand in enterprise computing has moved to SAP there's an irony in it. The world's first commercial computer,
, was developed at the University of Pennsylvania, a little over 12 miles from SAP's U.S. offices.
At the time of publication, the author owned 117 shares of IBM.
This article is commentary by an independent contributor, separate from TheStreet's regular news coverage.
Dana Blankenhorn has been a business journalist since 1978, and a tech reporter since 1982. His specialty has been getting to the future ahead of the crowd, then leaving before success arrived. That meant covering the Internet in 1985, e-commerce in 1994, the Internet of Things in 2005, open source in 2005 and, since 2010, renewable energy. He has written for every medium from newspapers and magazines to Web sites, from books to blogs. He still seeks tomorrow from his Craftsman home in Atlanta.