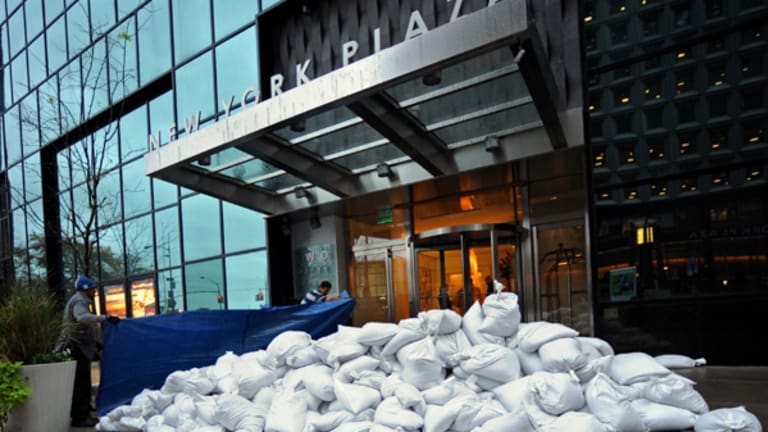 Sandy Exposes Federal Flood Insurance to Political Pressure
Government can't act like a private insurer, which is hard luck for those who think they're covered for Sandy's losses.
NEW YORK (
) -- Although health insurance gets the headlines, it's flood insurance that's driving people crazy, one year after Superstorm Sandy.
The people who want to rebuild face low payouts from the federal insurance pool and huge premium hikes to replenish the same pool. All this could delay the rebuilding process by years.
The risks of floods, and the catastrophic losses from floods, have long forced beachfront property into a special, federal risk pool,
the National Flood Insurance Program
.
The NFIP's payouts have come under severe criticism since the storm. Many homeowners are saying the payouts are too low to allow rebuilding. They're seeking extensions to the statute of limitations so suits over this can go forward.
What happens after that is the issue, however.
Under the NFIP, the government puts up the capital required to offset possible losses, and the government is getting hosed. Even before Superstorm Sandy, the NFIP fund was $17 billion in the red. Now it's $25 billion in the red, after paying out an estimated $15 billion. (Private insurers paid out even more.)
Most insurers who forced through rate hikes are doing well,
Big losses result in rate hikes that come into force during times of small losses and improve loss ratios.
The problem is that the NFIP's rates before Sandy were artificially low, to make them affordable. But this gave people a false sense of security -- the payouts on the policies were also artificially low.
Now, to start making up for Sandy's losses, the rates have to go way up around the country, by as much as 1,000%. And the risk pool has to be brought inland, meaning more people have to pay.
Ceres, an insurance industry group focused on climate change, estimates the storms of 2012 cost every American $300,
if the $100 billion lost were spread around evenly.
That would include $300 from every man, woman and child, no matter where they live.
But insurance doesn't work that way. Risk is supposed to be spread around to the people who face the risk. Those would be the people in flood zones, flood zones that have just been expanded around the country, including the tri-state area.
Maxine Waters, co-author of the bill to "fix" the NFIP pool, known in Washington as Biggert-Waters, is now fighting
to delay the necessary rate hikes.
Most of the people who are co-sponsoring Waters' legislation in the Senate come from states that have been hit hard by recent disasters, including the Gulf Coast, the West Coast and North Dakota,
whose Red River flooded badly in 2009.
That's one big difference between business and government. Government can ignore economic reality if it wishes.
Waters would delay the NFIP rate hikes for up to four years on all policies purchased after July 6, 2012 in order to conduct an "affordability" study.
But casualty insurance rates aren't based on affordability. They're based on risk. Even studying affordability takes this out of the realm of insurance.
The problem here is that government never wants to be the bad guy. It didn't want to tell people they couldn't build somewhere or maintain a beach house that was bound to disappear in a big storm. So rates were kept low. That also kept payout ratios low. Now legislators in the affected areas want to raise the payouts while stalling the rate hikes.
That's not business. That's politics. Which you prefer right now depends on where you sit, whether that's next to a pile of rubble, a huge insurance bill or far from the flood zone. The decisions we make now will determine where and how we rebuild, and whether we can afford the next disaster.
At the time of publication, the author owned no shares in companies mentioned.
This article is commentary by an independent contributor, separate from TheStreet's regular news coverage.
Dana Blankenhorn has been a business journalist since 1978, and a tech reporter since 1982. His specialty has been getting to the future ahead of the crowd, then leaving before success arrived. That meant covering the Internet in 1985, e-commerce in 1994, the Internet of Things in 2005, open source in 2005 and, since 2010, renewable energy. He has written for every medium from newspapers and magazines to Web sites, from books to blogs. He still seeks tomorrow from his Craftsman home in Atlanta.