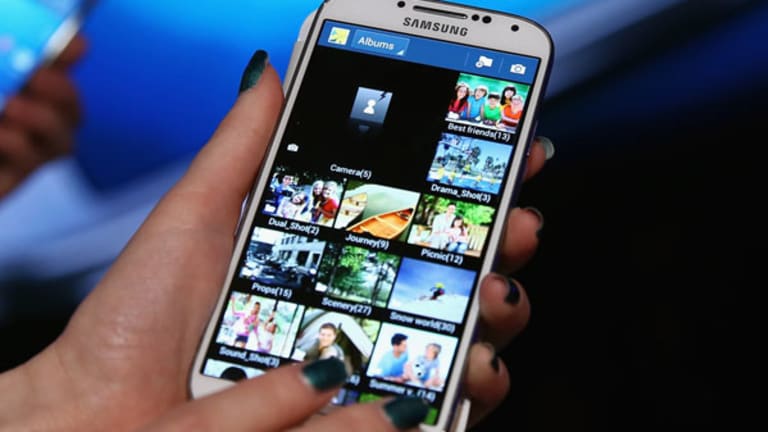 Samsung's Problem With LeBron, Ellen and Beckham
Samsung has seen recent endorsement deals cause problems in its battle vs. Apple for market share.
Samsung has seen recent endorsement deals cause problems in its battle vs. Apple for market share.
NEW YORK (TheStreet) --Samsung (SSNLF) is battling Apple (AAPL) - Get Report in the marketplace, and sometimes it has unlikely enemies: its celebrity sponsors.
Case in point: the tweet heard round the world this week was from NBA superstar LeBron James. In a moment of technology frustration, James wrote, "My phone just erased everything it had in it and rebooted." For you and me, a tweet like this would simply show our frustration with a product.
However, for James the tweet represents another example of Samsung (SSNLF) being hurt by its endorsement deals. Samsung, which is listed on the Korea Stock Exchange and is traded over the counter in the U.S., had an OTC share price of $1,180 as of 11 a.m.
James has been an official spokesman for Samsung since 2012. James can be seen in several commercials using a Samsung mobile phone. However, after James' bad day with his Samsung phone, maybe he'll reconsider his future phone deals.
LeBron's hand-biting tweet was taken down quickly, but not before it was shared over 500 times and seen by a possible 15 million of LeBron's followers. In the social media age, a tweet also lives on through anyone who shared it or screen captured it.
This mishap is another example of endorsers hurting Samsung's image.
Even a triumph seemed to slip away from Samsung this month. Ellen DeGeneres used a Samsung phone to smash the Twitter (TWTR) - Get Report record for most retweets. Using a Samsung Galaxy Note 3, DeGeneres took a group-shot selfie at the Academy Awards, featuring actors like Brad Pitt, Jennifer Lawrence and Kevin Spacey. The photo was retweeted over 3 million times and helped Samsung receive over 900 mentions a minute during the Oscars telecast.
Samsung was a big sponsor of this year's Academy Awards, so they were likely pleased that their phone got to be one of the stars of the show. However, after taking that photo, DeGeneres switched to her own personal Apple (AAPL) - Get Report iPhone to tweet throughout the night. Ellen is not endorsed by Samsung, so she was free to use her own phone.
Samsung paid $20 million for Oscar sponsorships. For that price, it pretty much got a staged photo op. Yes, it was retweeted, but was it enough of a return on the ad money spent?
And then there's David Beckham, who also helped Samsung make headlines -- for not being true to an endorsement deal. Beckham was the global brand ambassador at the 2012 London Summer Olympics. In February, Beckham was seen at Super Bowl XLVIII using an iPhone to take pictures.
After his Twitter gripe, LeBron quickly moved to improve his endorsement etiquette. He tweeted that he had regained all the information on his phone. James also sent a shout-out to Johnny Manziel for "coming home to the Nike family," a reference to James' deal with Nike (NKE) - Get Report. In 2013, LeBron James made over $42 million from endorsement deals with Nike, Samsung, Coca-Cola (KO) - Get Report, Dunkin Donuts (DNKN) - Get Report and Beats by Dre.
Samsung continues to lead the global market in mobile phone sales. In 2013, Samsung had a 31.3% market share, well ahead of second place Apple with 15.3% of the market. In the fourth quarter, Samsung sold 82 million phones, compared to 51 million from Apple. Samsung is losing share in the U.S., but continues to see market share overseas increase or hold steady thanks to lower-priced models.
But to grow market share in the U.S., Samsung needs its endorsements to pay off as it takes on Apple.
At the time of publication, the author held no positions in any of the stocks mentioned.
This article represents the opinion of a contributor and not necessarily that of TheStreet or its editorial staff.