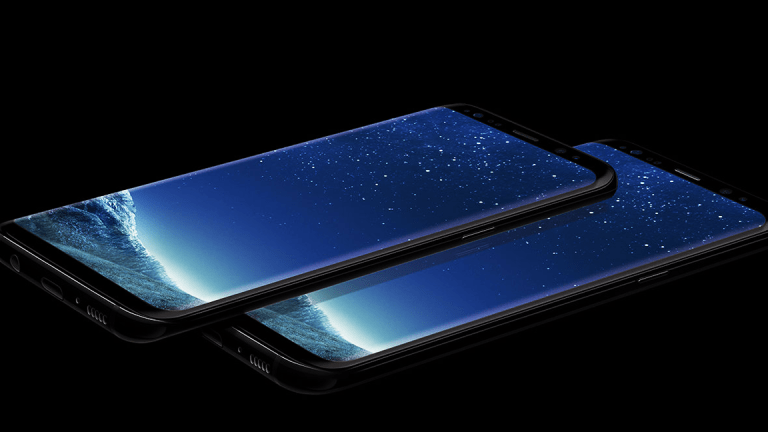 Samsung's Phone Woes Will Be Hard to Fix Until Big Hardware Innovations Arrive
The South Korean tech giant just issued a downbeat earnings forecast that's being blamed on weak Galaxy S9 sales.
It's hardly a shock that sales of Samsung's (SSNLF) latest flagship phones appear to have been soft last quarter, given the numbers that rivals and chip suppliers have been reporting.
The big question now is what innovations can get the smartphone market out of its current rut, and how quickly they'll arrive.
Samsung's shares fell 2.3% overnight in Seoul after the South Korean hardware and chip giant forecast it will report Q2 revenue of 58 trillion won ($52 billion), down about 5% annually, and an operating profit of 14.8 trillion won ($13.3 billion), up 5% annually. Those numbers are below consensus estimates of 60.3 trillion and 15.1 trillion won, respectively.
Samsung doesn't share details about how individual business units performed during a quarter until its full earnings report arrives (the Q2 report is due on the morning of July 31st). However, with Samsung's giant memory chip business believed to still be reaping the rewards of a DRAM boom cycle, and reasonably healthy NAND flash memory conditions -- memory rival Micron (MU) - Get Micron Technology Inc. Reportturned in solid numbers two weeks ago -- soft phone sales are widely seen as the culprit behind Samsung's underwhelming numbers.
With Samsung supplying display panels for a large portion of its phone shipments, and also providing many of the chips that go inside of them (processors, memory chips, image sensors, etc.), weak phone sales hurt the company in a few different ways. In its Q1 report, Samsung had forecast that weak smartphone-related demand would hurt both its Q2 processor and its OLED panel sales, with the qualifier that Samsung also ships OLED panels to Apple (AAPL) - Get Apple Inc. Report and Android rivals.
Samsung's outlook comes after Broadcom (AVGO) - Get Broadcom Inc. Report , which supplies RF and Wi-Fi/Bluetooth chips for Samsung's high-end phones, suggested that weak Samsung-related demand would hurt its July quarter sales. They also coincide with the release of a disappointing Q2 forecast from rival LG Electronics, and come after Apple reported that its iPhone unit volumes rose just 3% annually in the March quarter (revenue rose 14%, thanks to a mix shift towards the costlier iPhone X).
Apple is a holding in Jim Cramer's Action Alerts PLUS member club. Want to be alerted before Jim Cramer buys or sells AAPL? Learn more now.
To some degree, Samsung's smartphone woes are due to company-specific issues. Reviews for the company's Galaxy S9 and S9 Plus phones, which launched in March, were kind of lukewarm: Reviewers praised the phones' displays, cameras and looks, but weren't fond of the proprietary software and services baked into them and more generally underwhelmed by a lack of major hardware improvements relative to the Galaxy S8 and S8 Plus.
And though Apple hasn't been seeing huge iPhone volume growth, it may nonetheless be taking some high-end phone share from Samsung with the iPhone X. BTIG analyst Walt Piecyk notes survey data from research firm Wave7 indicates Apple's U.S. smartphone share rose 3.5% percentage points sequentially in June to 58%, its highest level since February 2017.
However, it's hard to overlook how much smartphone sales in general, and high-end smartphone sales in particular, appear to be pressured due to high penetration rates and lengthening upgrade cycles. Research firm IDC estimates global smartphone shipments were roughly flat last year at 1.47 billion, and -- following a Q1 during which shipments fell an estimated 2.9% -- sees shipments down fractionally this year to 1.46 billion.
On the bright side, IDC does see smartphone average selling prices (ASPs) rising 10.3% this year to $345, thanks in part to the de facto price hikes that Apple, Samsung and others have been carrying out for their flagship devices. Though Apple might be a little more cautious with its iPhone pricing this year, high-end consumers have clearly shown that they're willing to pay a premium for what has become for many of them their primary computing device. Unfortunately for phone makers, though, those consumers are choosing to wait longer to upgrade.
Can new hardware innovations convince high-end phone buyers to upgrade more frequently? Perhaps, but this probably won't happen in 2018, given what has been reported about Apple's 2018 iPhone X successors, Samsung's Galaxy Note 9 and other high-end devices expected to launch this year.
One potential upgrade driver in future years: The arrival of rear-facing camera systems with advanced 3D sensing abilities. Such systems would do for objects picked up by rear lenses what Apple's Face ID system can do for faces picked up by a front camera, and thus enable a variety of imaging and augmented reality applications. Apple is reportedly looking to put such a system within 2019 iPhones, along with three rear camera lenses.
Foldable phone displays could also act as an upgrade driver down the line. Samsung, Lenovo, ZTE have all shown an interest in the technology, and multiple reports indicate that Apple is at least kicking the tires on it. However, it's going to take some time for phone OEMs to get the technology right, as well as to meet the battery life and form factor demands of high-end phone users.
Until some genuinely head-turning hardware innovations arrive and are ready for "mainstream" adoption, sluggish volume growth and extended upgrade cycles will probably remain a fact of life for high-end phone makers and their suppliers. And while this is a headache for a company like Apple, it's a bigger problem for Samsung, since it can't offset sluggish phone sales growth with growing
mobile service revenue streams
.