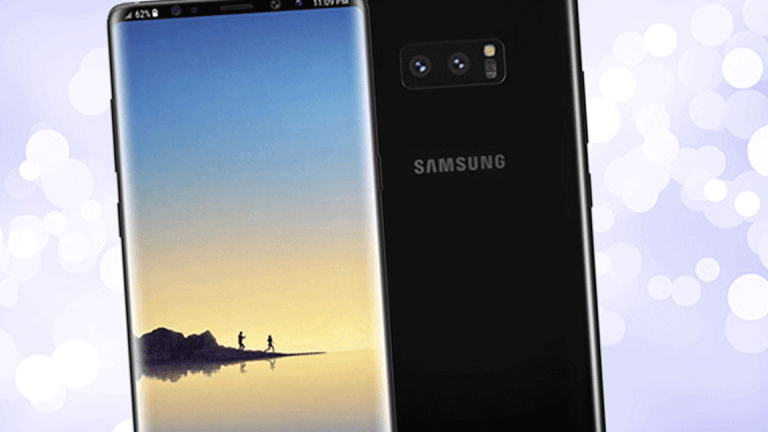 Why Google's $5 Billion EU Fine Is Good News for Samsung
The EU's ruling paves the way for Android phone makers to get paid more to pre-install Google's apps on their phones.
While the EU argues its latest ruling against Alphabet/Google (GOOGL) will benefit consumer choice, its main result could be to take money out of Google's pocket and put it into those of Android phone makers.
That is, of course, assuming that the EU's ruling stands the test of time. Given the history of past EU rulings against major U.S. tech firms, that's not a given.
Continuing a trend of taking a tougher line against U.S. tech firms in general, and Google in particular, compared with other regulators, the European Commission (EC) has ruled that Google's insistence that OEMs pre-install the Google Search and Google Chrome apps on their Android phones to gain access to the Play Store represents a breach of antitrust law.
The EC also takes issue with the payments that Google has made to some OEMs and carriers in return for exclusively pre-installing Google Search on phones, and with Google's refusal to let Android OEMs sell phones relying on non-Google versions of Android (for example, Amazon.com's (AMZN) Fire OS). The fact that phones running on alternate versions of Android have consistently flopped doesn't seem to matter to the EC.
A massive €4.34 billion ($5 billion) fine has been imposed. In addition, the EC demands that Google "bring its illegal conduct to an end in an effective manner within 90 days," or else face "non-compliance payments" of up to 5% of its average daily global revenue.
The fine easily tops the $2.8 billion penalty that was levied against Google in June 2017 after the EC ruled it was unfairly using its search dominance to strengthen its Google Shopping ad platform. The EC also charged Google over its Android and Google Shopping activities back in 2016, as well as over the ad terms it sets for third-party websites integrating Google Search through its AdSense for Search program. No ruling has been issued yet for that last dispute.
Alphabet shares are taking the EC's latest move in stride: They're up fractionally as of the time of this article. An unfavorable Android ruling was widely expected, even if the size of the accompanying fine has raised some eyebrows.
Not surprisingly, CEO Sundar Pichai says his company plans to appeal the Android ruling, just as it continues to appeal the Google Shopping ruling. With the EC an outlier so far in terms of how aggressively it has chosen to go after Google, and with Intel  (INTC) having successfully appealed a $1.3 billion EU fine last year (though this took eight years), there are reasons to think that Google's appeals could eventually succeed.
Pichai also insists Google Android's popularity has been a positive for consumer choice, and -- noting that the average Android phone user will voluntarily install about 50 apps, and that third-party browsers such as Opera Mini and Alibaba's (BABA) UC Browser have been heavily downloaded -- argues those who don't want to use Google's pre-installed apps can easily get alternatives.
Meanwhile, FTC chairman Joseph Simons has said his agency will take a close look at the EU's ruling. The FTC has been reported in the past to have probed Google's Android bundling policies, but hasn't launched a case to date.
Many have drawn parallels between the EC's Android case against Google and the DOJ's case against Microsoft about two decades ago over the bundling of its Internet Explorer browser with Windows. One big difference between the cases, however, is that whereas Microsoft was (and still is) reaping considerable Windows licensing fees, Google provides Android for free and relies heavily on the ad revenue produced by bundled apps (especially Google Search, Google Chrome and YouTube) to monetize it.
Another difference is that thanks to Apple's (AAPL) iOS, Android faces tougher competition today than Windows did in the late 1990s. This is especially true from the perspective of ecosystem revenue. While the iPhone only accounts for about 15% of global smartphone shipments, it claims a much higher share among high-income consumers in the U.S. and elsewhere, and as a result punches well above its weight in terms of both the advertising and app store revenue it produces.
Alphabet, Amazon.com and Apple are holdings in Jim Cramer's Action Alerts PLUS member club. Want to be alerted before Jim Cramer buys or sells GOOGL, AMZN or AAPL? Learn more now.
Arguably the most important difference between the Microsoft and Google cases, however, is the fact that Google Search was already quite dominant before Google Android and its various bundled apps arrived on the scene. By contrast, Internet Explorer had only a small share of the PC web browser market relative to market-leading Netscape Navigator before Microsoft started bundling it with Windows.
And this was even more true in Europe than in North America, where Yahoo and Microsoft's Bing have provided a somewhat higher level of competition for Google Search. Back in January 2009, when Android was just starting to take off, Google claimed a 93.7% European search share, per research firm StatCounter. Today, Google's share is pegged at 90.3%.
On the flip side, Google Chrome's browser market has increased considerably since 2009, in Europe and elsewhere. However, with Chrome also having gained plenty of share on PCs -- and even claiming a healthy presence on iOS, where (unlike Apple's Safari browser) it's not pre-installed -- it's worth asking how much of Chrome's growth has been due to Google's app-bundling policies versus other factors.
Either way, should the EC's Android ruling remain in place, it's pretty unlikely that Google's European search share will be seriously hurt by Android OEMs having the freedom not to pre-install Google Search and Chrome, and no longer being paid to exclusively pre-install Google Search. European consumers clearly prefer to use Google for their search needs, and a lot of them also prefer to use Chrome.
The more likely outcome is that Samsung (SSNLF) and various other OEMs will be able to demand higher ad revenue-sharing payments in exchange for agreeing to pre-install Google Search and Chrome on their Android phones. That's the same as how Apple is able to obtain huge ad revenue-sharing payments from Google in exchange for making Google the default search engine for Safari and iOS's core search feature.
Last year, Bernstein estimated that Google would pay Apple $3 billion in 2017 via ad revenue-sharing. Higher payments to Apple are believed to be a key reason why Google's total ad revenue-sharing payments to partners, known as traffic acquisition costs (TAC), equaled 13% of the ad revenue collected on Google's sites and apps in Q1, up from 10% a year earlier.
Google Search and Chrome's immense popularity in Europe should give it some negotiating leverage with Samsung and other OEMs. And given that the U.K. has long been one of Google's biggest international ad markets, it's worth noting that Brexit could (depending on how it's implemented, and what's done in the aftermath) eventually lower how much of Google's business is vulnerable to the EC's actions.
Nonetheless, with about 30% of Google's revenue coming from the broader EMEA (Europe/Middle East/Africa) region, there's still a lot at stake here. Should the EC's Android ruling remain in place for any extended amount of time, it certainly wouldn't be disastrous for Google, but it
would have some impact
on its bottom line.