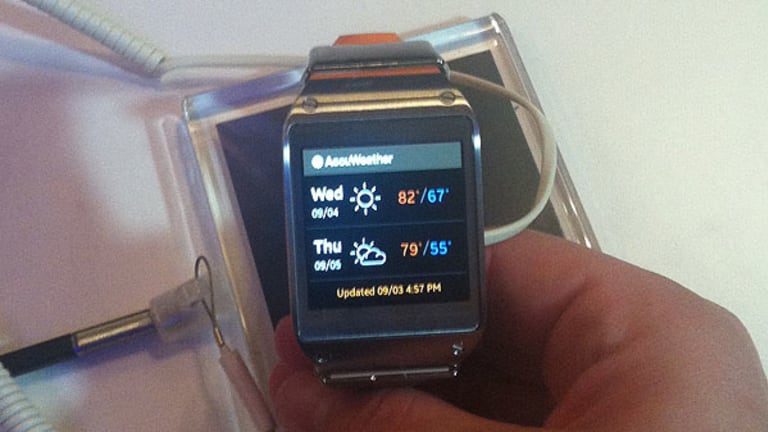 Samsung Has an Innovation Problem -- It's Not Apple
Samsung is constantly lauded by the mainstream business press for being more innovative than Apple. Yet, the evidence suggests otherwise.
NEW YORK (TheStreet) -- Samsung (SSNLF) gets very favorable treatment from the press in comparison to Apple (AAPL) - Get Free Report and it drives Apple bloggers crazy -- justifiably so in my opinion.
John Gruber loves to point out the subtle jabs the mainstream business press regularly loves to take at Apple for seemingly not being able to keep up with the pace of innovation at Samsung.
Samsung has done well over the past five years.
>>Apple iPhone Ad Sets Tone for Smart Home Products in the Pipeline
When the Android open alliance was first announced in 2007, Samsung was one of many Android providers. Now, Ben Evans refers to the Android community as "Samsung and the seven dwarves."
This power has made Google (GOOGL) - Get Free Report and Samsung uncomfortable allies at times. In fact, Samsung has played around with the idea of launching its own mobile OS (Tizen). But up until now that effort has yet to gain much traction.
Let's give credit where it's due. Samsung's Galaxy phones have been a hit globally. Its Notes defined the Phablet category and remain extremely popular in Asia. And Samsung is #1 in terms of smartphone market share, according to current estimates, at 31% vs. 15% for Apple.
Perhaps because of all this, Samsung's stock (in Korea) is up 85% in the last five years.
That's good. Mind you, Apple's stock is up 292% over the same period.
But recently there's been a batch of bad news coming out of Samsung. Its CFO implied that Samsung's second-quarter results would miss on profit expectations again.
Samsung's year-over-year profits actually topped out from a growth perspective in the first quarter of 2012. Since then, the quarterly profit has been decelerating annually.
What's going on?

Samsung used to have a few strengths it flexed against Apple in the smartphone space:
 Bigger screens in the Galaxy phones and the Note Phablets
 Its carrier relationships
 Its high/mid/low market phone offerings
 Vertical integration - which it used to lower its chips and DRAM costs
Let's take those in turn:
Apple has bigger screens coming this Fall. The iPhone 6 is expected to have a much larger screen. It now has the iPad Air and Mini. Apple may be looking into other types of phone/tablet form factors as well. What's Samsung going to do to counter this? Make even bigger phone screens?
Samsung has been selling phones for a long time so it has had a lot of carrier relationships -- just as Nokia (NOK) - Get Free Report did. Apple's always been the new kid on the block trying to build these up. But it really broke through in a big way in the last year. Apple now has well over 200 carrier relationships globally, including DoCoMoundefined recently in Japan.
Apple's footprint is now extremely extensive -- and still growing. Samsung's is at its ceiling.
Many once argued that Apple needed to have a mid-tier and low-end version of the iPhone. Apple seems to disagree, preferring the high margins of the upper end of the market. Besides, its older phones have effectively become their "free" offering on the low-end. Samsung's ability to offer phones to all these markets is part of the reason why its profits have been eroding. It's a market share vs. profits tradeoff.
Samsung -- the whole conglomerate and not just the smartphone division -- had $4.6 billion in net incoming in the March quarter. Apple, by contrast, had $10.2 billion in that same quarter.
Samsung can still benefit from vertical integration. However, Apple's profits still vastly surpass Samsung's. Apple is becoming more and more vertically integrated. Apple's move into chips give it both a cost and performance advantage in certain products relative to Samsung. Apple has also been creative in the way it's used its cash to develop relationships with suppliers of certain strategic components like sapphire glass covers.

So, when you look forward, how exactly will Samsung differentiate itself from Apple? Will it be through greater innovation, as the mainstream business press suggests?
Innovation how, exactly? Like with the new Samsung Gear watches that it pushed out the door to beat Apple to the punch? The ones that have not been well received? Through wearable devices? Through its Tizen mobile OS?
The truth is Samsung has never been an innovative company. It's not in their DNA. It's always been a vertically integrated conglomerate. What do vertically integrated conglomerates do? They compete on price and volume.
Samsung's DNA has always been "throw a lot of stuff against the wall and eke out a profit on whatever sticks in volume."
When Samsung's done anything that's been credited by the press as being "innovative" it's been as a result of its "try a lot of stuff" attitude rather than a skunkworks sense of innovation. Its bigger screens on the Galaxy or Note are a perfect example.
Samsung has never led consumers to realize what they wanted from a new product category. Instead it has come from the perspective of being a fast follower to what works and then pumping out a dozen different versions of it until one or two get some traction.
Samsung's biggest smartphone selling point has been its bigger screen. Starting this September, that advantage disappears.
Maybe the company's best hope for turning around its profits is to double the size of the screen of Apple's iWatch when it eventually copies it.
At the time of publication the author had no position in any of the stocks mentioned.
This article represents the opinion of a contributor and not necessarily that of TheStreet or its editorial staff.