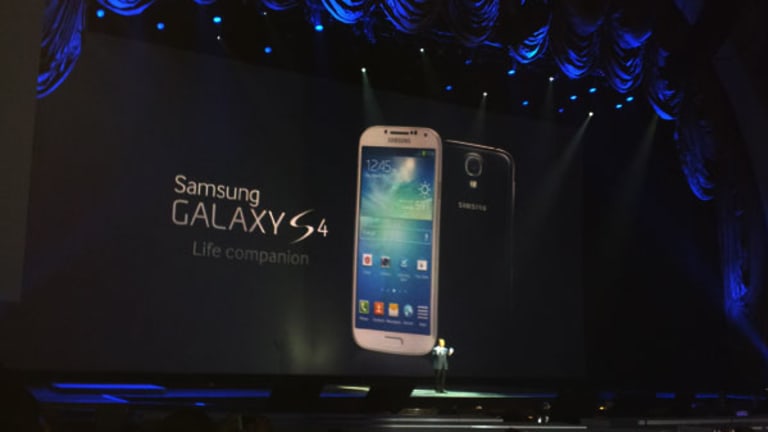 Samsung Galaxy S4: Disaster 101
It's only when Google itself is in charge of the engineering-focused, gimmick-free presentation that we learn what is really of interest.
NEW YORK (TheStreet) -- I guess we should have predicted it.
Samsung
had rented Radio City Music Hall, home of The Rockettes, inorder to introduce the Galaxy S4, the latest version of its flagshipsmartphone that
of the Android operatingsystem.
The event started with the big cheese at Samsung quickly rattling offsome of the specs of the S4 and then handing it over to what wasessentially a fully-fledged Broadway show. These actors "explained" avariety of non-standard Android features of the S4 that most peoplewill never use. It was the most painfully cringe-worthy and cornyproduct presentation I can remember, by a mile.
In technology as in politics, if you don't have the substance, youhave to make it up with music and a show. Politicians and product marketers alikehave to dumb things down to the lowest common denominator in orderfor something to sell: "Hope! Change! Look at this shiny Samsung thatwill change your life!"
If this is reflective of our country -- let alone the world -- I fearfor our humanity's future. Are people no longer receptive to aserious presentation with engineers explaining the finer engineeringdetails of a new product to journalists who cover engineering?
Apple
's
(AAPL) - Get Apple Inc. Report
VP of Marketing, Phil Schiller, caught a lot of flak on theeve of this product introduction by savaging Samsung's continuedlaunch of Galaxy S devices that run almost year-old software. Schiller didn't hire a Broadway show to make his point. He justspoke the truth, as it turns out.
The Samsung Galaxy S4 will be available to U.S. consumers right aroundthe time Google will have moved on with Android to version 5.0,so-called Key Lime Pie. The S4 will be stuck at 4.2.2 forGod-knows-how-long. Last year, its predecessor device, the S3, tookapproximately six months to get its software upgrade, which -- youguessed it -- was then obsolete in turn when it was finally madeavailable.
The Samsung Galaxy S4 is perfectly nice state-of-the-art smartphonehardware. It is very similar in terms of specs to the HTC One, whichwill hit the market at the same time. It is slightly ahead of twoother main competitors --
LG
(LPL) - Get LG Display Co. Ltd. Report
with the Optimus G and
Sony
with theXperia Z. Basically, they're all similar enough.
Guess what else is similar? The Samsung Galaxy S4 and the S3 from ayear ago. I'd be darned if I could tell the difference. The screengrew from 4.8 to 5.0 inches, the resolution was upped from 720p to1080p, the CPU became faster and the battery increased, justlike the competition. Most people would fail a blind test.
It's a snooze-fest. All smartphone hardware is nowessentially the same. They have similar screens, the same chipsmostly from
Qualcomm
(QCOM) - Get Qualcomm Inc Report
, and... well, that's it.
Actually, these presentations might as well be made by Qualcomm,because they contribute the only interesting advancements anyway. Atleast on the hardware side.
The software side? C'mon, this is all about Google, not Samsung orany of its Android OEM peers. Google makes the latest softwareavailable, and if your device is a relatively new GSM unlocked Nexus,you get this new software right away. This is of course why youshould only buy Nexus, if you have decided Android is for you.
Samsung made a superb smartphone from November 2011 to October 2012 --the Galaxy Nexus. It runs Google's latest OS, 4.2.2, which is thesame the S4 will get when it hits U.S. stores in a month ortwo. This just goes to show you that if Samsung were smart, it wouldmake a version of this new outstanding Galaxy S4 hardware that ranpure Nexus software. That would be an awesome device.
I'm not going to go into all the gimmicky new non-Android specificfeatures of the S4 here. You can view them in numerous otherwrite-ups and watch on videos elsewhere. Suffice it to say that Ihave a slight -- very slight -- preference for Samsung smartphonehardware over the competition, but that all of that is secondary towhether an Android device is a Nexus or not, getting software upgradesright away instead of 6-9 months down the road, if ever. And the S4isn't, just like the other non-Nexus competition isn't.
It is really hard to explain Samsung's outsized success in thesmartphone market. Is it just the gigantic marketing budget? Was itluck somewhere along the road? Is it their vertical integration withsemiconductors and screens? It's not as if
some
of Samsung's marketleadership isn't deserved in principle, but the magnitude appearsdisproportional to the actual product differences.
One thing is clear, though: After this Broadway production, I havemore respect for the competition when it simply sticks to the factsand gives us the engineering reasons it has come up with this-or-thatsoftware or hardware feature. This goes for
Microsoft
(MSFT) - Get Microsoft Corporation Report
, Apple,
HTC
,
BlackBerry
undefined
, LG,
Motorola
, Sony and Google itself, just to mention themost important ones.
Another thing is also clear: For those of us who want to stay on thecutting edge of Android software, a Samsung keynote is nowhere to be.It's when Google itself is in charge of the engineering-focused,gimmick-free presentation that we learn what is really ofinterest.
Phil Schiller can sleep with a smile tonight. Hehas been redeemed.
At the time of publication, Wahlman was long GOOG, AAPLand QCOM, and short MSFT.
This article is commentary by an independent contributor, separate from TheStreet's regular news coverage.