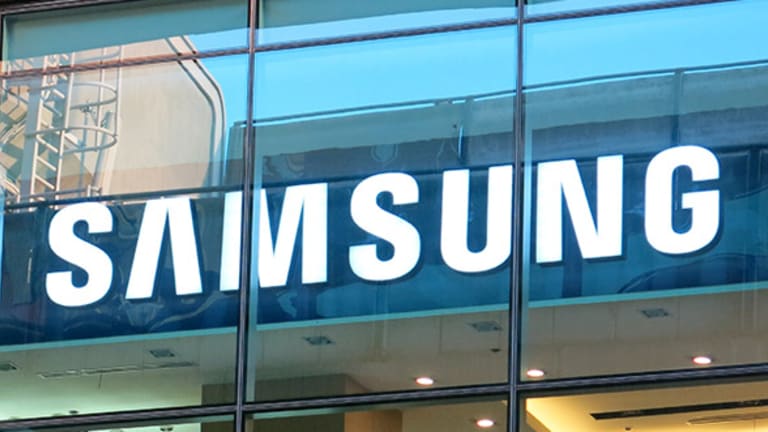 Samsung Bests Apple in Legal Tussle - Tech Roundup
The U.S. Supreme Court ruled in favor of the South Korean electronics conglomerate on Tuesday in its ongoing legal fight with the iPhone giant.
Samsung (SSNLF) and Apple (AAPL) - Get Apple Inc. (AAPL) Reporthave been in a heated legal battle for nearly five years, and it isn't over yet.
Still, Samsung won a decisive victory over the iPhone maker in their drawn-out patent case on Tuesday, Reuters reports.
The case, which is focused on design patents, dates back to 2011. Cupertino, Calif.-based Apple then accused the South Korean electronics conglomerate of stealing several hardware and software designs, including the iPhone's gridded icon design and rounded front face, on 11 different smartphone models.
The U.S. Supreme Court ruled 8-0 in favor of Samsung on Tuesday, tossing out a previous ruling from an appeals court that said Samsung would have to pay $399 million in damages. Tuesday's decision argues that violators in patent lawsuits do not necessarily have to pay the entire profit from items that have used stolen designs if the designs in question are only one component of the item.
Samsung has already paid Apple $548 million in the lawsuit.
The case will be sent back to the U.S. Court of Appeals for the Federal Circuit in Washington to decide how much Samsung will pay Apple.
Or in other words, here we go again.
Shares of Apple rose by less than 1% on Tuesday, closing at $109.92.
Amid rampant concerns over trolling, cyberbullying and hate speech online, Facebook's (FB) - Get Facebook, Inc. Class A Report photo sharing app Instagram is making a move to crack down on the issue.
The Menlo Park, Calif.-based company announced on Tuesday that it would introduce three new features in the upcoming weeks, which are designed to give Instagram users better control over how they interact with other users, as well as keep the site a "positive place for self-expression."
The first aspect of the update will allow users to turn commenting off on any post. This feature had previously only been available to a small number of accounts, but will now be open to the general public. Instagram will also roll-out a comment liking feature, so users can "show support" to other users and "encourage positivity throughout the community."
Instagram is also letting users kick out any followers they don't like from their private accounts. Previously, the only way to do so would be to block people from Instagram. Now, however, users can simply remove a follower without notifying them of any action.
Finally, the photo-sharing app is launching a feature to allow users to anonymously report posts that they think indicate the sharer might be in danger of self-harm. Instagram will then connect that person to an organization that can help them if they need it.
"These updates still mark the beginning," Instagram co-founder Kevin Systrom said in a statement. "We will continue to work to maintain Instagram as a welcoming and safe place for everyone."
Although Systrom dubs Instragram's update as just a "beginning," these moves make major social media competitor Twitter (TWTR) - Get Twitter, Inc. Report- which has long received flack for the amount of hateful language and trolling found on the micro-blogging site - seem slow on the uptake.
Shares of Facebook closed at $117.31, down less than 1%.
Netflix (NFLX) - Get Netflix, Inc. (NFLX) Reportjust made it a whole lot easier for you to decide what to watch on the online streaming site.
The Los Gatos, Calif.-based company rolled out new 90-second video previews to "speed your next selection," the company announced on Tuesday.
Hopefully, this means you'll no longer spend an hour arguing over what 30-minute program to watch.
This comes as Netflix plans to debut more than 1,000 hours of original content in 2017. "We know we have less than 90 seconds to capture someone's attention and get them excited about a title," Director of Product Innovation Stephen Garcia and VP of Product Innovation Chris Jaffe said in a statement.
Netflix contends that these previews "aren't teasers or traditional trailers." The company calls them "video synopses," which are meant to quickly highlight the general story, characters and tone of a show or movie. In testing, the company said that viewers watched more of a story after seeing a preview, meaning that the feature will help users "browse less and watch more."
For now, the video preview feature will only be available on eligible internet TV devices such as gaming consoles and Roku devices.
The offering will roll-out to smart TVs and other devices in the upcoming months.
Netflix finished the day at $124.57, up 4.5%.
FACEBOOK and APPLE are holdings inJim Cramer's Action Alerts PLUS Charitable Trust Portfolio. See how Cramerrates the stock here. Want to be alerted before Cramer buys or sellsFB orAAPL?Learn more now.