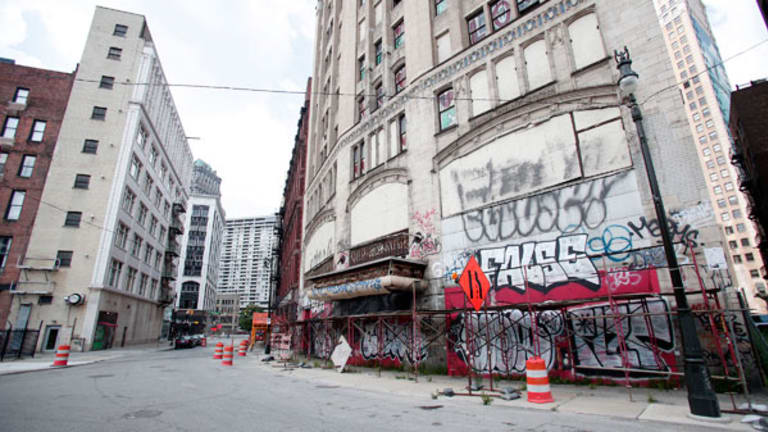 Publish date:
Salmon: When Should We Aid Detroit?
It's much easier to tame and shape existing economic forces in the bankrupt city than it is to try to conjure them up from scratch.
It's much easier to tame and shape existing economic forces in the bankrupt city than it is to try to conjure them up from scratch.
NEW YORK (Reuters Blogs) -- John Cassidy and Steve Rattner agree that the destruction which has been visited upon Detroit in recent decades is at least as devastating, and as worthy of federal support, as the chaos which was wreaked by Hurricane Sandy in richer parts of the country.
Cassidy and Rattner disagree, however, on how they would like to spend Uncle Sam's billions. Rattner, you won't be surprised to hear, concentrates on financial engineering, and he singles out Detroit's pension plans: he calls them "grossly underfunded" (which is highly
), and calls for "shared sacrifice by creditors, workers and other stakeholders." Beyond that, his wishlist seems to consist simply of the "$1.25 billion in reinvestment spending that Detroit's emergency manager, Kevyn Orr, has included in his proposed budget".
Cassidy, on the other hand, goes further:
What is needed is a comprehensive and adequately funded plan to stabilize the city's finances, repair its public infrastructure--almost half the street lights don't work--and raze its semi-abandoned neighborhoods, consolidating its population into a smaller, more manageable area. (At the moment, Detroit sprawls across a hundred and thirty-nine square miles, more than Boston and San Francisco combined.)
What Cassidy is talking about here, under the happy euphemism of "consolidation," is a massive program of destruction, displacement, and forced relocation -- one affecting hundreds of thousands of families. It's the kind of thing one can maybe imagine in China, or possibly even in New York City circa Robert Moses -- but both of those examples involve acting with the tide, as it were, a government helping to expand cities which are growing fast and which will in any case require a vast new infrastructure.
In Detroit, by contrast, it's much harder to orchestrate any kind of big rebuilding program: It's much easier to tame and shape existing economic forces than it is to try to conjure them up from scratch. And while there is a certain degree of gentrification in downtown Detroit, it's on such a small scale, compared to the city as a whole, that its role in any city-wide urban regeneration plan is always going to be limited.
Rattner is, depressingly, entirely correct when he says that "while logical, the potential for downsizing Detroit is limited because the city's population didn't flee from just one neighborhood." Detroit is too big; it must get smaller; it can't get smaller. That's the real tragedy of Detroit, and it's one that no amount of federal funds can solve.
It can seem heartless for Washington not to step in and help save Detroit. Cassidy's plaint is clear and simple: "Shouldn't one of America's iconic cities be rebuilt, rather than picked apart? If so, it is going to require the leadership, and the financial support, of the federal government." It's infuriating to watch the government stand idly by as Detroit sinks into a fiscal and economic morass. But at the same time, the government should never act on the basis of "something must be done; this is something; therefore let's just throw some money at the problem and hope for the best." Whenever that happens, failure is pretty much guaranteed.
Over the long term, there are good reasons to be bullish on Detroit. North America is becoming increasingly urban, which should benefit all of its cities. Michigan, more broadly, is one of the few parts of the world which will see a real benefit from global climate change, and it needs a healthy Detroit to thrive. To the city's east and west, both Toronto and Chicago are booming, and in general the big US border cities -- Seattle, Detroit, maybe Buffalo -- can't help but benefit from Canada's continued oil-fueled expansion.
But for the time being it's hard to anticipate exactly how those forces are going to align to reshape Detroit. The city's emergence from bankruptcy should absolutely be structured so that the city has every opportunity to grow and thrive over the long term. But it's not necessarily the best possible time for the federal government to start providing the kind of "leadership" which, as far as I can tell, has been asked for by neither Detroit nor the state of Michigan.
The lesson of Japan's fiscal mega-projects over the past 20 years or so is that even with effectively unlimited funds, it's impossible for government alone to change the economic destiny of a major city. The federal government should absolutely keep a close eye on the economy of Detroit, and stand ready to help if and when such aid will have the greatest positive effect. I just find it hard to believe that right now is that time.
-- Written by Felix Salmon in New York.
Read more of Felix's blogs at Reuters.