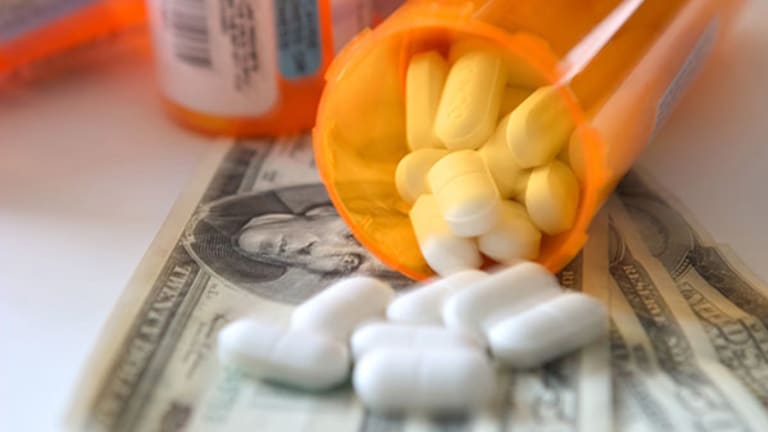 Publish date:
Salix Acquisition Likely, but at What Price Is Open to Debate
Suitors are lining up too woo Salix Pharmaceuticals, and investors, anticipating a healthy purchase price, have pushed shares up more than 30% year-to-date.
Suitors are lining up too woo Salix Pharmaceuticals, and investors, anticipating a healthy purchase price, have pushed shares up more than 30% year-to-date.
NEW YORK ( TheStreet) -- Salix Pharmaceuticals (SLXP) is likely to be acquired in the coming weeks, analysts say, but the price its buyer will pay remains unclear.
Shares have rallied since reports last week that Canadian drugmaker Valeant Pharmaceuticals (VRX) had lined up financing for a possible purchase. Raleigh-based Salix is best known for its several gastroenterology treatments.
Salix was trading at about $152 a share on Thursday, up more than 51% in the past year, and more than 32% this year alone. Its 52-week range is $86.00 to $172.98. Some analysts think the stock is currently overvalued.
"Buying into Salix now based on an acquisition alone is like gambling," Sterne Agee's Shibani Malhotra said in an interview. Her firm has one of the more conservative valuations of Salix at $151 a share with a neutral rating. 
Valeant, which could also use the financing for other takeovers, is reported to be considering a bid of upwards of $150 per share. Shire (SHPG) - Get Report and Endo International (ENDP) - Get Report are also competing to acquire Salix, which was courted by Botox maker Allergen (AGN) - Get Report before talks stalled late last year on valuation. (Allergan, meanwhile, is now in the midst of  being purchased by specialty pharma firm Actavis (ACT) - Get Report in a deal that should close this quarter.)
"While we continue to believe that Salix remains an acquisition candidate and that it is highly unlikely the company will remain independent over the next 12 months, we simply cannot recommend putting new money into SLXP shares at current valuation as such a recommendation would be on M&A speculation alone," Malhotra said in a note.
Meanwhile, Mizuho raised its price target on the stock to $149 from $124 with a neutral rating, based in part on merger talks, as well as the potential for its antibiotic Xifaxan, which has no generic competition, to get FDA approval as a treatment for IBS in May.
"It will be interesting to see how VRX or another buyer would account for the approval risk given that the FDA rejected Xifaxan on the first go-around," Mizuho analyst Mario Corso wrote in a note. "Given VRX's strategy, it seems less likely than others to place a premium value on an unapproved use, whereas it may be able to garner more cost savings and tax benefit than other potential buyers."
More bullish analysts on Salix like Cantor Fitzgerald's Irina Rivkind Koffler say an acquisition deal would be "highly accretive to Valeant, even under conservative Salix revenue growth scenarios."
Cantor Fitzgerald recently reiterated its buy rating and set an aggressive price target of $184, which Koffler said could reach more than $200, assuming a mid-year deal close and 25% cost-cutting moves within Salix, although Cantor does not expect Valeant to enter a bidding war with other parties.
"[Valeant] management has previously stated that it is interested in sectors reliant upon close physician relationships so could utilize the Salix deal as a beachhead into gastroenterology, followed by future acquisitions," Koffler said in a note
This article is commentary by an independent contributor. At the time of publication, the author held shares of SLXP.