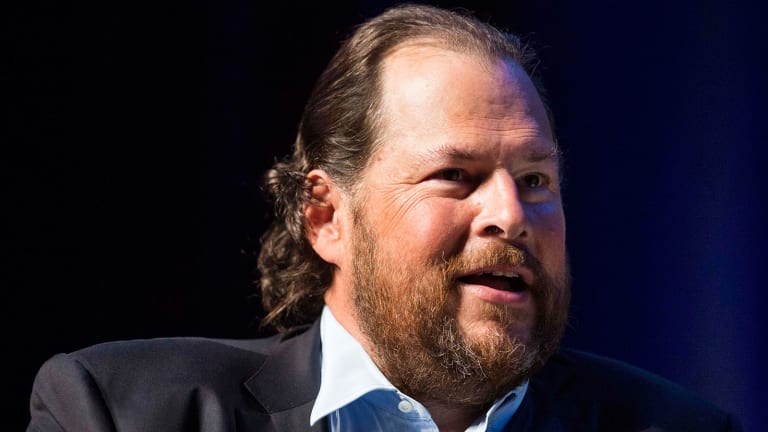 Salesforce Slides After Issuing Mixed Guidance: 8 Key Takeaways
The CRM software giant beat estimates and issued solid revenue guidance, but issued light earnings guidance and forecast billings growth would slow.
After rallying over 50% in 2018, Salesforce.com's (CRM) - Get Free Report stock is seeing profit-taking after a fairly good, but imperfect, earnings report.
On Wednesday afternoon, the cloud CRM software giant reported July quarter (fiscal second quarter) revenue of $3.28 billion and non-GAAP EPS of $0.71. Revenue, officially up 27% annually and up 23% after backing out revenue from recently-acquired MuleSoft, topped a $3.23 billion consensus. Earnings per share officially beat a $0.47 consensus by $0.24; after backing out a $0.14 gain related to the accounting of "strategic investments," the beat amounted to $0.10.
For the October quarter, Salesforce is guiding for revenue of $3.355 billion to $3.365 billion (up 24% to 25%) and EPS of $0.49 to $0.50. The revenue outlook is favorable to a $3.355 billion consensus, but the EPS outlook is below a $0.53 consensus.
Salesforce.com is a holding in Jim Cramer's Action Alerts PLUS member club. Want to be alerted before Jim Cramer buys or sells CRM? Learn more now.
Salesforce also is Real Money's "Stock of the Day."
On the other hand, with a $0.24 July quarter beat on the books, Salesforce is hiking its fiscal 2019 (ends in Jan. 2019) EPS guidance by $0.21 to a range of $2.50 to $2.52. And revenue guidance is being hiked by $50 million to a range of $13.125 billion to $13.175 billion (up 25% annually).
Shares fell 3.5% in premarket trading on Thursday. They're still up 56% over the last 12 months.
Here are some takeaways from Salesforce's earnings report and call.
1) Billings Growth was Healthy, But is Expected to Slow a Bit
Salesforce's closely-watched billings metric, which covers revenue plus the sequential change in the company's unearned revenue balance, rose 26% to $2.96 billion. That slightly topped a $2.94 billion consensus.
However, Salesforce is guiding for its unearned revenue balance growth to slow to around 20% in the October quarter from a July quarter level of 24%. When paired with the company's revenue guidance, that implies a billings growth outlook of around 18%. On the call, CFO Mark Hawkins attributed the unearned revenue growth slowdown to both "significant" currency headwinds (more on that shortly) and "the continued deepening of our quarter-on-quarter seasonality [for unearned revenue]."

Salesforce's July quarter results at a glance.
2) Backlog Growth Remains Strong
Salesforce's "remaining performance obligation," which covers billed and unbilled future revenue it has under contract, totaled $21 billion at the end of July. After backing out a $200 million boost from the MuleSoft acquisition, that represents 35% growth.
Current remaining performance obligation, which covers future revenue under contract that's expected to be recognized during the next 12 months, grew 27% to $9.8 billion.
3) Sales Cloud Growth Slowed
Salesforce's age-old Sales Cloud platform, which is used by legions of salespeople to track leads and pursue deals, saw its revenue grow 13% to $1 billion. That's below the April quarter's 16% growth, and well below total organic revenue growth of 23%.
4) Other Key Businesses Grew Faster
Salesforce's Service Cloud (customer support/engagement software) platform saw revenue grow 27% to $892 million. Its Marketing Cloud and Commerce Cloud platforms collectively saw revenue rise 37% to $452 million. And excluding MuleSoft, "Salesforce Platform and Other" revenue, which includes revenue from the Heroku and Force.com cloud app development platforms, grew 32% to roughly $590 million.
As for MuleSoft, which provides tools for creating and managing application programming interfaces (APIs), its revenue grew 76% to $122 million. That's higher than Salesforce expected, something the company attributed to a large amount of license revenue being recognized. On the call, Salesforce execs once more talked up the ability of MuleSoft's platform to unlock data from third-party enterprise apps that could be leveraged by other Salesforce apps and help provide an end-to-end view of customers.
5) International Sales Growth was Solid
On a constant currency (CC) basis, Salesforce's EMEA and Asia-Pacific revenue grew 32% and 28%, respectively. With the regions still only accounting for 29% of Salesforce's revenue, the company still has quite a lot of headroom to take share overseas.
6) Currency Swings are Taking a Toll
Worth keeping in mind when looking at Salesforce's revenue, unearned revenue and backlog growth rates: The dollar's recent rally means that forex is no longer providing a top-line boost. Whereas dollar-based revenue growth was 3 percentage points higher than CC revenue growth in the April quarter, the growth rates were even in the July quarter.
Moreover, on the call, Hawkins forecast forex would act as a $75 million to $100 million headwind to revenue over the remainder of fiscal 2019. Needless to say, Salesforce would have issued a larger full-year revenue guidance hike if not for this.
7) Salesforce is Still Spending Aggressively
Operating expenses grew 27% on a GAAP basis to $2.32 billion, and 24% on a non-GAAP basis to $1.94 billion. As is the case for many other enterprise software firms, sales and marketing spend is easily Salesforce's largest expense: It accounted for 65% of last quarter's GAAP opex.
8) Free Cash Flow Continues to Rise
Like other software firms that are often paid for one or more years' worth of subscriptions up-front but recognize the revenue a quarter at a time, Salesforce's annual free cash flow (FCF) is much higher than its reported GAAP or non-GAAP earnings. Over the first six months of fiscal 2019, FCF totaled $1.63 billion, up from a year-ago level of $1.27 billion and well above non-GAAP net income of $1.11 billion.
Going into earnings, the analyst consensus was for full-year FCF to rise 17% in fiscal 2019 to $2.58 billion.