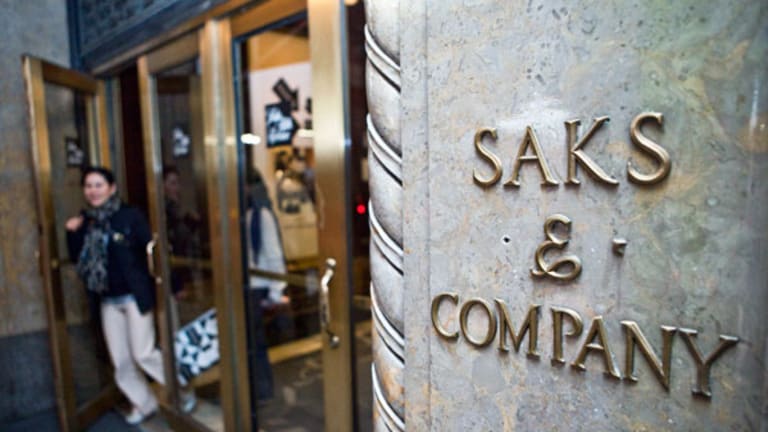 Saks Is Hot
Shares have surged more than 30% this week on earnings and sale rumors. Is there more room to run?
Shares have surged more than 30% this week on earnings and sale rumors. Is there more room to run?
NEW YORK (TheStreet) -- Shares of Saks (SKS) have surged more than 30% this week on a better-than expected-earnings report and on speculation that the company is exploring strategic alternatives that may include the sale of the company.
It has been a long road back for Saks, which was seemingly priced for bankruptcy in early 2009, when shares reached a low of $1.55.
SKS
data by
That was a difficult market for most retailers. In the fourth quarter of 2008, Saks' same-store sales plunged 19.8%. The company was also burdened by $650 million in debt, and for a while, the market did not believe that Saks would survive. That turned out to be a great buying opportunity for those with an iron stomach; some company assets were being overlooked, in my view, but more on that later.
SKS Long Term Debt
data by
The company responded to the crisis by making moves that helped right the ship. It cut inventory and strengthened its capital structure with a stock offering and debt restructuring. Saks repurchased senior notes and issued convertible debt, and it emerged a much stronger company. A return to profitability followed, and Saks is now a "ten-bagger" since early 2009. The stock now trades at about $15.50.
Also see: Abercrombie Plunges Amid Disappointing Earnings, Lowers Guidance >>
Today's Saks is a leaner and meaner version of the company expected to implode just four years ago. The company ended the first quarter with $20 million in cash and $317 million in debt, less than half of the debt level in late 2008. First-quarter revenue and adjusted earnings beat estimates as same-store sales rose 5.9%.
Of course, much of the excitement we've seen this week in Saks is due to speculation that the company may be up for sale. I've seen estimates that it might fetch between $16 and $19 per share (Deutsche Bank), but in my view, a price in that range would be disappointing. There's still life left in Saks as a retailer, as evidenced by its first-quarter results, and there's much more to the valuation story.
The company is swimming in real estate assets. At year's end, Saks owned 27 of its locations, for a total of 3.8 million square feet. Although investors have been fooled before in placing inflated valuations on real estate assets --
Sears Holding
(SHLD)
is a great example -- in Saks' case, one property in particular may be worth up to half of the company's market cap. The flagship store on Fifth Avenue in New York City may be worth up to $1 billion, or perhaps more in the right market.
That's the asset that made Saks seem compelling in early 2009 and was the reason I took a position in the name around that time.
Also see: Nasdaq Trades Its First Ever Loan ETF >>
The Saks story is just starting to heat up; but if there is any truth to rumors of a potential deal, $16-$19 a share may not be enough. The decision may ultimately rest with large institutional stakeholders, which include
Southeastern Asset Management
(17.21%) and Carlos Slim's
Immobilaria Carso
(an estimated 16%).
At the time of publication the author held no positions in any of the stocks mentioned.
This article is commentary by an independent contributor, separate from TheStreet's regular news coverage.
Jonathan Heller, CFA, is president of KEJ Financial Advisors, his fee-only financial planning company. Jon spent 17 years at Bloomberg Financial Markets in various roles, from 1989 until 2005. He ran Bloomberg's Equity Fundamental Research Department from 1994 until 1998, when he assumed responsibility for Bloomberg's Equity Data Research Department. In 2001, he joined Bloomberg's Publishing group as senior markets editor and writer for Bloomberg Personal Finance Magazine, and an associate editor and contributor for Bloomberg Markets Magazine. In 2005, he joined SEI Investments as director of investment communications within SEI's Investment Management Unit.
Jon is also the founder of the
, a site dedicated to deep-value investing. He has an undergraduate degree from Grove City College and an MBA from Rider University, where he has also served on the adjunct faculty; he is also a CFA charter holder.