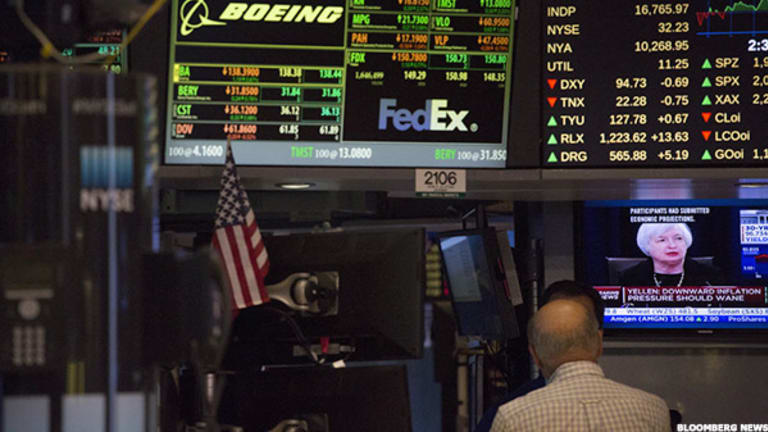 Safe Sectors to Purchase Stocks In the Aftermath Of the Global Sell-Off
Investors weary of the volatile market this week will turn to stocks in the consumer staples, utilities and health care sectors, which provide a safe haven during periods of uncertainty.
Investors who are weary of the volatile market this week will turn to stocks in the consumer staples, utilities and health care sectors, which provide a safe haven during periods of great uncertainty.
Speculation on whether the economy is headed for a recession has emerged again, increasing fear among investors who are already skittish amid the global slowdown and plummeting crude oil prices. Many investors are seeking to shield the ETFs and mutual funds in their retirement portfolios from major losses and volatility.
Consumer Staples Are a Good Buy
As interest rates are set to rise again several times this year, companies that produce food and beverages, household and personal care products and energy as well as the health care and utilities generate a greater performance than those industries that rely on discretionary spending, said Robert Johnson, CEO of the American College of Financial Services in Bryn Mawr, Pa. The durable goods, autos, retail, mining and apparel industries tend to fare poorly in rising interest rate environments.
"People need to eat, put gas in their cars and go to the doctor no matter what the economic environment is like," he said. "They can however, delay buying a new car, washing machine, new house or personal computer."
History has demonstrated that these industries held their own during major declines and can protect "on the downside more," said Edison Byzyka, vice president of investments for Hefty Wealth Partners in Auburn, Ind.
While both consumer staples and the energy sectors are "oversold, the consumer staples sector has held up real well during this recent decline, so it is the one-eyed man in the land of the blind," said Matthew Tuttle, the portfolio manager of Tuttle Tactical Management U.S. Core ETF (TUTT).
Has Oil Hit the Bottom?
Despite the massive decline in oil prices and selloff during the past 18 months, the energy sector "is not for the faint of heart, but it has to bottom at some point," Tuttle said.
Since the energy sector "tends to self-regulate, it is hard not to get excited about it if you take a longer term view," said Jim Wright, a portfolio manager with Covestor, the online investing marketplace and chief investment officer of Harvest Financial Partners, a registered investment advisor in Paoli, Penn.
As exploration and production companies have slashed their capital expenditure budgets, the "economics of some drilling become very unattractive," he said. This factor could slow down the glut in the market and with increased demand when the global economy recovers, oil prices will "rise again," Wright said.
Among the energy stocks out there, Exxon (XOM) - Get Report and Schlumberger (SLB) - Get Report both have the "balance sheets and financial strength to weather the tough times," Wright said. "They also may be able to pick up some distressed assets from weaker companies," he added. "We would expect the stock prices will be a lot higher in the next two to three years."

Health Care Is a No-Brainer
For a longer-term stock to hold, Gilead Sciences (GILD) - Get Report is a pharmaceutical company Bill DeShurko, a portfolio manager with Covestor and founder of 401 Advisor, a registered investment advisor in Centerville, Ohio, still likes, because although the company's pipeline of drugs is small, their free cash flow is very strong.
"With a forward P/E of just 8.35 there is little downside risk with a 1.7% yield," he said. "Look for an acquisition this year."
Omega Healthcare Investors (OHI) - Get Report is a REIT which specializes in healthcare and long-term care facilities and is another stock to hold because of its 6.27% yield, DeShurko said.
Restaurants Will Fare Well
Although interest rates will continue to rise, they will not increase too much to "slow the consumer down," DeShurko said.
"There is and will continue to be in 2016 a great deal of free cash flowing to the consumer via low gas prices and the deflationary effects of a high dollar," DeShurko said.
The restaurant sector will remain healthy, especially the fast casual chain options - Zoe's Kitchen (ZOES) is a long-term hold and he "fully expects" to buy Chipotle Mexican Grill (CMG) - Get Report sometime in 2016.
"Look at restaurants since we have apparently lost the ability to cook for ourselves," DeShurko said.

Other Buys
Some other recommendations include (XRT) - Get Report , the SPDR Retail ETF, because it appears to be a nice general retail fund, he said.
"We sold Under Armour (UA) - Get Report a couple months ago but look to buy back," DeShurko said. "Nike (NKE) - Get Report has such a huge market share that I think UA can whittle away a sliver and do well. Coach (COH) has been making a nice rebound and looks strong technically and Realty Income (O) - Get Report looks attractive as a retail REIT with its 4.35% yield despite its recent 25% gain."
Investors should refrain from investing in emerging markets because the risk is too great as the dollar "continues its ascent, but the euro should start soaking up some cash flow as they continue with their monetary stimulus," he added. The SPDR EURO STOXX 50 ETF (FEZ) - Get Report is his recommendation.
The best place "to be right now" is in large cap dividend yielding stocks, said Bob Freedland, a portfolio manager with Covestor, the online investing marketplace and a Boston-based registered investment advisor. He favors stocks such as AT&T (T) - Get Report with a 5.58% yield, Verizon (VZ) - Get Report which is yielding 4.89%, General Electric (GE) - Get Report with a yield of 2.95%, BCE (BCE) - Get Report yielding 4.94%, a healthcare REIT like HCP (HCP) - Get Report with a 5.91% or even McDonald's (MCD) - Get Report yielding 3.01% in dividends.
"Interest rates are unlikely to move higher either aggressively or even soon in light of current economic weakness both domestically and internationally," Freeland said. "In a bear market, a good dividend provides a cushion of support as yield grows as the price declines. In a bull market, dividends aren't quite as significant a concern."
Investors who are wary of choosing the right sectors should instead purchase investments that are both diversified and low cost in mutual funds and ETFs, said Grant Easterbrook, co-founder of Dream Forward Financial, a low cost 401(k) plan based in New York. On March 9, 2009, the S&P 500, a benchmark index, was at 676.53. Five years later, on March 9, 2015, the S&P was at 2,079.43.
"If you invested on March 9 you would have more than tripled your money five years later," he said. "Try to look at market downturns as an opportunity to buy on the cheap and I would focus less on trying to pick sectors."
Overall stock returns are likely to be lower when the Fed raises rates, said Johnson. The S&P 500 returned 15.2% when rates were falling and only 5.9% when rates were rising from 1966 through 2013.