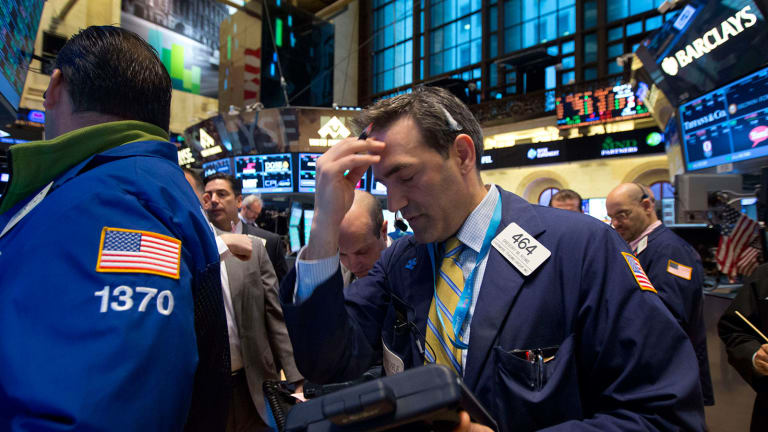 S&P Experts: More Pain Ahead for Markets
Brace yourself. The volatility that has whipsawed both stock and bond markets isn't over yet, according to experts at Standard & Poor's.
Brace yourself. The volatility that has whipsawed both stock and bond markets isn't over yet, according to a panel of experts at Standard & Poor's.
Investors are worrying about everything from a bear market to an outright recession, and the Federal Reserve's latest statement on Wednesday did little to calm nerves.
"What they're worried about is importing some of that deflation that you might see in Europe into the U.S.," said Beth Ann Bovino, Chief U.S. Economist at S&P Ratings Services. "That's their concern and that's why they may want to wait a little longer."
Bovino believes that Fed policy makers will raise rates again in March, but then take their time with any further moves. Investors, meanwhile, are fearing the worst and rushing to get out of risky investments, both in the equity and fixed income markets.
"Credit spreads have popped up, and that's a signal that near term, the markets are expecting more pain ahead," said J.R. Reiger, Global Head of Fixed Income at S&P Dow Jones Indices.
Rieger points out that the cost of buying default protection in the high-yield bond market has skyrocketed over the past six weeks, perhaps for good reason.
"We're starting to see defaults tick up. It's about 2.8% now, we have a baseline of 3.3% by the beginning of the fourth quarter of this year," said Diane Vazza, Head of Global Fixed Income Research at S&P Ratings Services.
"Metals and mining, and oil and gas, are the drivers of that."

Falling commodity prices have hurt the debt of commodity companies, along with their stock prices. A decline in commodity stocks has weighed on the overall stock market, which is off to one of its worst starts in years.
"I think that investors thought we were supposed to get back from this correction that had earlier bottomed on Aug. 25. We didn't. We then set an even lower low. And that's why investors are again worried that we maybe have even more pain ahead of us," said Sam Stovall, Chief U.S. Equity Strategist at S&P Capital IQ and SNL.
History does not paint a pretty picture for the stock market either. Stovall points out that the current stock market advance has gone 47 months without a decline of 10% or more. The average bull market advance since World War II was 18 months. Typically, a bull market that goes beyond 30 months results in a decline that averages 19%.
With investors increasingly worried about risk, money is flowing into investment grade corporate bonds, as well as stocks that pay dividends. For now, though, the economy is weathering the storm.
Bovino points out that, even with the ongoing worries in the markets, consumer spending is holding up, wages are rising and the economy continues to create jobs.