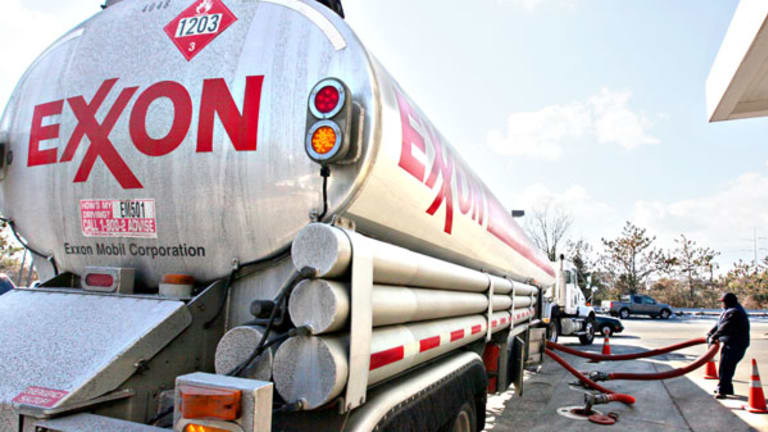 Russian Vodka Not Tasty for Exxon Ahead of Earnings
Sanctions by the U.S. against Russia are increasing and that may have a big impact on Exxon Mobil and its upcoming production guidance.
NEW YORK (TheStreet) -- It's time again for investors to focus on the quarterly earnings report of energy behemoth Exxon Mobil (XOM) .
Surely analysts will be locked and loaded on the company's production profile, while environmentalists will likely continue to shake their heads in disbelief over the company's staunch commitment to fossil fuels. Yet, now more than ever, onlookers may want to consider something else -- geographic risk may hurt production guidance considering Exxon's growing exposure to Russia.
My concern is growing that Exxon's strategy to go anywhere in order to boost oil production is making this stock more risky for investors. Specifically, I'm referring to the company's larger dependence on Russia to reverse a slowing production profile. If you aren't familiar with Exxon's presence in Russia, the company, through its Neftegas subsidiary, operates and owns 30% of one of the largest FDI spending projects in Russia (the upstream Sakhalin-1 in Far East Russia).
Also several months back, it announced a new joint venture with Rosneft to explore for a massive oil find in the Arctic Ocean. Exxon also now has plans to drill horizontal wells and boost flow from older wells in western Siberia, something the company is likely to address during its upcoming earnings call.
Considering the increased number of U.S. sanctions on Russian assets happening on a daily basis in recent weeks, Exxon needs to address its recent expansion into Russia and the company's commitment to the region, especially with growing political frailty currently between the U.S. and Russian governments.
There is already concerns the Kashagan oil project in Kazakhstan (just outside the Russian Federation), in which Exxon owns a 18% stake, will be further delayed until 2015. Exxon didn't give a timeline for Kashagan to be restarted on its last earnings call but it may not be able to ignore this when the company reports first-quarter earnings on Thursday.
Why is this so important? On top of any sanctions or protests that impede Exxon's presence in Russia, the Kashagan project was expected to eclipse the 1.5 millions barrels of oil per day that all of the company's subsidiaries generated last year
All of this has me thinking Exxon may need to lay off the Russian vodka and consider acquiring less geographical risky production from North American players. This makes me cautious on Exxon's valuation near term.
At the time of publication the author had no position in any of the stocks mentioned.
This article represents the opinion of a contributor and not necessarily that of TheStreet or its editorial staff.