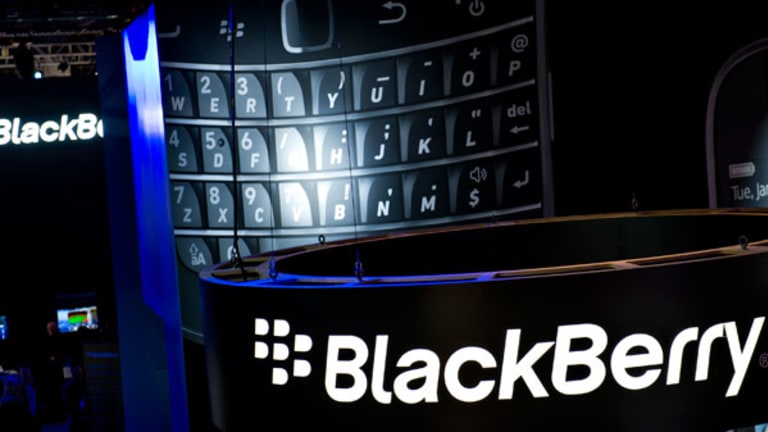 Rumors of BlackBerry's Death Were Greatly Exaggerated
Interim chief John Chen is the first BlackBerry CEO smart enough to recognize the obvious.
NEW YORK (TheStreet) -- How can a company report its worst quarter with losses of about $4.4 billion and still see its shares rocket 15% higher? John Chen, that's how.
The ink on BlackBerry's undefined interim CEO John Chen's updated business card may not have dried but that hasn't prevented the newest chief from asserting control. More than one c-suite office displays a new name on the desk, and even a board member has left the building.
Over half the revenue since the previous year's same quarter is also gone. Total revenue for the third quarter dropped 56% to $1.20 billion. Subscribers are churning at a rate of 12% to 13% a quarter and the company lost $8.37 a share.
Chen decided BlackBerry is no longer a handset hardware maker and will focus on services. Actually, Chen didn't decide, the above losses indicate consumers did. Chen receives credit as the first BlackBerry CEO smart enough to recognize the obvious.
Another distinction between Chen and former CEO Thorsten Heins is Chen appears ready to take the pieces and rebuild the Ontario Tech company into a leader again.
Attempting to find a buyer for BlackBerry was probably the right choice for the company at the time. Heins was likely the best person to liquidate the company, and his pay package certainly suggested he was a hired gun to make the sale. But it was the final example of BlackBerry taking too long to execute.
OEM supplier Foxconn will replace BlackBerry's in-house production of hardware. If you don't know Foxconn, the company also manufactures parts and/or products for Apple (AAPL) - Get Apple Inc. Report, Amazon (AMZN) - Get Amazon.com, Inc. Report, Nokia (NOK) - Get Nokia Oyj Report, Microsoft (MSFT) - Get Microsoft Corporation Report and other well-known names.
Friday's revelations and market reaction supports and vindicates why I think and wrote that BlackBerry is a buy. Eric Jackson wrote an outstanding piece in Real Money. (If you don't have a subscription, sign up for a free trial. Not only do I use the information for my own trading, I post real-time trade ideas with exact entry and exit prices.)

Chen wrote a letter to employees. Here are a couple of key points from the letter:
"...BlackBerry 10. BES 10 commercial and test server installs have increased to over 30,000, up from 25,000 in September 2013."
"...More importantly, as we focus on monetizing BBM, over 250,000 BBM Channels have been created by a global user base, including large brands such as Coke Indonesia and USA Today. BBM is also the most secure mobile messaging service for use in regulated enterprises."
BlackBerry went from hero to zero in the North American market but it remains a strong brand is South Asia including India and especially Indonesia. As investors it's easy to dismiss a brand that is failing here, but it's crucial to think globally. With a share price well below book value and new leadership that isn't focused on a garage sale, investors once again have a chance to experience significant upside.
Chen states with the changes that were and will be made, 2015 should come in near breakeven and back in black in 2016. Remember, Wall Street is forward looking so shares will price in earnings early. Those that take the greatest risk with early (or already) entry will reap the spoils.
Risks include loss of enterprise clients. Apple and Microsoft are in a position to build out a secure government approved ecosystem as an alternative. BlackBerry could fail to execute in developing countries. Smart phone makers Nokia, Apple, LG, HTC, Samsung and others have two or three generation-old phones that are contenders based on price and features in developing markets.
The way I'm playing BlackBerry is to buy on dips below $7 and writing covered calls at or above $8. I think BlackBerry is worth about $8 in a sale as "scrap metal" and much higher if it manages to stop the cash burn. Don't get crazy, though -- BlackBerry's ticker should be RISK for as volatile as it is.
At the time of publication the author had no position in any of the stocks mentioned.
This article is commentary by an independent contributor, separate from TheStreet's regular news coverage.