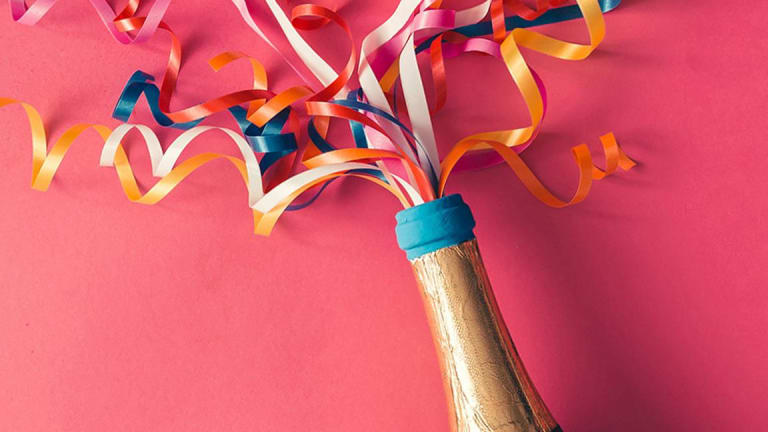 Rules for TheStreet's Contests
Here's how to participate.
Here's how to participate.
TheStreet runs contests from time to time, and here are our rules. No purchase or payment of any kind is necessary to enter or win our contests, which are void where prohibited.
Eligibility. TheStreet runs contests from time to time on its Web sites. A contest (the "Promotion") is open only to legal residents of the fifty (50) United States and the District of Columbia who, at the time of entry, are eighteen (18) years of age or older and have reached the age of legal majority in the jurisdiction in which they reside. Employees of TheStreet Inc. and its related companies, as well as the immediate family (spouse, parents, siblings, and children) and household members of each such employee are not eligible. The Promotion is subject to all federal, state, and local laws and regulations and is void where prohibited by law.
Sponsor. TheStreet Inc., 14 Wall Street, New York, NY, 10005
Agreement to Official Rules. Your participation in the Promotion constitutes your full and unconditional agreement to these Official Rules and the decisions of Sponsor, which are final and binding. Winning a prize is contingent upon fulfilling all requirements set forth herein in a timely manner.
Entry Period. The Promotion begins and ends on the dates and times specified (the "Entry Period"). Entries received prior to or after the Entry Period will be disqualified.
How to Enter. To enter, during the Entry Period, [follow the instructions on a specific contest] One (1) entry per day of the Entry Period. Any attempt by an entrant to obtain more than the stated number of entries by using multiple accounts or any other methods will void that entrant's entries. Use of any automated system to enter is prohibited. Entries will not be acknowledged.
Selection of Potential Winners. On or about the date specified, winner(s) will be selected in the manner specified on a specific contest. Odds of winning depend on the number of eligible entries received. Potential winners will be notified by e-mail, unless otherwise specified. If a potential winner cannot be contacted within seven (7) days of the first attempt to contact him/her, a secondary winner will be chosen from the among others who provided correct answers or otherwise qualified.
Requirements of Potential Winners. Except where prohibited, each potential winner must complete and return an affidavit of eligibility and liability/publicity release (the "Affidavit/Release") within seven (7) days of being notified. If a potential winner fails to sign and return the Affidavit/Release within the required time period, if notification or prize is returned as undeliverable, or if Sponsor determines in its sole discretion that the potential winner is ineligible, an alternate entrant will be selected in his/her place. Unless prohibited by law, acceptance of a prize constitutes permission for Sponsor to use winner's name, picture, likeness, address (city and state), entry, and biographical information for advertising and publicity purposes, worldwide, without further compensation.
Prize. Unless otherwise stated in an individual contest, one (1) winner will receive the stated prize. Approximate retail value will be stated in individual contests. All federal, state, and local taxes and all other expenses not specifically mentioned herein are the responsibility solely of winner. Prizes are non-transferable and non-assignable. No [cash or other] substitution permitted, except that Sponsor reserves the right to substitute a prize with another prize of comparable or greater value at Sponsor's sole discretion.
Release and Limitation of Liability. By participating in the Promotion, you agree to release, indemnify, and hold harmless Sponsor and its related companies, and each such company's respective officers, directors, employees, and agents (collectively, the "Released Parties") from and against any claim or cause of action arising out of or related to, directly or indirectly, in whole or in part, your participation in the Promotion or receipt, use, or misuse of any prize, including, but not limited to: (a) claims arising from any breach or alleged breach by you of these Official Rules; (b) claims arising from unauthorized human intervention in the Promotion; (c) claims arising from technical or printing errors; (d) claims arising from lost, late, postage-due, misdirected, or undeliverable mail or email; (e) claims arising from errors in the administration of the Promotion or the processing of entries; (f) claims arising from injury, death, or damage to persons or property; or (g) claims based on defamation, infringement of intellectual property rights, or on the rights of publicity or privacy. You further agree that in any cause of action, the Released Parties' liability will be limited to the actual out-of-pocket costs associated with participating in the Promotion, and in no event shall the Released Parties be liable for attorneys' YOU WAIVE ANY RIGHTS OR CLAIMS TO INDIRECT, SPECIAL, PUNITIVE, INCIDENTAL, OR CONSEQUENTIAL DAMAGES, WHETHER FORESEEABLE OR NOT AND WHETHER BASED ON NEGLIGENCE OR OTHERWISE. SOME JURISDICTIONS DO NOT ALLOW THE LIMITATIONS OR EXCLUSIONS OF LIABILITY SO THE ABOVE MAY NOT APPLY TO ALL ENTRANTS.
IF YOU ARE A CALIFORNIA RESIDENT, YOU WAIVE ANY AND ALL RIGHTS UNDER SECTION 1542 OF THE CIVIL CODE OF THE STATE OF CALIFORNIA, WHICH PROVIDES AS FOLLOWS: "A GENERAL RELEASE DOES NOT EXTEND TO CLAIMS WHICH THE CREDITOR DOES NOT KNOW OR SUSPECT TO EXIST IN HIS FAVOR AT THE TIME OF EXECUTING THE RELEASE, WHICH IF KNOWN BY HIM MUST HAVE MATERIALLY AFFECTED HIS SETTLEMENT WITH THE DEBTOR."
Disputes. To the extent permitted by applicable law, by entering the Promotion, you agree that any and all disputes, claims, and causes of action arising out of the Promotion or any prize awarded shall be resolved individually, without resort to any form of class action, and exclusively by the appropriate federal or state court located in New York, NY. All issues and questions concerning these Official Rules, your rights and obligations, or Sponsor's rights and obligations shall be governed by the laws of the State of New York, without giving effect to any choice of law or conflict of law rules.
General Conditions. In the event that the operation, security, or administration of the Promotion is impaired in any way for any reason, Sponsor may, in its sole discretion, suspend, modify, and/or cancel the Promotion and, if feasible, select potential winners from among eligible, salvageable, and non-suspect entries received on or before the termination date. Inclusion in such drawing shall be each entrant's sole and exclusive remedy under such circumstances. Sponsor reserves the right in its sole discretion to disqualify any individual it finds to be tampering with the operation of the Promotion or to be acting in violation of these Official Rules or in a disruptive manner. Any attempt by any person to undermine the operation of the Promotion may be a violation of criminal and civil law, and, should such an attempt be made, Sponsor reserves the right to seek damages from any such person to the fullest extent permitted by law. Sponsor's failure to enforce any term of these Official Rules shall not constitute a waiver of that or any other provision. In the event of a dispute as to any entry, the authorized account holder of the email account used to enter will be deemed to be the entrant. A potential winner may be required to show proof of being the authorized account holder. In the event that an entry is confirmed to have been erroneously deleted, lost, or destroyed, entrant's sole remedy shall be another entry into the Promotion. If any provision of these Official Rules is held to be invalid or unenforceable, such provision shall be struck, and the remaining provisions shall be enforced.
Results. For the results, go to a section of TheStreet's site as specified in an individual contest.
This article was written by a staff member of TheStreet.