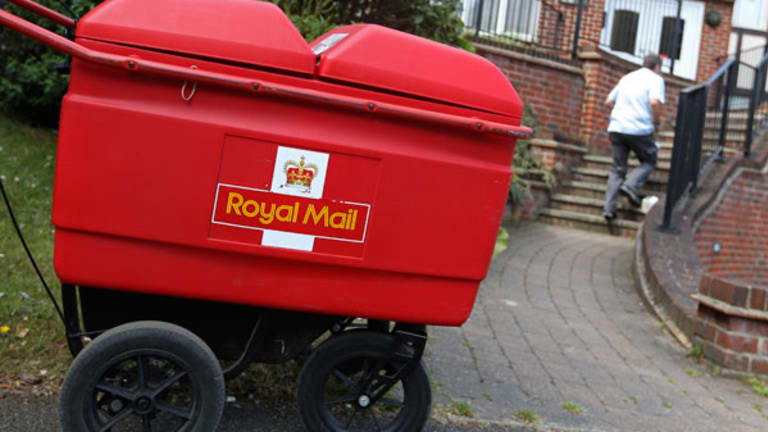 Royal Mail Delivers a Hot IPO
Shares of the latest publicly traded post office jump in restricted trading on their first day.
Shares of the latest publicly traded post office jump in restricted trading on their first day.
NEW YORK (TheStreet) --There was a legitimately hot initial public offering in the United Kingdom today when the Royal Mail listed its shares on what turned out to be an accelerated timetable. We've followed this story over the last couple of months as it moved from controversial possibility some time in 2014 to today's start of trading on a limited basis for institutions.
The controversy focused on two issues and there may be a third issue now that trading has begun. The first controversy focused on employees' concerns over job safety and reductions in benefits. Part of the logic of doing an IPO was and is to try to make the company more efficient. All mail services face challenges from the Internet in terms of email replacing letters, Web sites replacing magazines and online banking replacing the sending out of monthly bills and the mailing back of payments.
Threats of obsolescence are a serious threat to post offices. In the last 10 years, parcel volume for Royal Mail is down 25% although it is up in the last year. The company has begun to implement new technology to make things like sorting at the company's facilities more efficient, so job security is a legitimate concern. Management is aware of this and has made efforts to allay this fear by giving employees a 10% stake amounting to about 2,200 British pounds worth of shares per employee to instill a sense of ownership among the rank and file.
Another concern has been about the "universal service obligation" to maintain the same delivery standards. The U.S. Postal Service has toyed with the idea of eliminating Saturday delivery to save money, so another post office could also consider such a move which is a concern for Royal Mail customers.
The offering was oversubscribed; more demand for shares than available supply. The IPO was priced at 330 pence but reports have it trading between 430 pence and 450 pence. The UK ticker symbol for Royal Mail is RMG but trading today is restricted to institutions so quotes are not widely disseminated through normal quote vendors. Regular way trading and quoting is scheduled to begin on Tuesday of next week.
As with any IPO, the huge pop in the price raises the question of whether the deal was incorrectly priced. The value of the IPO was $5.3 billion and that roughly 30% pop in the price left about $2 billion on the table, at a cost to taxpayers. Properly assessing demand for shares in any IPO can be more art than science. While there is an element of opportunity cost, the UK government retained a 38% stake post-IPO.
I wrote about the
Flex Shares STOXX Global Broad Infrastructure Index Fund
(NFRA) - Get Report
. One of the industries included in the fund is government outsourcing/social infrastructure, which is comprised of publicly traded hospitals and publicly traded postal services from Malaysia, Austria, Singapore, the Netherlands and Germany's
Deutsche Post
(DPSGY)
.
Bpost
from Belgium started trading in June of this year and was priced to have a 7% dividend yield. However, it has not paid its first dividend. In the lead up to the Royal Mail IPO the UK government set an expectation that Royal Mail would also have a generous dividend yield like Bpost and the
BBC
is reporting that the Royal Mail could have a 6% yield when it commences its dividend -- although after a 30% pop in the price, the actual yield could be less than that.
Publicly traded post offices are likely to continue to proliferate. A reasonable expectation or hope would be that they trade similarly to utility companies as slower growth higher yielding equities which could make them very popular with investors if interest rates remain low as appears likely.
At the time of publication the author had no position in any of the stocks mentioned.
This article was written by an independent contributor, separate from TheStreet's regular news coverage.