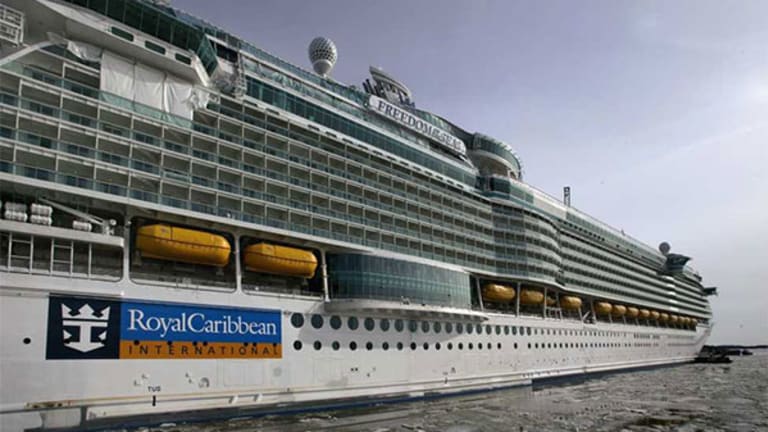 Royal Caribbean Sets a Better Course for 2014
The cruise line company may have finally righted its ship.
By Brian Egger of BreakingCall.com
NEW YORK (TheStreet) -- Shares of Royal Caribbean (RCL) closed nearly 7% higher Thursday after the company's management gave a nod to next year's consensus earnings expectation.
Fresh off a third-quarter earnings beat, executives of the world's second-largest cruise line corporation also announced encouraging internal forecasts, calling for "overall yield improvement in the low-single digits for 2014."
To understand better why investors' spirits were buoyed by RCL's outlook, one must recall the cloudier forecast provided by industry leader Carnival (CCL) just one month earlier, when CCL announced its fiscal third-quarter results. CCL's earnings-related comments in late September had been sufficiently negative to send CCL shares 8% lower on the day of that announcement.
While CCL's management didn't provide a full-year forecast for next year, it did project that, during the first-half of 2014, "revenue yields will be down in a range similar to the back half of 2013." The upshot for investors: CCL could see its revenue yields fall 3% to 4% year-on-year during the first six months of 2014.
Why do RCL's ships seem to be heading for sunnier shores next year than those of CCL? Both companies are scheduled to increase their ship deployment -- as measured by the number of available berth days -- by about 2% in 2014. Industry-wide capacity growth should be moderate by historical standards and similar for both companies. So other factors appear to be at play.
First, Carnival has been working to "right its ship" and improve the sagging image of the Carnival Cruise Lines brand in the wake of vessel-related incidents. In February 2013, a fire on the Carnival Triumph resulted in a loss of propulsion on the ship that left passengers adrift for five days. Brand-building efforts are expected to set the stage for a return to yield growth in the second half of next year.
Second, the Caribbean cruise market is competitive, and passenger fares there remain under pressure. In contrast, the near-term tenor of European cruise bookings appears to be improving. While CCL only has one-third of its full-year capacity in the Caribbean, the company's North American brands, including Carnival Cruise Lines, deploy about 60% of their ships in that region during the first calendar half.
How are these differences reflected in valuation?
RCL has historically traded at a price-to-earnings (P/E) discount to CCL. That discount has ranged between 10% and 45% over the years. Improvements in its balance sheet and profit margins have helped RCL narrow that valuation gap.
Based on 2013 earnings guidance, RCL shares recently traded hands at a P/E of 18 times, a 20% discount to CCL's implied P/E of 22.5 times. If RCL can maintain course, the valuation gap between the two stocks might tighten even further.
At the time of publication the author had no position in any of the stocks mentioned.
Follow @breakingcall
This article was written by an independent contributor, separate from TheStreet's regular news coverage.
Brian Egger is the founder, publisher and gaming and travel analyst of
. During the last twenty years, he has held positions of increasing responsibility as a gaming, lodging and travel analyst at Goldman Sachs, Donaldson Lufkin Jenrette, Credit Suisse, BMO Capital Markets and Topeka Capital Markets. He also served as Associate Director of Research at BMO and Director of Research at the Institutional Research Group. Brian has held four team positions, including two second-place rankings, in Institutional Investor's Gaming, Lodging and Leisure categories. He has also been recognized as a six-time Wall Street Journal "Best on the Street" analyst. Brian taught securities analysis to MBA students as an Adjunct Professor in the Finance department of Columbia Business School. He received a BSE from the Wharton School of the University of Pennsylvania and an MBA from the University of Chicago Booth School of Business.