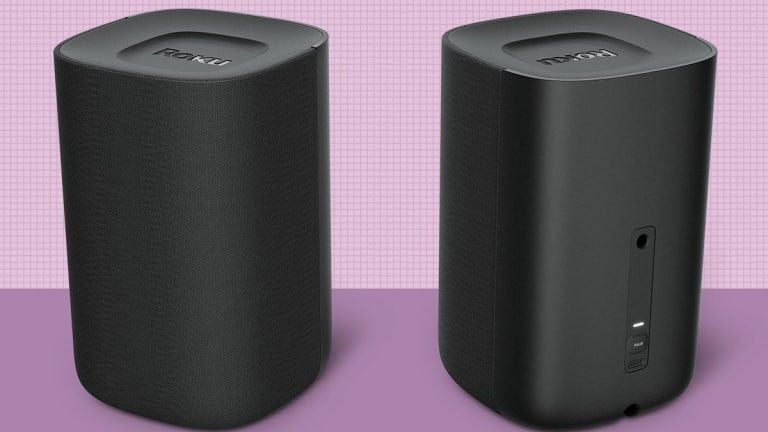 Roku's New Wireless Speakers Are Innovative, But Not for Everyone
The streaming hardware maker's speakers do away with annoying audio cables, but are only meant for Roku-powered smart TV sets.
As a proof-of-concept, Roku's (ROKU) - Get Roku Inc. Report new wireless speakers are intriguing. However, their addressable market isn't especially large.
On Monday morning, Roku unveiled a $200 TV speaker set that solely relies on wireless connectivity to receive audio signals. The speakers can either play the audio output from a smart TV set running the Roku OS, or from a phone or tablet's Bluetooth radio. The only wires connected to them are for power.
Roku declares the speakers will deliver immersive audio experiences for movies and TV shows, and generally offer sound quality that "rivals much higher cost speakers." The company also talks up an easy on-screen setup process, unique "automatic volume leveling" and dialogue-enhancement features, and the ability to provide "perfect" wireless A/V syncing with Roku TV sets.
The speakers represent the first product based on the recently-launched Roku Connect platform, which aims to create a speaker ecosystem for smart TVs running the Roku OS. They'll come with a revamped Roku TV voice remote, as well as a new tabletop voice remote called the Roku Touch. They aren't due to begin shipping until late October. Pre-orders placed between July 16th and the 23rd will cost only $150; those placed between July 24th and October 14th will cost $180.


Roku argues its speakers are easier to use and more convenient than alternatives. Source: Roku.
Of the 20.8 million active accounts Roku had at the end of March, the speakers only target those consumers accessing Roku's platform through a smart TV, rather than through a Roku streaming stick or set-top. While Roku does have a healthy smart TV footprint -- the company claims one out of every four smart TVs sold in the U.S. in Q1 were Roku-powered -- a large percentage of its user base is believed to rely on a Roku stick or set-top.
Moreover, even among users of Roku-powered TV sets, the question of whether Roku's speakers are a good fit will depend on a consumer's needs. For example, those who care a lot about bass performance will probably want some kind of home theater system with a dedicated subwoofer, and those wanting a true surround sound experience will want a 5.1 system.
Price might also be a concern for some consumers. Though Roku's speakers are cheaper than most (though not all) 5.1 home theater systems, it's not hard to find decent soundbar and 2.1 systems for $150 or less.
Of course, it's possible that Roku or some third-party speaker maker leveraging Roku Connect will in time launch a speaker set addressing the needs of those who want a subwoofer or a 5.1 system. And either way, it's worth noting that hardware sales are no longer at the heart of its profit strategy. Hardware accounted for just 15% of Roku's gross profit in Q1, and it wouldn't be surprising to see that number drop further in future quarters.
As Roku's high-margin "Platform" revenue -- it consists of ads, license fees, transaction cuts and other software and services revenue streams -- has soared, Roku has chosen to run its hardware business at cost or close to it. Doing so has kept Roku on decent competitive footing relative to top rival Amazon.com (AMZN) - Get Amazon.com Inc. Report , which is also pricing its streaming sticks and set-tops aggressively, and has helped create a larger installed base that can be monetized via Platform revenue streams.
In that context, limited sales for Roku's wireless speakers would hardly be anything for Roku investors to fret over. Even if Roku Connect-based speakers in general are only sold to a small percentage of Roku users in the coming years, but help keep those users loyal to Roku's platform, that's hardly an awful result.
A prior version of this column stated Roku's wireless speakers can't play audio from a non-Roku device connected to a TV set. The column has been corrected to state the speakers can play the audio output from a Roku-powered smart TV set.
Amazon.com is a holding in Jim Cramer's Action Alerts PLUS member club. Want to be alerted before Jim Cramer buys or sells AAPL? Learn more now.