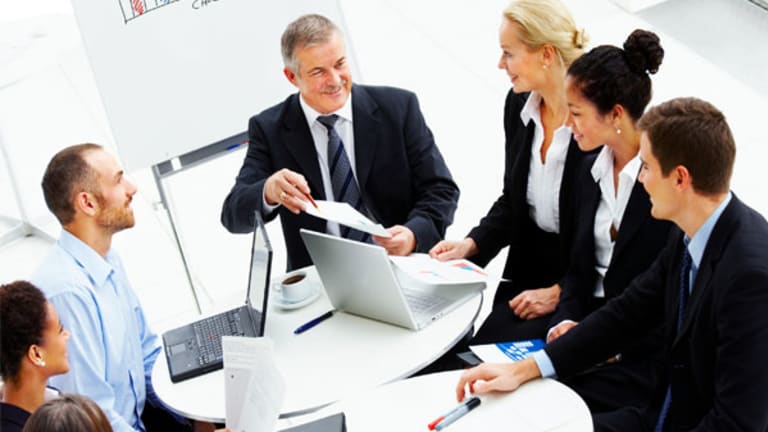 Publish date:
Roger Martin's Silly Defense of RIM: Opinion (Update1)
Eric Jackson replies to Martin's attacks on critics in a recent article.
Eric Jackson replies to Martin's attacks on critics in a recent article.
(Adds RBC analyst Mike Abramsky's price target and subsequent bearishness on the stock.)
NEW YORK (
) -- One of the most well-known directors on
Research In Motion
's
(RIMM)
board for the last five years (at least within Canada) is Roger Martin, the dean of the University of Toronto Business School.
His semi-celebrity status within Canada is due to the fact that Martin is often portrayed as some kind of "management guru" who makes grand speeches or writes long essays in business magazines (
like this cover story in Toronto Life ) describing how companies should run themselves. Prior to becoming the dean, Martin was a consultant for Monitor Group in Boston. He was co-head of that firm for two years.
In addition to his directorship with RIM, Martin also serves on the boards of
Thomson Reuters
and the Skoll Foundation (headed by
eBay
(EBAY) - Get Report
co-founder and Canadian, Jeff Skoll). Martin also still actively consults with
Procter & Gamble
(PG) - Get Report
.
On Saturday,
he gave a long and feisty interview with the Globe & Mail , in which he attacked critics of RIM for their complaints that he -- and his fellow directors -- should have acted much faster to prevent RIM from losing 70% of its market capitalization last year.
As one of those critics since May 2009 (and I don't recall any other serious critics until last summer when the company laid two egg quarterly earnings reports consecutively), I feel compelled to respond to Martin's statements which I find odd and disingenuous.
Let's review the key points raised by Martin in his interview, which
Henry Blodget summarized in his headline: "Our Critics Are Idiots -- We Had No Choice But To Run The Company Into The Ground":
Martin:
"I laugh at the vast majority of critics when they say 'Oh, you should have made this CEO transition, like, four years ago.' Yeah, right - like, to who?"
Jackson:
Wait a moment. I think I've been the biggest RIM critic out there for the longest period of time. But I don't recall anyone saying that -- even now when it's obvious to everyone that the board completely failed in its responsibilities over the past five years.
No, Roger, it's not that you should have fired Jim and Mike four or five years ago when you came aboard (with new Chairman Barbara Stymiest at the same time in 2007). But you should have implemented a clear new strong outside governance framework to the board which had been (and sadly continued to be) lacking.
Keep in mind, the main reason that you and Stymiest came on to the board back then was that RIM had just settled an ugly stock option back-dating case brought against it by the Ontario Securities Commission and the SEC. There had been allegations that the co-founders had helped select dates for stock option grants over the past several years to optimize their payouts for RIM employees. The company settled (without admitting anything) and you came on to the board to show shareholders there was new governance in place.
Balsillie stepped down as chairman at the time as well. You or Stymiest could have stepped in as chairman then to assert control and ensure the co-founders were being adequately challenged in their assessments of the company's future potential. Instead, you made Jim and Mike co-Chairman, in addition to co-CEOs, on May 28, 2010.
Martin:
"So we're supposed to hand it over to children, or morons from the outside who will destroy the company?" "Or should we try to build our way to having succession?"
Jackson:
Yes, Roger, all the critics of RIM believe you should have appointed "children" or "morons" to take over from Jim and Mike in 2007. Come on. Procter & Gamble pays you for that kind of lazy thinking? This is the worst straw-man argument I think I've heard in some time.
Why will an outsider necessarily be a child or a moron? Sorry to lecture the professor, but a board of directors has two responsibilities in representing shareholders: (1) to hire the CEO and (2) to fire the CEO.
It's shocking that Martin could be so defensive and (worse) simplistic in his thinking of this point of CEO succession. If this is how RIM's board thought of potential outsider replacements for Jim and Mike, it's no wonder they picked Thorsten Heins. Of course, the more cynical RIM critics would likely respond to Martin's point above by saying any child or moron could not have done worse leading RIM over the last five years compared to Jim and Mike, considering where the company was then and where it is now. The descent of the company this past year has been truly staggering.
Martin:
"If we were to say to Jim and Mike, 'Well, we're the board and you should go away now,' they would have laughed at us." There was no one internally or externally who could have replaced them, he says.
Jackson:
Again, no one now is saying this (although is it really accurate to say there was no one externally who could have replaced them?). It is Monday-morning quarter-backing to say the RIM board should have fired Jim and Mike back in 2007. What this board should have done is shown a spine and started questioning the non-sensical comments that Jim and Mike were spouting at the time, such as this
comment from Balsillie in the April 2007 earnings call about the potential threat of
Apple
's
(AAPL) - Get Report
iPhone:
"Yeah on the iPhone touch, I mean I don't know, we do a lot of focused (sic) groups in what we do, there's a lot of market research in what we do, we had a lot of market research from our customers in the markets on what the market expects from a solution. However, there has been some debate previous on graffiti and different touch and tactility things and (mechanical)vulnerability costs and battery kind of things and tactility things." I think the best thing will be that for these things to just get in to market and get going, and it's just there's just so many dimensions in our space happen sometimes people over define the category like it's all about for so at last it's all about the keyboard or It's all about some input mechanism or it's all about music play or something.
He goes on for another 5 paragraphs."
What did directors say back to him when he waxed on like that in board meetings in 2007?
Martin:
"People were saying we can't make powerful phones like Apple. Yes, we can, but we couldn't believe consumers would put up with that kind of battery inefficiency and that kind of network inefficiency."
Jackson:
This sounds like Mike Lazaridis' technical and completely wrong read of the iPhone and the future of the mobile handset market circa 2007. It also sounds like the board agreed whole-heartedly with Mike.
Recently, one ex-RIM employee emailed me this comment: "I started there in (the 1990s) as (an) engineer. I bailed in (the early 2000s) as I was totally frustrated (in my research role) with nothing to research. Mike actually told me not to waste my time with coloured displays as why do you need colour to read an e-mail. I like to think of these two (co-founders) as a birthday cake gone wrong. All decorative icing but with no real cake beneath them." It's too bad the board didn't question the co-founders as strongly as some of the former employees seemed to.
Martin:
"They ask 'Why can't you be more like Apple?' So we should go bankrupt and fire our founders and bring in a moron? That's what we should do?"
Jackson:
I find it appalling that Martin can say this. Again, it's the worst straw-man argument I've heard in years. What I really find rich here is that Martin spearheaded the creation of
the "Directors Education Program" for his business school along with the Canadian Institute of Corporate Directors during his tenure as Dean.
This program rakes in millions each year for the school by "certifying" Canadian directors. Seriously, some Canadian directors proudly advertise in their director bios that they've received something called an ICD.D from this program (e.g., Joe Blow, BA, MBA, ICD.D). Apparently, over 1,500 directors have gone through the program (according to ICD's Website), generating $25 million in fees (assuming current tuition rates) for Martin's business school and the third-party institute.
The certification promises to make its graduates more independent thinkers and more capable of challenging the CEO. Modules in the program include: avoiding decision failure in the board room, understanding directors duty of care, shaping board culture, developing board effectiveness, evaluating the CEO, succession planning, selecting board members, and - my personal favorite - "Directing the Controlling CEO: A Case Study."
Does Martin come into the lectures on "Succession Planning" in this program and tell his eager students to never listen to "genius" critics who tell you to hire from the outside because such candidates will inevitably be morons and bankrupt the company? Is that what Canadian corporations, who've paid $25 million to Rotman and the Institute of Corporate Directors over the past five years, are getting for their money? It's offensive and laughable. Clearly, in my view, the ICD.D designation means nothing about the quality of a director's oversight. ------------
Martin:
On the idea that RIM should split itself into two companies first advocated last year by RBC analyst Mike Abramsky: "So that is what the geniuses who have all these clever thoughts about business models are saying - and a big piece of me just laughs: Have you no memory? Do you not even think?"
Jackson:
I've never been convinced on the merits of the idea of "splitting the Berry," as Abramsky put it. Abramsky used to be a RIM bull, which is likely due to his Canadian proximity to RIM and many Canadian clients who wanted to/had to own the stock. Abramsky said his highest target was $180 when the company was firing on all cylinders. In Abramsky's defense, he got very bearish on RIM shortly after the PlayBook was introduced -- certainly much faster than others. Regardless, to me, the splitting-the-Berry plan sounded a lot like Carl Icahn's plan to divide Motorola into 2 companies which -- to my eyes -- did nothing to really help the company.
So, I don't fault Martin for disagreeing here. However, it's shocking to me that a guy who is supposed to be such a smart "management thinker" as Martin comes across in this interview as so defensive and vitriolic. Why not state why it isn't a good idea, instead of being so dismissive and pedantic, eh professor?
Martin:
On why the two co-founders left now -- when the stock is off 70% in a year: The product pipeline looked strong, a qualified successor was ready to take over and the two builders were tired of the "brutal" pace, he maintains. Mr. Balsillie told him the day after he resigned, he had his first good night's sleep in about 20 years.
Jackson:
If I was a shareholder -- and I'm not -- I would ask Martin, why should I care if Balsillie got a good night's sleep? Both Jim and Mike took risks and were adequately rewarded for their efforts over the years -- both are still almost billionaires. It was their success which convinced them they were right and knew exactly what the market wanted. Remember, Lazaridis was sure the market didn't want color screens to read their email? Yet, it was that self-confidence and lack of adequate grilling by the board that caused RIM's spectacular collapse last year.
Martin:
On Balsillie and Lazaridis being too distracted by interests outside RIM over the last 5 years such as buying a hockey team: "I just don't buy that," he says, arguing that the outside interests energized the two. "We're all human beings -- they're not automatons.... They need their passions. I think it makes them better."
Jackson:
Sure, we all have to eat, sleep and spend time with our families in addition to working. No one is faulting Balsillie for playing rec hockey or attending a Maple Leafs game. What I've specifically questioned -
including in pain-staking detail in this article - how Balsillie pursued buying three separate NHL teams from 2006 to 2009 at exactly the time that Apple was gutting the competitive advantages RIM had built up over 15 years, preparing to reduce them to their current state as a mobile handset also-ran.
The degree of distraction in trying to buy three different professional hockey teams, including protracted public and private battles with the league commissioner himself, is a materially more involved "distraction" than pursuing your passion by playing tennis every morning as Martin purportedly does.
In 2003, Martin wrote a long paper on "The Problem with Corporate Governance."
It was written in response to the recent crashes then of WorldCom, Tyco, Global Crossing, and Enron. Martin spoke in detail about how boards could be improved to prevent such crises from happening again.
One of his prescriptions was "eliminating the capacity for owner-managers to exploit specific knowledge." He was speaking about managers trading stock when they had an informational advantage over the market (perhaps making him an attractive nominee for RIM when they became the center of attention for stock-option backdating allegations later).
However, I thought the prescription was ironic in one of his Saturday interview comments about how the board was ineffective in getting Jim and Mike to focus on certain technical problems with the BlackBerry: "He also says he was forever urging RIM to consider the importance of the browser experience on the BlackBerry, which was seen as less than stellar." If only Jim and Mike, the owner-managers, hadn't known so much about mobile and been as strong, in order to effectively brush off any concerns raised by directors.
In that same 2003 article, Martin warns against paying directors (and managers) too much in cash or stock for their service on the board. He worried that too much cash or stock can give directors a perverse incentive to push to get the stock price up, which may end up hurting shareholders in the long-term.
According to the 2011 Proxy Circular, Martin held 8,339 Director Stock Units worth $365,081 before last summer's shareholder meeting. He owned zero common shares. Therefore, it appears that he only had an incentive for RIM to do well from stock given to him as compensation for being a director over (at that time) four years -- about $90,000 a year in stock for his time.
Martin never had to dig into his own pocket and put any of his net worth from his consulting and academic career at risk. So even though approximately 70% of that $365,000 is now gone through share price erosion, Martin (and other RIM directors who are compensated in exactly the same fashion) can take solace in the fact that such shareholder wealth evisceration is all with "found money" given to them by Jim and Mike. It's only the real long-term holders of RIM stock, who actually had to buy the stock with their capital, who've had to bear the pain of the "geniuses" on RIM's board trusting Jim and Mike.
Martin should stand down from RIM's board at this summer's shareholder meeting. Whatever oversight he thinks he brought to RIM's board in these last five years, it's done a terrible disservice to RIM shareholders.
At the time of publication, Jackson was long Apple.
Eric Jackson is founder and president of Ironfire Capital and the general partner and investment manager of Ironfire Capital US Fund LP and Ironfire Capital International Fund, Ltd. You can follow Jackson on Twitter at www.twitter.com/ericjackson or @ericjackson