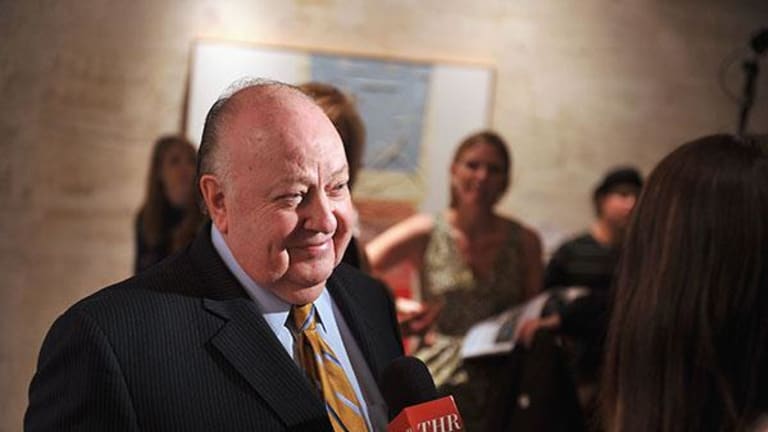 Roger Ailes Case Shows Secret Recordings Can Be Key to Defeating Harassers
Former Fox News anchor Gretchen Carlson's $20 million settlement with 21st Century Fox came in no small part because she'd recorded Roger Ailes. Other women are doing the same.
UPDATE: The rules for recording conversations in Connecticut are more nuanced than we originally reported. An update has been made in the 14th paragraph.
Barring a welcome leak to the media, we may never hear the recordings of Roger Ailes's alleged creepy come-ons to former Fox News anchor Gretchen Carlson. Carlson's $20 million settlement with 21st Century Fox (FOXA) - Get Fox Corporation Class A Report this week included a confidentiality agreement, according to published reports about her sexual harassment lawsuit.
But the next-best thing is pretty explosive in any event: The damaging excerpts from workplace conversations with Ailes, the ousted Fox News CEO, that Carlson included in her July 6 lawsuit. According to New York Magazine, she began taping conversations with Ailes in 2014, and drew from those recordings in her complaint.
Ailes, who officially resigned on July 21, has denied Carlson's charges. He did not contribute to the settlement.
His comments include the now-famous "I think you and I should have had a sexual relationship a long time ago and then you'd be good and better and I'd be good and better." And the skin-crawling, "I'm sure you can do sweet nothings when you want to."
Like him or not, you can't deny that Roger Ailes is a role model to sexual harassers everywhere. Or that Carlson has emerged a role model for harassed women looking to fight back.
Employment lawyers say the existence of taped conversations can make all the difference in a genre of discrimination that presents a tough battle for women.
"The reality is that most of the worst sex harassment occurs in private without witnesses" said Cliff Palefsky, a San Francisco employment lawyer. So "it's of enormous assistance" to have audio that memorializes the boss's abuses, he said.
If you're wondering whether women will start copying Carlson's modus operandi, the answer is that they had been hitting the "record" button even before her case hit the headlines. Indeed, Vanity Fair reported that "multiple women" have recorded Ailes, which presumably happened before he became Exhibit A in Corporate America's latest example of abuse of power in the workplace.
Employment lawyers report that more women are walking in the door for their first meeting with recordings they've secretly made.
"Compared with five or ten years ago it is much more prevalent," said New York lawyer Marc Susswein. "Everyone has an iPhone now," he said, adding that it's a breeze to secretly record a conversation today compared to the clumsy technology people used to pick up at the local Radio Shack.
Taping is not without its complications.
For starters, employees need to know whether they are recording in what's known as a "one-party" consent state, such as New York. Those are states where it is legal to record a conversation as long as one person is aware of the recording -- and that one person can be you.
Two-party states are trickier. It is a misdemeanor to record a conversation without the other person's knowledge in California, for example. 
The other two-party states for telephone, skype and other electronic conversations are Connecticut, Florida, Illinois, Maryland, Massachusetts, Montana, New Hampshire, Pennsylvania and Washington. Connecticut allows recording with only one party's knowledge for in-person meetings. 
Employees who decide to record the boss -- and do it legally -- should keep in mind that they will not have the option of picking and choosing which recordings are turned over to the other side during litigation. "My advice is to let the perpetrator speak" when you're secretly recording, said Susswein. "Don't spend a lot of time speaking yourself."
Companies already are savvy that employees who record conversations can put them at risk, and it would be no surprise to see law firms who represent management using the Carlson case to drum up business rewriting company handbooks.
Already, prohibitions have made their way into the employee handbook at Whole Foods (WFM) , which lost a challenge to its no-recording policy by the National Labor Relations Board last year. Although the case is on appeal, the NLRB said Whole Foods' policy was too broad and violated employees' rights.
Michael Lotito, who represents companies in employment disputes, said he thinks the NLRB would look favorably on the employee whose recordings had broad applications to the workplace, whether it violated a handbook or not. So if several employees were to record the boss on their smartphones because they think he's "profane and hates women," Lotito's view is that the agency would come down in favor of the employees.
Anyone who has signed a contract agreeing not to record at work has a bigger challenge, said Susswein, "because a contractual agreement is always going to be stronger than a company policy."
Even as Carlson's lawyers are relegating the seamy tapes to the office safe, comedian Bill Cosby is fighting to keep a recording of a telephone conversation from being admitted as evidence in a criminal trial in Pennsylvania. Prosecutors there say Cosby drugged a woman before sexually assaulting her. He has denied the charges.
According to a transcript of the conversation in the court file, the mother of the alleged victim asked Cosby if he was going to send her "the name of that stuff" that he gave her daughter before having sex with her at his home in Pennsylvania. He said "we can talk about what you asked for later" and that she shouldn't worry about it. Cosby's lawyers say the law in Pennsylvania, a two-party state, should apply and the conversation should not be admitted. The prosecution says the one-party law in Canada should apply because that is where the woman was when she made the recording. The judge will hear motions on the matter at a future hearing.
When recordings of harassers go public in a big way, it puts other harassers on notice "that they might actually be held accountable," said Washington, D.C. employment lawyer Joseph Sellers. With a little luck, that could motivate them to think twice before they do things like telling a TV anchor she would have been "good and better" if only she'd had the sense to go to bed with him.
Susan Antilla is an investigative reporter and columnist for
TheStreet
who has written for
The New York Times
,
Bloomberg
and other global news organizations. The opinions expressed herein are hers.