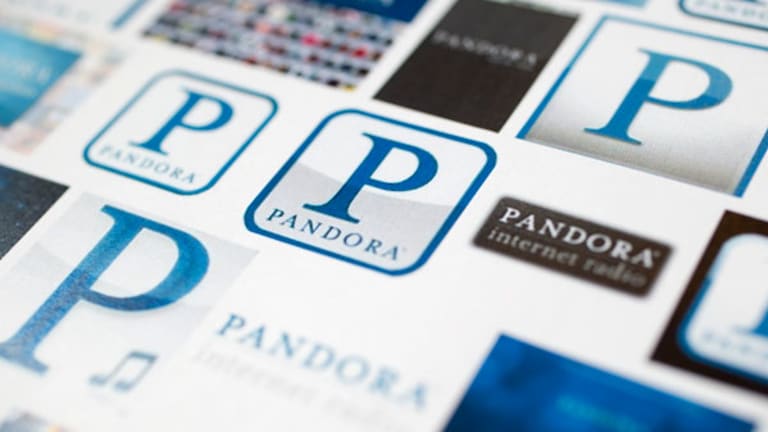 Rocco: Pandora's Critics Are Wrong, There Are Barriers to Entry
Every perceived Pandora threat has turned into a non-event. That's because, in one way or another, they're on the company's periphery.
Every perceived Pandora threat has turned into a non-event. That's because, in one way or another, they're on the company's periphery.
NEW YORK (TheStreet) -- I can't find the article to link to, but I recall writing that Simon Hobbs of CNBC has always intimidated me. Maybe it's the way he stares straight into the camera challenging his guests. It could be his well-timed decisions to put on his bifocals.
Or it might just be the British accent.
The first time I was on
CNBC
with him I was terrified. He makes Melissa Lee look like a lightweight. (That's not easy). After I discovered he's actually a nice guy, my fears subsided.
Late last week, however, they came back when I felt the need to challenge a comment Hobbs made.
We hear it all of the time:
Pandora
(P)
doesn't have anything special because "there are no barriers to entry" in Internet radio.
Here's the exchange. The part with Simon comes in toward the end.
No barriers to entry. It's a meme. And it always strikes a chord with me, particularly with respect to Pandora and Internet radio. I didn't think the Raymond James' analyst did a good job handling the question. He agreed with Hobbs. And, "with all due respect," he should know better.
At some point, long ago, somebody somewhere said Pandora is weak because
there are no barriers to entry
. It sounds fantastic. Slips off of the tongue like the remnants of a dip of
Skoal
. If you dislike Pandora and want to validate your bear case, it's a nice talking point. You can make it stick.
As Hobbs proves, it's relatively easy to get the media to repeat it. So I don't blame Hobbs. He can't possibly know the ins and outs of every space; I sure as hell don't. "There are no barriers to entry!" Such a convincing statement, which, of course, is a key ingredient for the metamorphosis into meme.
Ask
Apple
(AAPL) - Get Report
about "no barriers to entry" as Tim Cook attempts to channel some of Steve Jobs's charm to twist the arms of record label and music publisher henchmen.
Try to assemble a sales staff that can effectively chip away at the $14-$16 billion broadcast radio advertising market Pandora goes after. I would put a Pandora salesperson -- often a former top biller from
Clear Channel
(CCMO)
-- up against a warm body or cold algorithm from Apple or
Google
(GOOG) - Get Report
any day. They have the relationships. So much of what matters in Internet radio takes place at the local level; relationships matter.
Even at the regional and national level. How do you build the scale necessary to score major ad buys? Granted, Apple and Google -- with iTunes and GMAIL users alone -- have gigantic databases of potential users and subscribers. No question. But translate that into actual listener hours and, more importantly, ratings that, for all intents and purposes, make your service
the
number one radio station across most major markets. It's not easy. Even if you're Apple or Google.
Of course, some clients will buy Apple or Google no matter what. I don't blame them. Both companies probably should be part of any strategy, whether they do Internet radio or not! But they'll need successful services. They'll need to provide the type of radio experience -- assuming they ultimately try to do radio like Pandora does -- the Music Genome Project provides.
If you want to discuss threats, you should really leave Pandora out of the discussion. First, few companies will do pure play radio like Pandora does. Second -- and closely related -- few will focus on the specialized advertising dollars Pandora continues to seize.
Talk about the vulnerability of Internet radio such as
Spotify
,
Slacker
and
Songza
, each with zero scale, relative to Pandora, and services that probably look a lot more like what Google and Apple will do.
But wait! Google is already doing it. So is
Twitter
. The artist formerly known as
RIM
--
BlackBerry
-- was doing it, but they killed the project. I think
Samsung
is in the mix as well. That
Facebook
(FB) - Get Report
/Spotify partnership was supposed to "kill Pandora" also. I guess
that didn't turn out as planned
.
Every perceived threat has turned into a non-event. That's because, in one way or another, they're on Pandora's periphery. As the Internet radio leader -- by a mile -- continues to
, I think the company actually likes the presence of these things that distract so many others from doing what it takes to win.
--
Written by Rocco Pendola in Santa Monica, Calif.
Rocco Pendola is
TheStreet's
Director of Social Media. Pendola's daily contributions to
TheStreet
frequently appear on
CNBC
and at various top online properties, such as
Forbes
.