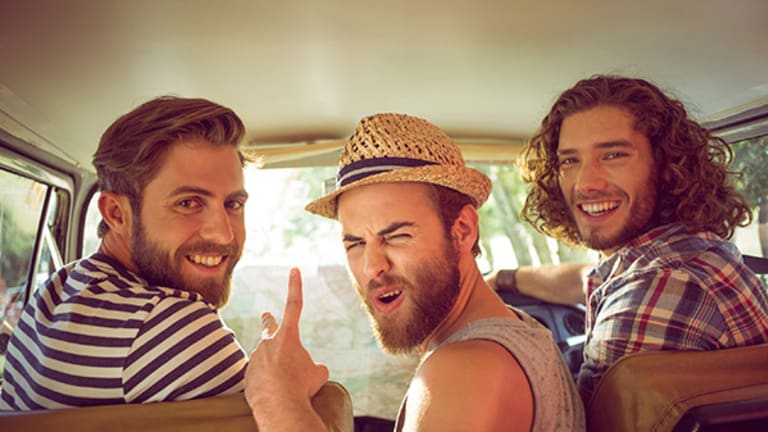 Road Trip? Driving Now Is Lots Cheaper Than Flying
When gasoline is $2 per gallon, the call of the open road is loud.
Call this the year of the road trip. Gasoline prices are plummeting - under $2 per gallon in much of the country - and that is more than seventy-five cents cheaper than a year ago. Suddenly now, before flying, you have to ask: is it cheaper to drive?
Factor in the sheer unpleasantness of flying - disliked ever more by many of us, as we wait in long security lines, sit in too small airline seats and share the back cabin with way too many others - and the calculus in favor of driving gets sharper.
Real trips make this plain. Roundtrip flights from Los Angeles to San Francisco come in at $123.20 on Virgin America. Roundtrip by car is 750 miles. Figure 30 miles per gallon. That means the trip will consume 25 gallons, maybe $50.
Double up - go with a friend - and the math is dazzling. Two roundtrips are about $250, versus that same $50 in gas. The driving takes six hours each way. Fying is an hour, but you will stew at the airport for another hour and probably it takes a half hour to get to LAX and another half hour to get from SFO to downtown. Call it three hours for the flight, not accounting for possible delays. So driving takes twice as long - but it's cheaper and also more comfortable in many respects.
Lots of us are buying this logic and climbing in cars. AAA said that over the holidays 91.3 million of us - 90% of travelers - would take to the roads to get to our destinations.
Real people are making real choices.
Brian Eagen, who lives in Burbank, Calif., had to travel to Portland, Ore. over the holidays when he had a bright idea.
"I was watching plane ticket prices closely when it struck me that it would be notably cheaper to just drive instead of fly," he said. "So my wife and I are making a road trip of it. We are opting to take slower two-lane roads instead of the interstate in order to better explore the beautiful state of California."
Flying roundtrip from Burbank to Portland is $226.20, by the way. Figure $554 for a couple. Driving the most direct route is 14 hours, 950 miles one way. Figure 2,000 miles roundtrip, maybe 65 gallons of gas. That's $130.
People are also driving to save big on flights. Jimmy Tomczak, author of Lakeside & Tide: A Book About Inspiration, said he recently drove from Detroit to Chicago - 300 miles - because a flight from O'Hare to Phoenix was one third the cost of a flight from Detroit to Phoenix. From Detroit the price for a pair of tickets was $900, said Tomczak. He paid $300 for the pair out of Chicago.

You could also do as Mesa, Ariz. resident Aaron Blaylock, author of The Land of Look Behind did. "We piled the kids in the van and told them we were going on an adventure," he said. "We drove to the end of our street and had them pick right or left. When we got to the freeway we had them pick again. An hour and a half later we ended up in Globe [about 70 miles away], an old mining town in eastern Arizona. We had driven through the town several times but never stopped. We visited some historical sites, an art museum and a trading post antique store. The highlight was eating lunch at The Burger House, a local dive that serves burgers and burritos. We set out to have an adventure and that is just what we did, all because gas prices have come back down from the stratosphere."
Don't limit yourself just to the U.S, says Travis, who uses only his first name and who blogs at FreedomWithBruno. That's where he documents a road trip he is doing in a 2000 Toyota 4Runner which he named Bruno, thus the blog's name.
"Low gas prices have encouraged my wife and me to embark on an epic road-trip: driving from California to Costa Rica and back," Travis said. "Gas prices have been very reasonable throughout Central America, the most expensive being in Costa Rica at $3.90 a gallon and the most reasonable so far is Nicaragua and Mexico which are both around $3.14 a gallon. It's the perfect time for a road trip."
Next time a flight looms - do the math. It just may be cheaper, by a lot, to drive, and it very possibly can also be more comfortable and fun.
This article is commentary by an independent contributor. At the time of publication, the author held TK positions in the stocks mentioned.