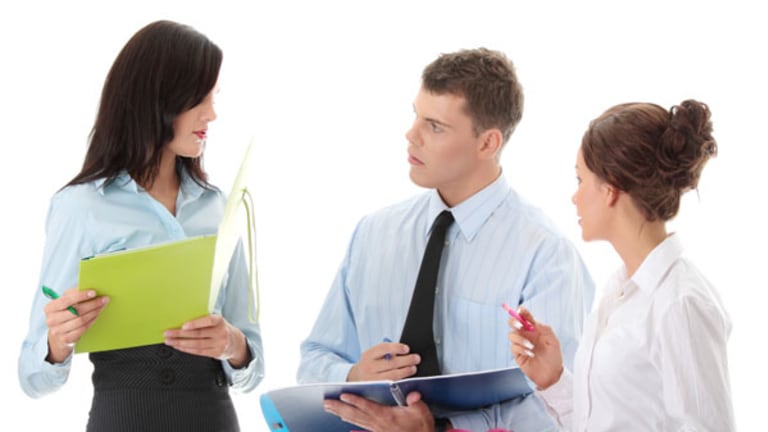 RIM's Earnings: Get Ready for a Snoozefest This Time
Someone should find out how Ex-CEO Jim Balsillie drove Research in Motion into the ground.
NEW YORK (TheStreet) -- At the outset of every quarterly conference call, public companies cover their rears with a lengthy disclaimer. Here's part of the one lowly Research in Motion (RIMM) used on its fourth-quarter 2011 recap in March of last year:
Many factors could cause our actual results, performance or achievements to be materially different from those expressed or implied by our forward-looking statements, including ... difficulties in forecasting financial results, particularly over longer periods given the rapid technological changes, evolving industry standards, intense competition and short product life cycles that characterize our industry ... We base our forward-looking statements on information currently available to us, and we do not assume any obligation to update them except as required by law.
And then the best part:
I will now turn the call over to Jim.
Those were the good old days. Former RIM Co-CEO Jim Balsillie used to take over the call and do a horrific job of setting investor expectations. But it's all good because the Securities and Exchange Commission and Canadian Securities Administrators have our backs!
With RIM set to report earnings next week, let's take a few moments to roll through Balsillie's Greatest Hits over the last 16 months. (Cue the laugh track between each point.)
Q4 2011
:
Early indications based on traffic to our own and to our partners' websites since the availability announcement as well as preorder volumes indicate PlayBook will have a highly successful launch.
Q4 2011
:
We don't see the Q1 decline in sequential earnings per share as a beginning of a trend but rather as a period of transition. Based on the current product road map and supply chain outlook, the subject to the risks ... outlined at the beginning of the call, we currently expect to grow fully diluted earnings to over $7.50 per share in fiscal year 2012.
(Note: RIM ended up reporting adjusted EPS of $4.40 for FY 2012.)
:
While the PlayBook launch did not go as smoothly as we had planned ...
:
... Early results from the BlackBerry 7 launch are strong ... We anticipate acceleration of the uptake of BlackBerry devices for the remainder of the fiscal year and into 2012 ...
:
Given the lower-than-expected earnings in the second quarter, we expect full-year adjusted diluted earnings per share, excluding changes related to the cost optimization program, to come in towards the low end of our guidance range of $5.25 to $6.
(Note: RIM ended up reporting adjusted EPS of $4.40 for FY 2012.)
:
The last few quarters have been some of the most trying in the recent history of this company.
:
Co-CEO Mike Lazaridis and I have asked the Compensation Committee to make a change to our cash compensation, such that our salaries will be reduced to $1 per year effective immediately.
Of course, shortly after that call, Balsillie and Lazaridis both stepped down. Just last week we learned exactly how much of a slap in the face the token "$1 per year" salary gesture was to investors.
Lazaridis remains vice-chair of the board, has a company car with driver, a "dedicated" office at RIM and a payout of about $3.9 million. According to
The Globe and Mail
, Balsillie walks away with a package worth almost $8 million.
I'm not sure how you run a company into the ground and miss so horrifically on guidance so many times yet still snag $12 million out of a dying company's coffers.
Further, I'm uncertain as to why the Canadian Parliament still has not opened an inquiry to find out if anything was amiss as RIM unraveled into nothing short of a national disgrace. What's good for former Prime Minister Jean Chretien, a man who was the focus on multiple inquiries, ought to be good for a mere mortal like James Balsillie.
Because, after all, as Chretien once famously
, "A proof is a proof. What kind of a proof? It's a proof. A proof is a proof. And when you have a good proof, it's because it's proven."
But seriously people, forget running the company into the ground and missing on guidance -- the SEC and Canadian Securities Administrators ensure executives can take no lumps in those areas -- what about the lack of vision?
Balsillie put the writing on the wall in an embarrassing series of attacks on
Apple
(AAPL) - Get Apple Inc. Report
in 2010:
:
You don't need an app for the Web ... I don't need a YouTube app to go to YouTube. There's this view that Web sites need to be repurposed for mobile and you need a special set of tools to do it. We don't believe that to be true.
:
For those of us who live outside of Apple's distortion field, we know that 7-inch tablets will actually be a big portion of the market and we know that Adobe Flash support actually matters to customers who want a real web experience ... We think many customers are getting tired of being told what to think by Apple.
And now, next Thursday, RIM reports earnings.
For the first time in over a year, I might not even listen to the call live. For as bad as he was, at least Balsillie kept me awake during that mid-afternoon space where I feel like taking a nap ahead of Spinning class. Now, from the supposedly "new" RIM, we no longer receive guidance and we get a snoozefest of a conference call from the less-than-dynamic Thorsten Heins.
The few remaining RIM permabulls will go into attack mode this week. They always do ahead of earnings.
I have to ask: No matter what happens on this call -- even if there's upside -- how can RIM bulls, Canadians, anybody with a heart and soul get angry at RIM bears? As RIM continues to cut staff by the thousands, Balsillie and Lazaridis receive money neither of them need. That's where investors should direct any and all outrage.
Even if Balsillie uses all of his spare time and fresh millions to bring the NHL to southern Ontario, Canadians should never forget the whole ugly episode he narrated at RIM.
The Canadian government should stand up and demand answers about what happened. Hopefully they can get them without lopsided securities regulations providing a safety net to the folks least likely to need what amounts to financial protection.
At the time of publication, the author had no positions in any of the stocks mentioned in this article.