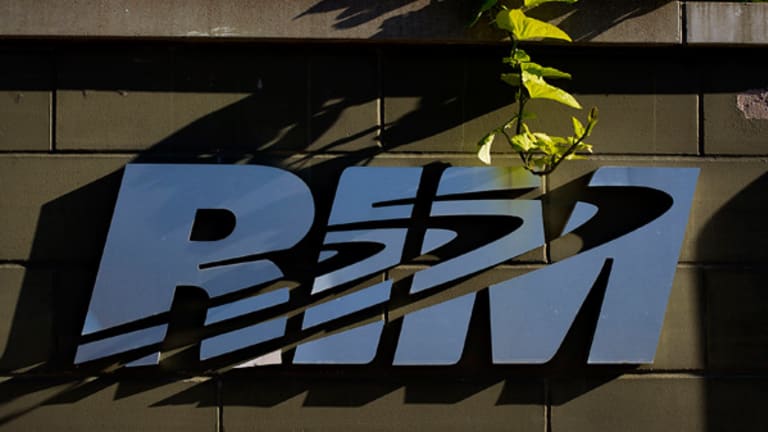 RIM Investors Cheer To 'Less Bad'
A turnaround would be hard and take time, but an established brand such as RIM has an edge.
NEW YORK (TheStreet) -- Beleaguered BlackBerry maker Research in Motion (RIMM) has become a mystery to me. Considering the stock once traded at $140 and now sits under $10 per share, I don't think I'm alone.
Regardless of what the company does from this point forward, it is certain to be dissected and become a case study in business schools for many years to come. But at the moment, on the heels of its recent earnings report, the company is making a case that the rumors of its death just might have been exaggerated.
The Quarter That Was
For the fiscal second quarter, RIM reported a loss of 45 cents a share on revenue of $2.87 billion. This compared to profits of 80 cents a share in the same period of a year ago. Though its revenue numbers represented a drop of over 30%, it was much better than the 40% decline projected by analysts. In other words, RIM actually logged a beat by over $370 million or 15%. Even more impressive is that it also beat EPS estimate as analysts were expecting a loss of 46 cents.
What's more, the company actually recorded a loss of (only) 27 cents a share when excluding restructuring charges of its CORE program. In essence RIM actually beat its numbers by $0.19 cents. Over the past five quarters, this represents the second time RIM has exceeded street expectations. Helping with its performance was that the company said in addition to shipping 130 thousand PlayBook tablets, it was also able to ship an estimated 7.4 million BlackBerry smartphones.
In terms of outlook, RIM did not offer much on the numbers side other than to say that it expects continued pressure on its operating results for the remainder of the fiscal year due to increased competition -- presumably from the likes of not only
Apple
(AAPL) - Get Apple Inc. Report
,
Google
(GOOG) - Get Alphabet Inc. Class C Report
and
Amazon
(AMZN) - Get Amazon.com, Inc. Report
, but also from
Microsoft
(MSFT) - Get Microsoft Corporation Report
whose Windows Mobile phone and Surface tablet are due out later this year. As a result, RIM expects lower handset volumes and increased marketing expense.
To combat competitive attacks and a possible loss of subscribers, RIM said that before the launch of the BlackBerry 10 smartphones due in the first quarter of next year, it plans to continue to invest in targeted marketing and sales programs to aggressively drive sales of BlackBerry 7 handheld devices. For that matter, it also expects to report a loss in its next quarter (Q3) due to charges related to its transition to not only BlackBerry 10, but also its CORE program.
Moving Forward
As much as the company has been beaten up this year, it deserves a considerable amount of credit for this report. Investors seem to agree as everyone has been searching for something with RIM to cheer about. After the stock reached a new 52-week low last week of $6.22, the announcement sent shares soaring to $7.14 at the close and reaching as high as $8.70 during the afterhours trading session -- representing an increase of over 20%.
I appreciate the glass-half-full outlook. But in this case, it's an overreaction.
It beat its own low expectations, but anyone that has been following the RIM narrative understands what this really is. Aside from the loss in profit, what the numbers really showed were significant declines in revenue as well as sustained weakness in gross, operating and profit margins which arrived at 26%, -12.63% and -8.18% respectively.
Not only did the numbers show a drop from the prior quarter, but they lead to an overall gross margin dollar decline of 5.2%. Essentially its report was merely "less bad" than everyone expected.
Bottom Line
I wonder whether RIM can leverage this small victory into longer term success -- particularly since enterprises have now adopted BYOD (or "bring your own device") and proving that the advantage that RIM once had over messaging and security are no longer considered "must haves." It's time that RIM start looking beyond hardware and focus more on its service side of the business such as Mobile Fusion.
Though turnaround stories often take time to be fully realized, it is not impossible to develop -- particularly for a company with an established brand such as RIM. "Less bad" or not, RIM appears intent on making things interesting.
At the time of publication, the author was long AAPL and held no position in any of the other stocks mentioned
.
This article is commentary by an independent contributor, separate from TheStreet's regular news coverage.
Richard Saintvilus is a private investor with an information technology and engineering background and has been investing and trading for over 15 years. He employs conservative strategies in assessing equities and appraising value while minimizing downside risk. His decisions are based in part on management, growth prospects, return on equity and price-to-earnings as well as macroeconomic factors. He is an investor who seeks opportunities whether on the long or short side and believes in changing positions as information changes.