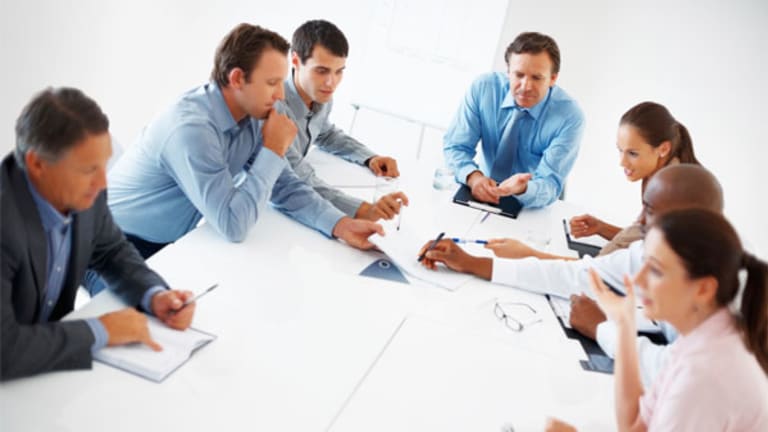 RIM, Facebook Liven Week's Market
Investing these days is a lot of things but never boring.
NEW YORK (TheStreet) -- This past week is further proof that there is never a dull moment in the markets. While value investing may at times seem as exciting as watching paint dry, or grass grow; I'm never bored. There's plenty happening on the Street in any given week that holds my attention, or leaves me shaking my head in disbelief.
Yesterday,
Research in Motion
(RIMM)
, which had just about descended into
, reported a better than expected quarter, on both the revenue and earnings front, sending shares up nearly 20% in after-hours trading.
That's the thing about companies trading below net current asset value; it's often such a depressed valuation that any good or unexpected news is like rocket fuel for the stock price.
Based on new balance sheet data, and assuming yesterday's late-day share price rise, RIMM would trade at about 1.35 times net current asset value. Cash and short-term investments rose from $1.94 billion last quarter, to $2.065 billion.
The plot thickens for Research in Motion as the market declares that the company's presumed death may have been premature.
RIMM
data by
On to the ridiculous, in my view anyway. Thursday
Facebook
(FB) - Get Facebook, Inc. Class A Report
announced functionality that will allow users to purchase gifts for friends. I don't know, maybe this will help with ad revenue, and put some bounce back in the company's step, but I certainly won't be participating.
I still do think that Facebook shares are over-priced, and can't justify the current $43 billion plus market cap. We'll see how the "gift" application strategy works; it would not be surprising to see a short-term bump in share price, but the jury remains out as to whether Facebook users will begin to use the site as an on-line retailer.
In one of the more interesting developments involving underfollowed small caps, shares of Blyth (BTH)
Blyth
(BTH)
, which direct markets a plethora of home goods, gourmet foods, and nutritional products, has had a very rough week.
On Wednesday, shares fell more than 21% after the company announced that its ViSalus subsidiary, which provides weight loss products, and nutritional supplements, was withdrawing its IPO. Blyth shares suffered primarily because the IPO was going to provide cash for a special dividend to be paid to Blyth shareholders.
ViSalus has been an engine of growth for Blyth; the company's other primary businesses don't do well in difficult economic conditions, so the ViSalus IPO would have weakened the company. But the cancellation certainly was not popular with shareholders.
Still, the company is interesting from a fundamental perspective, having ended last quarter with $206 million or nearly $12 per share in cash and short-term investments, and $100 million in debt.
I've followed this name on and off for years, it currently garners no analyst coverage, and the stock has been volatile in recent years.
It took Wednesday's drubbing to get me to commit to a small position; following the "buy it when everyone else is selling it" mantra that can be a blessing or a curse to the value investor.
The company recently hiked its semi-annual dividend to 10 cents. Perhaps it's also time to consider buying back some shares as well.
BTH
data by
And finally, more IPO news this week in the restaurant space, which has been very active
in that regard this past year.
Dave & Buster's set its IPO price range at between $12 and $14 per share. This I not the first time to the dance for D&B; they were publicly traded between 1997 and 2006, before being taken private.
Can't wait for next week!
This article is commentary by an independent contributor, separate from TheStreet's regular news coverage.
At the time of publication, Heller was long BTH.
Jonathan Heller, CFA, is president of KEJ Financial Advisors, his fee-only financial planning company. Jon spent 17 years at Bloomberg Financial Markets in various roles, from 1989 until 2005. He ran Bloomberg's Equity Fundamental Research Department from 1994 until 1998, when he assumed responsibility for Bloomberg's Equity Data Research Department. In 2001, he joined Bloomberg's Publishing group as senior markets editor and writer for Bloomberg Personal Finance Magazine, and an associate editor and contributor for Bloomberg Markets Magazine. In 2005, he joined SEI Investments as director of investment communications within SEI's Investment Management Unit.
Jon is also the founder of the
, a site dedicated to deep-value investing. He has an undergraduate degree from Grove City College and an MBA from Rider University, where he has also served on the adjunct faculty; he is also a CFA charter holder.